Stitches in Time
By Ann Marie Maloney
Most of us develop our work skills gradually ---a summer job here, an internship there. But not Alexandra Woods. The owner of The Yarn Garden remembers being taught to crochet by her grandmother when she was 6. She was hooked (pardon the pun). "My grandmother's hands were never idle," she recalls. "She made such beautiful things that we naturally wanted to do it." Yet Woods (better known as Alex) did not veer straight into full-time ownership of a craft store where she and a staff of 10 share their passion for knitting, crocheting and needlepoint.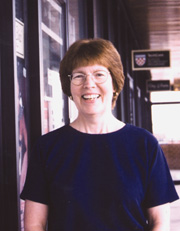 Working as a nurse and a mother to two sons, Alex pursued her hobby whenever she could find time. She quit nursing and worked with her husband Robert running a swimming pool company in Severna Park, a venture that lasted 22 years. "It was always my dream to own a needlepoint shop," she says. The opportunity to make her dream come true arrived in 1996 when Yvonne Moore, the owner of a craft shop in the Festival Shopping Center, decided to sell.

Four other craft stores in the area had closed so it was not the easiest time to take on the challenge. While the needle crafts tend to wax and wane in popularity---Alex estimates that the popularity cycle runs 10 to 15 years---few crafts have lasted as long. Knitted socks, for example, were discovered in Egyptian tombs dating between the third and sixth centuries.

While Alex learned the craft from her grandmother, she is eager to banish the perception that knitting and other needle arts are the sole domain of older women sitting in their rocking chairs, making sweaters for their grandchildren. Some of her customers certainly fit that role, but "knitters come from all walks of life---dentists, doctors, accountants, engineers," she observes.

Of course, like any hobby, knitting or embroidery takes time and experience to develop. Even Alex admits she was not a star knitter in the beginning. "After I knitted a sweater for my husband, I swore I'd never do it again," she says. "Robert wore the sweater exactly twice and almost suffocated each time." The sweater fiasco did not stop her---Alex says she read every book in the store to master the skill she now teaches others.

Younger women are a fast growing part of the knit and crochet population. According to the Craft Yarn Council, 38 million women in the U.S. know how to knit and crochet, and those under 35 account for more than half the increase. They are also in famous company. Glamorous celebrities such as Julia Roberts, Daryl Hannah, and Hilary Swank are known to cast on when they're not on the movie set. ("Cast on" refers to making the first row of stitches.)

Stress relief is the number one reason that knitters and crocheters cite for taking up their needle and yarn. Alex says it soothes her and her customers but names other lures as well. The beauty of the product, the soft feel of the fiber, the gorgeous hues of the yarn---needle crafts fulfill many senses that others may not. Plus, Alex notes, just the act of creating something brings joy. The Yarn Garden also offers a social community, almost like a Cheers for knitters, including a knitters' support group that meets on Thursdays. Novice and advanced knitters alike take up their needles, admire each others' projects, and share their life experience.

Alex likes being immersed full-time in the yarn business even though the managing aspect takes time away from the fun of knitting and needlepoint. "Owning a business is the hardest work you'll ever do," she says, noting there is no one else to take up the slack if someone calls in sick. "But it's a lot of fun." She hopes to expand the store that is now crowded with every shade of yarn and thread imaginable. But the love of yarn prevails. "I know if we get more space we'll just fill it up with more yarn."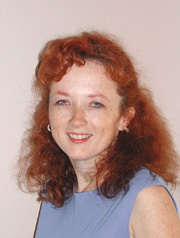 Ann Marie Maloney works in downtown Annapolis. Her passions include writing, road trips, Cajun food, and the Terps.
Back