Homecoming Challenges
By Susan Borden
Filled with nostalgia for her college days and appreciation for the educational values of her alma mater, Jo Ann Mattson stepped up her volunteer work for St. John's College last spring. She created illustrations for a college brochure and drew Michelangelo's David, complete with mallet, fig leaf and Birkenstocks for the school's croquet match poster. And she volunteered to host a reunion dinner at her house during homecoming weekend. As the event approached, however, she started to wish she hadn't been so quick with her offer of hospitality.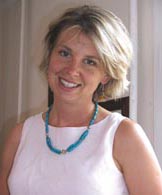 Mattson wasn't regretting her largesse due to any hostess anxiety or reunion-induced cold feet. On the contrary---she loves to entertain and had kept in touch with a large circle of former classmates. Rather, her discomfort with fulfilling her commitment stemmed from the demands of a new job. When she volunteered for the dinner, she was a music teacher at the Key School in Hillsmere. By the time homecoming rolled around, she had become St. John's director of alumni relations. "I had signed up to host a simple party for 40 former classmates," she recalls. "Suddenly, I was in charge of a weekend extravaganza for 500 alumni and their friends and families."

In the end, Mattson pulled off the dinner---and the weekend---with grace and good humor. The Saturday evening Rose Cotillion was an elegant waltz party featuring live piano music. The 15 luncheons she organized came off without a hitch. The sold-out banquet was talked about for months afterwards. And people said that the Sunday morning brunch at President Christopher Nelson's house was the event of the season. Mattson was pleased with the success of the weekend and relieved that she had proved to college officials that they took the right gamble when they hired her.

Because, as Mattson is the first to admit, a quick glance at her resumé would hardly qualify her for the job. Introducing 6-year-olds to the basics of musical notation, while both challenging and fulfilling, is hardly a pre-requisite for leading the alumni relations department at what many call the most intellectual school in the country. When she started work at St. John's, Mattson had to switch her focus from rhythm and melody to literature and philosophy. Luckily, as a St. John's alumna, she was well-prepared for the challenge.

The 9,000 alumni of St. John's College have all been through the same rigorous program of the reading and discussion of the great works of Western thought. All of them started their freshman year with Homer and Euclid, and all of them ended their senior year with Einstein and Freud. In between, they studied the works of more than 100 difficult and rewarding authors, including Aristotle, Shakespeare, Darwin, Kant and Kierkegaard. The result, says Mattson, is an incredibly well-educated group of alumni whose habits of careful thinking and weighty discourse make them fascinating to work with and a challenge to keep up with.

While alumni relations at most schools center around sports or social events, the mainstay of St. John's alumni gatherings is the great books seminar. During the course of a workweek, Mattson regularly finds herself fielding phone calls from alumni who are preparing for a seminar on Plato's Republic or wondering if she thinks Nietzsche will be too heavy for a summer gathering. "It keeps me on my toes, remembering books I read nearly two decades ago," she says. "Luckily, the library's just a few steps from my office. Sometimes I dash over for a quick review."

While talking with alumni meets her need for intellectual challenge, Mattson has also discovered that the job is a worthy outlet for her creative talents. Many Annapolitans already know Mattson's work as a ceramic artist and muralist. While she has less time now to spend on painting, she has been able to channel her creative energy into designing posters and publications for St. John's. These she executes with her trademark wit and whimsy.

When asked to illustrate an alumni magazine article on the college's self-study for accreditation, Mattson sketched the Greek philosopher Plato casting a critical eye at his own reflection in a mirror. When the advancement office asked her to draw a picture of Shakespeare's Juliet, Mattson whipped one up in record time. She painted this year's poster for the croquet match against the Naval Academy. It features a cheeky girl in a flapper dress and picture hat with a croquet mallet in her hand and a challenging look in her eye.

Right now, the campus is quiet with most students away on summer break. However, this is a busy time for Mattson's office as it prepares for the fall homecoming. Mattson won't be hosting a party at her house this year, but she says it's not because of her responsibilities with the alumni office: "Last year was my 15th reunion, so it was a big event. The next few years will be quieter, but when my 20th comes up in 2007, I'll be ready to do it again."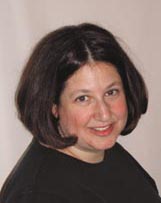 When she's not writing for St. John's College, Susan Borden is a freelancer specializing in business communications.
Back