Eyes On the Sky
By Carolyn Lee
As a kid, Van Lee used to sit on a fence post on top of the hill near Lee Airport and watch the planes fly over. "We didn't know any better, and there were no restrictions then," he says. What he also didn't know at the time was that his vantage point and its associated perspective would become a strong influence in his life.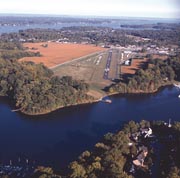 When Lee describes the "family airport," he speaks with authority. Wedged between an increasingly developed Route 2 South and quiet Beards Creek off the South River, Lee Airport was quite literally Van Lee's childhood backyard. Born and raised on the property, which was originally his grandfather's farm, Lee says, "My mother's house is at the end of the runway on the creek. She just built my sister a house---and my house is the farmhouse in the middle of the field." You can tell that this is just the way he likes it.

Years ago, the Parlette family (Arundel Gas) agreed to lease the airport in a handshake deal with payment in ground rent. According to Lee, it was 39 years ago, to be exact, when Florence Parlette began devoting her time and energy to running the airport for more than three decades. Lee describes Mrs. Parlette as an "avid aviator, who held titles in women's aviation (as acknowledged by Smithsonian), and a key player in the operation of the airport."

In 1999, however, there was a large fire in one of the airport hangars. It was one of a series of events that would provide Lee and his sister Beth with a new opportunity and new challenges.

"My mother said to us, 'Would you two like to run an airport?' The first thing that occurred to me was that I didn't know how to run an airport---but I wanted to try. I thought it was a great opportunity."

There was no shortage of offers from pilots. Neither one a pilot, Lee and his sister came to an agreement and made the decision to run the airport themselves. Says Lee, "Our love of aviation [comes from] being around the people and planes and from our family owning it all these years."

Lee had been working for Giant Food and, with back problems from heavy lifting over the years, the idea of a change was attractive to him. His sister had been working for a bank. "Now," he says, "it's our own business. There's no manual for the place. Everything we learn is from experience."

Lee says he gets lots of help from the Maryland Aviation Administration. "There are state-funded grants that we couldn't exist without. When we refurbished the runway last year, they supplied the funds. They also loan us lighting equipment." Lee thinks it's noteworthy that the same administration runs BWI. "But they look after little airports like us. Without them we couldn't really exist---from a monetary and equipment standpoint."

With a lean towards anachronism, Lee Airport carries on business unobtrusively, with the periodic roar of small planes during takeoff and landing. Despite its small size, Lee says there have been many offers to develop the property over the years. "The family always smiled and said, 'Thanks, but no thanks.' We love seeing it as an airport." He adds, "Alot of people come in and say, 'This is how airports used to look.'" It's true---the open hangars are reminiscent of airports in the 1950s. Lee says, "Personally, I like to see the planes, although the owners would prefer to have them enclosed to protect [the aircraft] from rain, hail and dirt."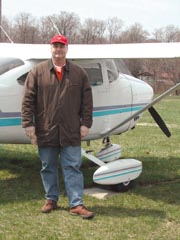 Lee has plans to build several new, enclosed hangars, although he's determined to maintain the look of an "old family airport" and says he wants to build something that the community will use and support.

Last year, Lee planned an open house over Memorial Day weekend. With the thought that there weren't enough community events, he wanted to provide activities for kids---like an air show with demonstrations. He anguished over whether or not to charge an entrance fee and, in the end, decided on a free event. Says Lee, "At first there was no one here, but by noon I wasn't sure where everyone was going to park." He gave out balsam gliders to the kids and "was really tickled to see so many smiles on their faces." With the luxury of a "resident" aerobatic pilot and flight instructor, the airport provided the crowd with an exciting show. Lee readily admits that he wants to provide a place where kids get excited about the aircraft, "get that spark in their eyes."

Pointing to a faded photograph on the wall in "The White House" airport office, Lee sees himself in the picture. "That's when the runway was resurfaced---I was about 10 at the time [1966]." Lee says it was at just about this age when he used to get the tractor out of the barn and cut the grass around the runway. "Afterwards, Mrs. Parlette would take me up for a flight."

The White House is where Van's parents, Harvey and Mary Carroll Lee, lived when they were first married. Harvey Lee grew up in Eastport; Mary Carroll was a Lee before she married Harvey!

With these kinds of memories as his references, Lee has tried to make the airport kid-friendly. "We have a little area with picnic tables where people can go and watch the planes. We have birthday parties in the pilots' shed, and the kids can see the planes coming and going." Lee even set up an outdoor ice cream stand. In the future, he'd like to build a terminal building that faces the runway.

Lee admits that growth and change present challenges to his personal commitment to keep the "family airport" theme. He says that "most of the people you talk to are content with the way things are." But there's more going on at this airport than might be revealed at first glance. Privately owned, Lee Airport is a public use field. When the governor's plane lands here, Lee figures they're the unofficial airport of the capital. Based at the airport as well is the Navy Annapolis Flight Center, Inc., an independent organization whose mission is to provide indoctrination and aeronautical training to U.S.N.A. midshipmen. Celebrating 46 years at Lee Airport, the Civil Air Patrol is housed in a Quonset hut donated by the Naval Academy in 1957.

Says Lee, "A lot of people run their businesses out of here---some use the planes as their primary mode of transportation. In fact, there's a person here who works in Ohio and flys her plane back and forth. Annapolitan Dave Wallace, whose business is aerial photography, has been based here long enough to recall that "a tie down was about $3 a month in 1975--- it was a real mom and pop operation."

Then there are the people who want the $100 hamburgers---they get in their planes to fly for lunch on the Eastern Shore or in Delaware. Lee adds, "In the summer, we get the transients too---the people who stop from Boston on their way to South Carolina, for example." Lee enjoys all the activity at his airport and says, "Most of the people we meet are really pleasant."

Lee has made an effort to make the airport a welcome place for pilots and visitors alike. "We spent the first day removing all the 'no' signs. And there wasn't one sign saying, 'Welcome to Lee Airport,' so one of our pilots made some and we put them out." Lee also has plans to change the entrance to "look more like a normal airport."

Despite the proposed changes, Lee says that "one great thing about a small airport is that it's self-policing. Everyone knows everyone else---who's coming and going. When they see something out of the ordinary, they'll question it. Considering all the flight restrictions [these days], we're still lucky we can fly."

Asked about the effects of September 11 on his business, Lee says, "Before 9/11 you could pretty much get in your plane and fly away. Immediately afterwards, we were closed for 21/2 months. Slowly, people with instrument ratings were allowed to fly. Now it's restricted to filing a flight plan. Additionally, you have to be in contact with the Baltimore tower who will give a discreet squawk code---all [because we're] within a 30-mile radius of D.C.

More than one hundred planes call Lee Airport home. Most are single-engine Cessnas and Pipers, some Luscombs. Lee loves seeing the larger planes come in, but they're not typical, he says, and the runway's not long enough for them to be fully loaded. Reflecting on the past, Lee recalls that he used to know each plane by its sound. "Certain planes make certain sounds," he says, "and I matched them to the white Beechcraft or the blue and yellow Cessna."

Lee says he never gets tired of watching the planes take off and land. Of the unexpected turn of events four years ago when he took over, he says, "For so many years we were on the outside looking in-now we're on the inside looking out." Although the old fence post is no longer there, Lee's still got a great view.
When not wearing one of her hats for Inside Annapolis Magazine, Carolyn Lee can be found paddling her kayak or working in her garden.
Back