Shades of Grey
By Cindy Edwards
There are many dogs out there trained to help us---fire dogs, bomb and drug-sniffing dogs, seeing-eye dogs, even hearing dogs---man's best friend, for sure. They rescue us from everything imaginable-natural catastrophes to loneliness. But what happens when our loyal, four-legged friends need help? Who runs to their side? You're about to meet a few of those valiant individuals who rank high on the canine's top ten list---their adoptive parents and rescuers. The objects of their affection are greyhounds, greyhounds and greyhounds.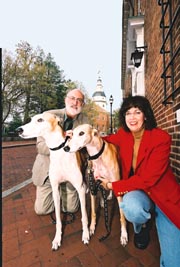 One enthusiastic Annapolis resident and greyhound owner is Lisa Hillman, vice president of development and community affairs for Anne Arundel Health System. She remembers exactly when she fell for a greyhound. "One day, after hiking with a friend and her greyhound, we opened our car door. Immediately, the dog jumped into our car and stretched across the back seat. It was at that moment that I knew I could have a dog like this. He just fit---into our lifestyle and our car. He was just right."

The Hillman family took seriously the responsibility of adding a greyhound to the family. They did their research, had family discussions and, after deliberation, decided to adopt a retired racing greyhound. "To be honest, it seemed like sort of a selfish thing to do," says Lisa. "I mean, they have already been through puppyhood, they're housebroken and incredibly well trained."

To begin the process, "We did web searches for greyhound rescue organizations online and found Greyhound Rescue, Inc.," says Lisa. This is a non-profit organization that places dogs in Maryland, D.C. and Virginia. "We contacted them, went to visit, and just watched the dogs for hours. We gave the rescue organization a few requirements. We wanted a fawn-colored male who was good with cats," says Lisa.

"It also had to be bilingual and do housework," jokes Dick Hillman, Lisa's husband and mayor of Annapolis from 1981-85.

Shortly thereafter, they were contacted by Greyhound Rescue and asked to come over and meet the candidates. "When the dogs were brought outside, one of them came right to me, jumped up and put his paws on my shoulders," Dick recalls. "And that was it." They had found their first greyhound, whom they would name Larry.

As the Hillmans headed home with Larry, they were given the name and number of a woman who would become their coach and mentor. They were told she was available 24 hours a day to help with the transition. Darlene Riden, greyhound expert and active volunteer for Greyhound Rescue, Inc., would end up becoming a friend of the Hillmans for years to come.

Larry adjusted quickly to his new home and family, although there were a few learning experiences. "[Rescue] greyhounds truly are ready-made pets," says Lisa. "But they have never been in a house before, have never seen steps and must be taught to use them. They're also unfamiliar with glass and windows. One day Dick brought Larry to see me at work, and he walked right into the glass door."

As the Hillmans enjoyed their new family member, Dick made an interesting observation. "It seemed that whenever we saw photos of greyhounds and their owners, they never seemed to have just one greyhound---there were always at least two or three," Dick says. They began to think Larry would enjoy a companion.


Meanwhile, a gentleman with a greyhound of his own moved into the Hillman's neighborhood in downtown Annapolis. "We often walked our dogs together," Lisa recalls. "Then one day he told us he was leaving town and was not going to take his dog with him. This announcement was followed by a presumptuous, 'Do you know anyone who will take him?' We now have two greyhounds, Larry and Roman."

"Larry is 6 years old, and Roman is 9," says Lisa. "Larry raced for four years, but Roman's career was much shorter---just one year---I guess Larry was a better athlete." "I just think Roman is smarter," says Dick. "He knew the sooner he performed poorly, the sooner he would get adopted and move into a home."

Now completely captivated by the dogs, the Hillmans cannot imagine life without Larry and Roman. "They are wonderful friends, wonderful companions, and they have enriched our lives in a way that I never could have imagined," says Lisa. "Sometimes when we're out walking, people stop us to ask if we rescued Larry and Roman. We usually reply, 'No, they rescued us.'"

But just where do these greyhounds begin their lives, and how do they progress to racing and retirement? Darlene Riden has the answers---she also has five greyhounds. "There are mating farms throughout the country that are equipped with several breeding buildings. Once a female is ready to give birth, she is moved to a building that's filled with baby pools, and her babies are born there. When the puppies are weaned and able to crawl out of the pool, the entire litter is taken away from the mother and moved to a run which is located outdoors and measures 12 feet wide by 100 feet long. It is there that dogs have their first experience with respect to competition as they chase up and down the runs in a race against neighboring litters. They stay there until they are at least 1, then are moved to heated and air-conditioned kennels. (Kennels are established in conjunction with, but are separate from, greyhound racetracks.) Every day, the kennel owner takes the greyhounds to the track where they are trained and eventually begin to race. There are different classes in greyhound racing, A through E, with A being the best. As the dogs begin to lose they are moved down the rung, then are retired either when they continue to lose or reach the age of 5.

In retirement, they will hopefully find a home. "There's usually one rescue group associated with each track," Riden explains. "There are tens of thousands of greyhounds out there and about 20,000 are put to sleep each year because they are not adopted. It's really heartbreaking."

Shortly after adopting their first greyhound, Riden and her husband became active with Greyhound Rescue. "Sometimes I ask my husband, 'Are we really making a difference?' He tells me, 'One dog at a time---that's all we can do.'" Greyhound Rescue places about five greyhounds per week.

"Our website now has a pet section complete with pictures and bios," says Riden. "That has really helped, but there are just so many dogs who need and deserve homes." Riden goes on to say, "The nature of greyhounds is very docile. They don't slobber or shed and barely even bark. When outside, they love to run, but when inside, they make themselves small by curling up into cozy little balls and repose. After all, they have been working hard for half of their lives. Now they just want to relax and be retired." Sound familiar?

Susan Adams recalls when she became a believer. "I had seen an adopt-a-pet sign at Petsmart and was told a date to return," she says. "I thought I wanted a little dog, but when I sat with Darlene Riden (who happened to be the representative that day) and petted her greyhound, I fell in love with him and wanted one too. Shortly thereafter, I adopted my first, and now I have two. They're like potato chips---you can't have just one." Adams is now a rescuer for Greyhound Rescue and a representative for the Annapolis area.

For those who adopt greyhounds, there seems to be a full circle of benefit, and the question unexpectedly becomes just who rescued whom. Ancient civilizations placed dogs in infirmaries with the sick because they believed a dog possessed natural healing power. Even modern science claims that a pet can add years to your life. So why not take the plunge---or, in this case, the leash---it just might prove to be "greyt" for you too.

To adopt a greyhound, contact John and Denise Davis at 410-796-2803 or visit www.greyrescue.com.
Cindy Edwards, an avid reader, traveler and yoga practitioner, enjoys the adventure of life and writing about it. She lives in Annapolis with her husband and her dog.
Back