An Irish Welcome: Galway Bay
By Patricia Barry
In Ireland they say in Gaelic "Ceud Mile Failte"---"a hundred thousand welcomes." You'll feel welcome upon entering Galway Bay, the Irish restaurant with a pub attached rather than the more familiar opposite, an Irish pub that serves food. And that last thought is precisely how the proprietors identify their mission---high quality Irish food with an excellent pub.


It might be owner Michael Galway (from the old sod of Thomastown in County Kilkenny) who greets you warmly, or it might be hostess Peggy Kimbo (still in place from the days of the former Little Campus).

The cheery dining room underwent a five-month rehab by the genuine Irish boys, brothers Michael and Fintan Galway and pals Anthony Clarke and Sean Lynch (all known to speak Gaelic). The serious refurbishment was directed by master craftsman Isadore Beattie, who created the plan to expose brick walls, installed vivid-colored stained glass windows, and hung the etched glass map of Ireland. The gang of five also built lovely wooden door frames, mouldings and dining tables. Isadore crafted the handsome bar top in the pub section from a red oak tree that had been felled by lightning in Calvert County.

Today it's a mélange of warm woods, artistic Irish wool rugs doubling as wall hangings and prints of important Irish contributors to our nation's history, including Commodore John Barry, the father of the American Navy.

Fintan Galway credits these characteristics to the Irish "creativity, hard work and gregariousness." He claims these traits have brought Galway Bay, in four and one-half years, to an enviable success. He notes they have built up a robust clientele of 80 percent local regulars and 20 percent Annapolis visitors.

The evening we visited Galway Bay, we had five visitors from California and four locals, all eager for authentic Chesapeake Bay fare in the Irish restaurant and snug pub on Maryland Avenue.

We began with shared starters, a practice encouraged by our efficient and friendly server. Voted the favorite was the appropriately chilled, thin Irish smoked salmon rolls filled with prawn and crab dip, served with wonderful homemade brown bread, capers and chopped hard-boiled egg. Another headliner was the oysters O'Reilly, a half dozen baked oysters filled with spinach, garlic, Irish bacon and provolone cheese-we should have ordered at least a dozen.

Scoring high points were the well-matched pair, hot cockles (hard shell clams) and mussels in a mild tomato and onion bath. The Killarney cabbage wrap seemed just right-cabbage leaves stuffed with a corned beef and potato mix, steamed and topped with Irish whiskey mustard dressing.

An entree selected from the Irish Country Fare list was touted as "the best you'll ever have." The corned beef and cabbage was outstanding---a first cut of corned beef, slow-cooked for 10 hours with a blend of herbs and spices, served with cabbage, Colcannon potatoes, carrots and parsnips. One California diner declared it was "so fresh and just salty enough."

The Irish mixed grill was fascinating---Irish rashers, black and white pudding (sausages) served with a lamb chop, two poached eggs and a grilled tomato, altogether a hearty dish any time of the day. Also from the Taste of the Glens selections was my choice named Foul Play, a combination of breast of chicken and breast of duck flamed in Tyr Connell whiskey and finished with a leek cream sauce served with garlic mashed potatoes. The chicken was tender and the duck was ambrosia.

Still in the Glens, another diner selected the steak Tullach Mor, a 14-ounce strip cut in-house, flamed in Jameson whiskey, charbroiled and topped with caramelized onion and served with baked Cashel blue cheese potatoes, green beans and cauliflower. Those who sampled desserts were reverential while consuming Irish whiskey cake, Bailey's Irish mousse and an incredible bread pudding. One of the coffees we sampled was Sean's Whisper, a steamy concoction of Bailey's, Fra Angelica and Godiva chocolate and, of course, the coffee.

According to Chef Michael Morronne, who trained at the Culinary Institute in Baltimore and has lots of experience on the job, the management team insists on as much local seafood as they can find, plus prime beef and the best and freshest of other meats and poultry. All vegetable dishes are started with the genuine article early in the morning. Making fresh bread is a daily ritual. Servings are generous and prices are reasonable.

On most Friday and Saturday evenings and Sunday afternoons, genuine Irish balladeers and musicians are on tap to entertain. The same opportunity awaits at sister restaurant Killarney House at 584 Central Avenue in Davidsonville, which opened just 1-1/2 years ago. Galway Bay, "a truly Irish restaurant and pub" offers value for the money with a bonus---real Irish entertainment.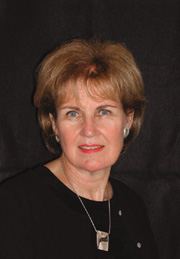 Patricia Barry, a Pisces who resides on Mill Creek, has been a water and food buff for three decades.
Back