With Passion and Purpose
By Cindy Edwards
On Saturday, June 8, 600 proficient swimmers and countless enthusiastic spectators will gather for what has become a Maryland tradition---the Dodge Great Chesapeake Bay Swim. The race will commence on the shores of Sandy Point State Park and end 4.4 miles across the Bay at Hemingway's Restaurant. Competitors range in age from 15 to 70 and rank from former Olympic champion to working professionals to physically-challenged individuals---all of whom meet specific performance requirements that qualify them for this rigorous open-water challenge.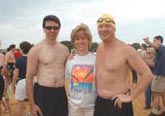 With more than 20 years of history, the Bay swim receives international recognition and attracts coverage from such media giants as CNN and The Washington Post. "This year, 600 swimmers and 100 reserves were signed in just six hours," according to Race Director Chuck Nabit. "We received interest from literally all over the world. We even have someone flying in from Australia to swim---and he's blind."

Well, every event has a story and every story a beginning. This one begins with inspired individuals, heartfelt convictions and an undying desire to memorialize a loved one.

In November 1982, the Earley family of Annapolis suffered the loss of a father and husband when Joseph Earley died from complications due to diabetes. While treading the waters of grief, the Earley children desired to not only honor their father but also raise awareness for others who suffer from diabetes. "My brother Brian was a collegiate swimmer for Towson State University at the time," says youngest son Darren Earley. "After much thought, he made a decision to do what he did best at the time---and that was to swim."

Brian saw the dynamics of the Bay as a metaphor for the daily struggle of those who live with diabetes. Darren explains, "Some days the water is warm, other days it's cold. At times you coast along with the wind at your back, but other times, the winds rally, tides are strong and waves smack you in your face. Through it all, you stay tough, keep moving and do the best you can." Such is the life of a person with diabetes, one of obstacles and perseverance.

Pleased with the idea, the Earley children (Brian, Darren and Megan) and then neighbor Michael Perry began ruminations. "It seemed like the right thing to do," says Darren, "and so for months, we discussed the idea and tried to figure out a way to approach it." Eventually, they made fliers, raised money and discussed logistics.

Then on June 13, 1982, the Earleys and Perry gave birth to what they called the Joseph Michael Earley Bay Swim (which later became known as the Great Chesapeake Bay Swim and is now the Dodge Great Chesapeake Bay Swim). "It was a cold, overcast day and people called to ask Brian if he was really going to go through with it," recalls Darren. "Brian told them 'absolutely' and that 'nothing short of lightning' would prevent his swim. And swim he did. Beneath a blanket of clouds and falling rain, Brian cut his way across the brisk, choppy waters of the Chesapeake. Following alongside in a powerboat was Darren and some friends who cheered him on with great enthusiasm and a keen awareness of the loss that had initiated the swim in the first place. "My mother waited anxiously on shore," Darren adds. It was a moment of truth and of healing.

Upon completion, the Earleys and their friends had managed to transform a painful loss into an act of triumph and generosity as they pioneered the way for the event which is still alive today. That first year the Earleys raised $800 for the Diabetes Foundation (mostly from family and acquaintances), an amount that grew tremendously each year.

Not unlike the metaphor on which the event was founded, the Bay swim met its own share of challenges and even faced the threat of being terminated because of the danger it presented---but perseverance is the theme here.

According to Darren, Chuck Nabit was a savior. "Chuck had a plan and it was very thorough. His ideas included the addition of kayaks and powerboats to ensure safety---and the involvement of the March of Dimes. The plan enabled the swim to go on," explains Darren. "Thankfully, we never had to make the decision between the March of Dimes and the Diabetes Foundation, as the Diabetes Foundation removed itself, happy with the money that had been raised on its behalf in previous years." Darren adds, "Sometimes things just work out."

Nabit came onto the scene as race director in 1992 and there could not have been a better candidate. Not only was Nabit savvy in business and generous in spirit, but he too was an endurance athlete who swam the race three times before. "I recognized the shortcomings of the event," recalls Nabit. "And, thankfully, we were able to remedy them." But it has gone far beyond remedy.

In Nabit's hands, the event has grown enormously. Safety is no longer in question and large amounts of money are being generated. "Last year's swim raised $135,000, all of which was given to charity. This year we're hoping for $150,000," says Nabit. Much of the money is raised for the Maryland chapter of the March of Dimes (the Bay swim is the organization's second largest fundraiser).

Additionally, Nabit is committed to raising awareness for the preservation of the Chesapeake Bay. "A portion of the proceeds from the swim is donated to the Chesapeake Bay Trust Foundation," says Nabit. "They're an umbrella organization that funds a number of programs focused on the ecological concerns of the Bay." This year there will even be a Bay-fest program taking place at the finish line of the swim.

The Earley family also continues to contribute and grow with this event. After the passing of their mother in November 1998, the children established a non-profit organization in her name and an annual scholarship to represent her love of young people and passion for education. The Cynthia Earley Educational Foundation gives an award to three swimmers in the 15 to 21 age group who have raised the most money for the March of Dimes. Since its inception, it has given out nearly $5,000 to six students from Maryland.

As with most events of this magnitude, there is a team of outstanding players who work diligently to make this event cohesive. "I could fill at least three pages with the names of those who make this event possible," says Nabit. These players include, but certainly are not limited to, Dodge, the March of Dimes, Lin-Mark Productions, National Oceanic and Atmospheric Administration (NOAA), Chesapeake Bay Powerboaters Association, Chesapeake Paddlers Association (CPA), the U.S. Coast Guard, state and county police, fire and rescue, Sandy Point State Park and Hemingway's Restaurant.

Nabit adds, " I'm also very appreciative for the continued support the Earley family brings to this event, and I deeply respect their convictions. It's really great to be able to combine past and present and allow the event to reach its highest potential."

As for the Earleys, this swim remains a tribute to loved ones lost and new hope found. Each year at this time, big brother and Bay swim pioneer, Brian, returns home and swims as he did all those years ago---with passion and purpose. Family and friends gather for a reunion of sorts at the home of Darren and his wife Betsy. (Interestingly, it is also the home in which the Earleys grew up). After the swim, there's a huge beach party complete with food, music, laughter, celebration and endearing memories of a father, mother and children growing up on the Chesapeake Bay.
Cindy Edwards, an avid reader, traveler and yoga practitioner, enjoys the adventure of life and writing about it. She lives in Annapolis with her husband and her dog.
Back