Forever Irish
By Cindy Edwards
Step through the door of a Seamus Kennedy performance and he may exclaim to you in Gaelic, "Cead mile failte!" Pronounced ked meela fallcha, it means "One hundred thousand welcomes!" At first you may feel startled, but there are good times to be had. So just pull up a seat, unwind and, before you know it, you too will be singing along, amused by his antics and impressed with his amazing talent for song.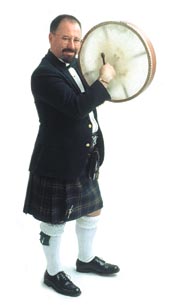 Originally from Belfast, Northern Ireland, Seamus Kennedy has been entertaining audiences in the United States with Irish folklore for the past 32 years. When asked what inspired him to become an entertainer, he responds jovially in his Irish accent, "I fell into it by accident really---I certainly didn't plan it. I played an Irish sport called hurling---it's a cross between field hockey and lacrosse---only much harder. One day, in 1971, after a game in New York, we went to a pub and I ended up leading a bunch of guys in a sing-a-long. Everyone had such a great time the owner asked me to perform every Sunday thereafter."

Kennedy had studied languages in school and planned on becoming either an interpreter for the United Nations or a professor. But, you know, as John Lennon said, "Life is what happens to you when you're busy making other plans."

Eventually, Seamus migrated to Boston, where he lived until 1983, when he and his family decided to make Maryland their home. "I played at the Maryland Inn for twelve years and am now at Harry Browne's most every Monday night." But Annapolis is not his only venue. Seamus Kennedy is in demand as an entertainer and gives more than 250 performances nationwide. From Maryland, out to California and up to Alaska, Kennedy enthralls his audiences with his interactive and energetic performances. "I love to see people have a good time," Kennedy says. He encourages them to sing along, dance, and act out choruses---anything goes.

Kennedy plays for a wide range of audiences and has certainly had many memorable experiences as well as VIP attendees---like the Pope and Ronald Reagan! "In 1988, while I was performing in Alexandria, Va., to my surprise, President Reagan walked in with his entourage. He ended up coming on stage with me and told at least ten minutes of Irish stories. He was really funny."

As for the Pope, he was in attendance in 1979 when Kennedy was performing at Trinity College in Washington. "This was a really big deal for a Catholic boy like myself," says Kennedy. "He even kissed my son (who was 10 months-old at the time) on the cheek." Kennedy chuckles when he says, "That cheek hasn't been washed for 22 years."

Kennedy now has 10 recorded CDs with titles ranging from "Bar Rooms and Ballads" and "Goodwill to Men" to his kids album, 'Gets on Everybody's Nerves." Listening to one of his CDs is to experience one of his performances, since most are recorded live. In addition to singing Celtic tunes, Kennedy also enjoys performing traditional and contemporary tunes of Scotland and Ireland, as well as country, pop or bluegrass---all with a bit of what he calls "blarney." And just what is "blarney"? Kennedy laughs and responds, "The blarney in Ireland is what people here in America call something else that begins a 'B' that you probably can't print." Let's just say, it's an ability one must have in order to ad lib.

For those who want a truly authentic Irish experience in the company of Seamus Kennedy, why not take a trip with him to Ireland? For the past 12 years, Seamus has been organizing trips to his homeland. Itineraries include historical tours and cultural experiences but would not be complete without numerous jam sessions featuring Seamus and his musician friends who still live in Ireland. "We have great fun and the trip has become so popular that we had to limit it to 48 people because I like to keep it personable."

Kennedy is a well-respected musician and has received much recognition for his talent. He has been presented with the prestigious Washington Area Music Association Award for "Best Irish Male Vocalist" for the past nine years.

And so, for your St. Patrick's Day celebration, in the spirit of the Irish and Seamus, raise your glass, make a Gaelic toast to good health and say, "Slainte!" Then raise your glass higher and proclaim, "Arin Go Bragh!" Forever Irish!

For more information, visit his website at www.seamus-kennedy.com.
Back