High Tech Medicine
By Mary Lou Baker
Before an estimated crowd of almost 1,000 local cancer survivors, medical staff members and community leaders, Anne Arundel Medical Center recently unveiled plans for a $13 million expansion of its cancer center just a year after its move from downtown Annapolis to a new $65 million hospital near the Annapolis mall.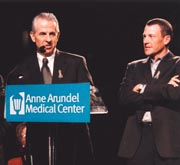 Adding drama to the occasion was the announcement that Anne Arundel County resident Geaton A. DeCesaris Jr. and his family have made a $3 million gift to Anne Arundel Medical Center, the largest donation in the hospital's 101-year history. In appreciation of their generosity, the oncology program at AAMC will be named the Geaton A. and JoAnn DeCesaris Cancer Institute.

Making the event even more meaningful was the presence of champion cyclist Lance Armstrong, the four-time Tour de France winner who had just been named "Sportsman of the Year" by Sports Illustrated magazine. But Lance was not wearing his bike helmet for this event. He was in Annapolis as a symbol of hope and courage for cancer survivors and their families, who had been invited to celebrate the official announcement of the million-dollar expansion.

The centerpiece of this expansion is Novalis shaped-beam surgery, a precise and non-invasive form of stereotactic radiosurgery for the treatment of cancerous tumors. Armstrong, who has made a remarkable recovery from cancers of the testicles, brain and lung is the author of the best-selling autobiography entitled It's Not About the Bike and is spokesperson for BrainLAB, Inc., the company that pro-duces the Novalis equipment.

According to Stanley P. Watkins, medical di-rector of AAMC's oncology program, Novalis integrates state-of-the-art imaging and targeting software with a high-energy shaped-beam delivery system to obliterate tumors without damaging the normal surrounding tissues. By combining many precisely shaped beams, each directed toward the tumor but from a different angle, it is possible to achieve a tumor-killing dose where the beams intersect, while leaving healthy tissue unharmed. The outpatient process is totally non-invasive and most patients can return to their normal routine the following day.

Carolyn Core, vice president of corporate services and acting executive director of the cancer center, says that initially the hospital's board of trustees considered constructing a new building for the cancer center but decided instead to put $4 million into "bricks and mortar" by retrofitting and enlarging the existing Donner Pavilion and allocate the remaining funds---$9 million---for the latest technology for cancer diagnosis and treatment. "We earmarked the bulk of the funds to acquire the state-of-the-art technology that will give patients the best treatment available," she says. "AAMC is the only Novalis site in the entire mid-Atlantic region."

Dr. Watkins says Maryland's high cancer mortality rate has prompted hospital leadership to devote its resources to meeting the needs of the region. "Not only are we acquiring the most advanced technology, we also have the medical experts on our staff to lead the way toward preventing, diagnosing and treating all types of cancer. With this advanced technology and medical expertise, we'll be able to offer the highest level of care to our patients."

The Novalis team is made up of neurosurgeons Timothy G. Burke, M.D., Thomas B. Ducker, M.D., Clifford T. Solomon, M.D., and Brian J. Sullivan, M.D.; radiation oncologists Angel E. Torano, M.D., and Mary Young, M.D.; clinical medical physicist Robert L. Siddon, Ph.D., and oncology nurse Beth Jernigan, R.N., M.S., O.C.N.

"The strength of what we have here at Anne Arundel Medical Center is not just the technology," says Dr. Solomon. "We have experts across the spectrum with the knowledge base, the ability to work together and the commitment to the patients in our region. It's a multi-specialty group and a rare interdepartmental relationship made up of medical oncologists, neurosurgeons, physicists and nurses---all working together to give hope to our patients."

Dr. Siddon, former chief of clinical physics at Harvard Medical School and associate professor of health sciences and technology at the Massachusetts Institute of Technology, was instrumental in the development of the software that Novalis uses to direct the shaped beams of radiation. Internationally recognized as a pioneer in stereotactic radiosurgery, he has authored more than 50 papers on radiation oncology.

In addition to Novalis, AAMC's cancer center has acquired a PET/CT hybrid scanner, a cutting edge diagnostic tool that merges x-rays with images of metabolic changes in the body to reveal abnormal, or cancerous, growths. "Our new cancer-fighting technology is truly new age," says Core. "The hospital is partnering with GEMS (General Electric Medical Systems) and BrainLAB Varian Medical Systems to bring this technology to our region. With these new tools, AAMC will be able to diagnose and treat cancer with unprecedented accuracy and effectiveness."

The PET/CT scanner provides physicians with a much clearer view of the anatomy and metabolic activity in the body. "It's a little like looking at a TV weather map," says Core. "The geographic map of the United States is similar to the CT scan of the human anatomy. The Doppler radar screen is like the PET scan providing images of metabolic changes in the body. Separately, each offers important diagnostic information, but when you merge them, you get a more in-depth analysis and precise location of any suspicious activity." According to Core, AAMC and Johns Hopkins are the only two hospitals in the state with this technology.

Along with these two dynamic new tools, the hospital is replacing its two Varian linear accelerators with two new ones equipped with intensity modulated radiation therapy (IMRT), multileaf collimation (MLC) and digital port imaging.

AAMC is actively involved in several clinical trials in oncology. These studies are conducted in conjunction with large cooperative groups such as the Eastern Cooperative Oncology Group (ECOG), the Radiation Oncology Group (RTOG), the National Surgical Adjuvant Breast and Bowel Project (NSABP) and the Southwestern Oncology Group (SWOG). Clinical trials offer AAMC opportunities to expand treatment and prevention opportunities for patients throughout the region. AAMC's Clinical Trials Department also collaborates with the newly formed NCI-sponsored Clinical Trials Support Unit (CTSU), The Johns Hopkins Oncology Center and East Carolina University.

AAMC, founded in 1902 as a community hospital for residents of the state capital of Annapolis, has evolved into a regional medical center serving a population area of 650,000 in Anne Arundel County as well as parts of Prince George's and Calvert counties and the Eastern Shore. Because of the cancer center expansion, hospital officials expect to draw patients from states throughout the mid-Atlantic.

"These are exciting times for all of us at Anne Arundel Medical Center and for residents of the Annapolis area," says hospital president Martin L. Doordan. "We are fortunate to have the perfect marriage of high tech and high touch---and we are determined to keep that balance intact."
Back