A Little Cheer On King George Street
By Valerie N. Kaufman
How many people can say their job is all about spreading joy? Not many. But Sandi Latham, owner of Sandi's Flowers on King George Street, can say so for sure. With her flowers, she brings a little sunshine and happiness to her customers. "Even at the worst of times, flowers can bring a little cheer," she says. "I love being part of that."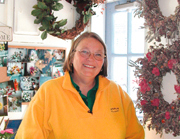 Owner for little more than a year, Latham had worked at the shop when she and her family were stationed here in the late '80s. "I walked into the store one Valentine's Day and made an off-handed comment about how I would love to work in a place like this," she says. The owner told her to come back later that day, and Latham ended up working at the shop until her husband, then a Navy officer, was reassigned. "I really loved it. I loved the feel of it. So when Kevin and I returned to Annapolis, I went back to see if I could buy it." Unfortunately, the store had just been sold, but she left her name with the new owner. A few months later, the call she was waiting for came and the shop was hers.

Since Latham doesn't have formal training in floral design and is new to the business world, it hasn't been easy. But, she says she has a vision. And thanks to the help of some great employees, especially Lindsay Gonzalez, whom Latham describes as the creative genius behind the store, she is succeeding. She has created what she calls a European bucket shop that is very informal and full of flowers. "We are also one of the few businesses in the area that really serves locals," she says. "That's why our logo is 'Your Neighborhood Flower Shop.'" Latham and her employees work hard to remember customers' names and to get to know them and their preferences for flowers.

Annapolis made a strong impression on Latham and her family during their first few years here and, when it came time to decide just where home was going to be, this city was at the top of their list. "We started talking about the many places we had lived over the years, and we decided Annapolis was it," she says. "It offers a beautiful historic district, which we love, and the area has good job opportunities for Kevin, and good military facilities. And, of course, there is the sailing." It also probably didn't hurt that the Latham's oldest son is at the Naval Academy. "A lot of things drew us back, and we have been extremely happy with our decision," says Latham.

Upon their return, Latham and her husband bought a small house in the historic district just a few blocks from the docks, and they enjoy being part of the downtown community. "I especially love the early mornings in Annapolis when restaurant workers are putting out the garbage and store owners are hosing down the sidewalks," she says. "It's a peaceful time when the people who live here can have the city to themselves." The Lathams often get up bright and early and walk downtown. They stop by the bakery for a pastry and a cup of coffee and then sit back and enjoy the quiet routine of it all.

This comfortable feeling of belonging is important to Latham after a childhood in which her officer father moved the family frequently. "I was an Air Force brat. I was born in Louisiana, and my family spent a few years there," she says. "Then I grew up in a variety of Midwestern and Southern states." But Latham admits that the repeated moves weren't all bad because it made her more capable of managing new and uncomfortable situations and, as a result, she believes she is well-adjusted and adaptable. "I think military kids get to experience some really great adventures and are usually well-rounded as a result," she says.

Latham's high school years were spent in South Dakota. She later attended the University of Connecticut when her father was a resident. Choosing pre-med in the beginning of her education, she moved into speech pathology and audiology after taking a course in special ed and being captivated by language. She spent most of the next 24 years working in the public school system as a certified speech pathologist. "I got lucky. Speech pathology turned out to be a very interesting and rewarding career."

Latham met her husband in college. Her father couldn't believe she could fall for a Navy man. "But he got over the shock, and now he and my husband are great friends," she says. "My husband still calls my dad 'the Colonel'."

Married for 29 years, Latham and her husband have two sons, Conor, a first class midshipman at the Naval Academy, and Taylor, a sophomore at St. Mary's College. "They are both great, and we are very proud of them."

As the daughter and, eventually, wife of military men, Latham has traveled extensively and lived in many different places. But, without a doubt, she says Russia was both the most exciting and most difficult place to live. Her husband was stationed there in the early '90s and served as the assistant naval attaché in Moscow. "When we arrived, it was still the U.S.S.R. About three months after we got there, the coup occurred, and when we left in 1993, it was Russia," she says. "We lived right across the street from the Russian White House. We saw tanks rumbling through the streets of Moscow and actually witnessed the fall of communism first hand." Living in Russia was a rich experience, but she admits it wasn't all excitement. There were food shortages and restrictions because of communism. It wasn't all thrills, but she's glad they did it. "It was an amazing and rare experience," says Latham.

After a lifetime of travel around the globe first as a child, then as wife and mother, Latham has finally set down some firm roots in Annapolis. And as the years pass, she hopes that her shop will continue to grow and prosper and her family will continue to blossom. For her part, she'll continue to spread the seeds of happiness as she brings a little sunshine to the world with her flowers.
Back