Richard Seibert, The Annapolis Center for Science-Based Public Policy
By Tom Roskelly
At a recent business breakfast, Richard Seibert, chief operating officer of The Annapolis Center for Science-Based Public Policy, was explaining the concept of risk in a talk entitled "Are We Scaring Ourselves to Death?"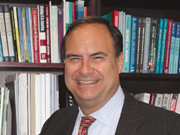 "It's 8 a.m., you tell your kids to hurry and brush their teeth---with fluoride toothpaste, of course. They've just finished eating the breakfast granola that you made from scratch because the store-bought version has too many additives, even though it's less expensive. Your kids use the milk you purchased at the health food store because the cows that produce it were not injected with bovine growth hormones. The non-BGH milk is twice as expensive, but your kids are worth it. You pack lunches with no apples or other fruit---pesticides, you know---just peanut butter and jelly on wheat bread. But you're still concerned because you heard a news report that peanut butter can cause cancer.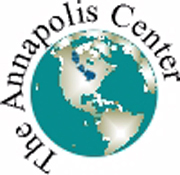 As you drive to school, you notice it's a beautiful, sunny day. You wish you'd put on the kids' sun block. According to a radio report about the ozone layer, just being outside in the sun is enough to cause skin cancer. You think about bringing sun block to school later, but you hate to drive so much because all the pollution from car exhaust is killing the atmosphere. Besides, the American Lung Association tells you that air pollution causes asthma, which is increasing at alarming rates. Your cell phone rings. You're expecting an important call, but you dare not answer because cell phones and driving do not mix. Besides, you just heard about a guy in New Jersey who is suing because he says his cell phone caused a brain tumor." And so it goes!

Dick explains The Center is a national think tank located right here in Annapolis. Founded 10 years ago as an independent nonprofit organization, it works to support and promote legislation and regulations based on sound science. It's recognized as a credible voice in the decision-making process, providing non-partisan information on the current state of science. For example, The Annapolis Center's report entitled "Cost-Benefit Analysis in Environmental, Health and Safety Regulation" was used as the basis for legislation to advance certain regulatory reforms. The Center's work is inherently independent and free from speculation of relationships with stakeholders and funders, in that the consensus documents are generated, prepared and reviewed by internationally acclaimed scientists and economists selected from academia and government who are neither spokespersons for industry nor advocacy groups.

Another recent report entitled "Asthma: Separating Facts From Fiction" has received favorable critical review and, to date, has appeared in 388 newspapers across America with a combined readership of more than 15 million. This report reiterates how asthma is a serious public health problem, a chronic illness that has been increasing in prevalence in the United States by almost 74 percent since 1980, but remains a paradox. Dick reminds us, "...there is no good or standard definition of the disease, nor do we really know what causes it." Air pollution is frequently cited as a cause of asthma. However, countries with "clean" air, like New Zealand, have a high prevalence of asthma, while countries with "dirty" air like Mexico have a lower prevalence. In this country, statistics show that air pollution has decreased dramatically over the last three decades, while instances of asthma have increased. While we don't really know much about the causes of asthma, we do know how to treat it.

From the Center's perspective, asthma represents a medical management failure---something Dick knows about first hand. His daughter may have developed asthma. He says "maybe" because she has never been physician-diagnosed. She played soccer last year on a county youth team. Her coaches never asked players if they had asthma and, therefore, didn't know if asthmatics had proper medication at games. Running late for a game, Dick's daughter forgot her inhaler and, wouldn't you know, developed an apparent asthma attack. The family made an emergency trip to a health-care facility which turned out to be unnecessary. The fact is, most asthmatics and parents of asthmatics don't take the disease as seriously as they should. If they did, we could dramatically reduce the nearly 5 million hospital admissions and thousands of deaths due to the disease each year. But, Dick says, "Instead of focusing on how to treat the disease, the focus seems to be on using the disease for fund-raising or political purposes."

Because of the importance of this issue, The Annapolis Center is attempting to raise funds to develop CDs and videos on asthma management to share with school nurses, school coaches and recreation program coaches, such as Little League baseball, youth football and soccer.

Earlier this year, The Annapolis Center sponsored a Washington, D.C., bio-terrorism conference in conjunction with the U.S. Medicine Institute for Health Studies. This was an interactive forum for invited policy-makers in government and industry on the topic of disease surveillance, bio-terrorism and homeland security, certainly a timely topic in a post 9/11 world. This conference was moderated by The Annapolis Center's chairman of the board and president, retired Vice Adm. Harold M. Koenig, USN. Dr. Koenig, a resident of San Diego, Calif., is the former Surgeon General of the United States Navy and a frequent visitor to Annapolis and Washington, D.C.

His assessment, especially after Sept. 11, is that it's time to stop taking action based on TV news-driven emotional responses and begin to formulate them based on rational thinking. As the Science Advisory Board recommended to the U.S. Environmental Protection Agency, we need to first analyze the risk posed by a potential hazard, compare that risk to the potential risks of other hazards, and finally prioritize the hazards based on which pose the most risk, just the sort of thing The Annapolis Center has been doing for a decade. By supporting and promoting responsible energy, environmental, health and safety decision-making through evaluation of risk and cost-benefit analysis, The Annapolis Center is having an impact on "quality of life" throughout the world. Not bad for little old Annapolis.
Back