Busy Team of Elves Makes Lights Parade Shine
By Tom Roskelly
At the stroke of 6 p.m. on Saturday, Dec. 14 (that's when Mickey's hands are straight up and straight down), a darkened Annapolis harbor will resound with a cannon blast...and magically burst into a spectacular display of twinkling holiday lights festooned on approximately 70 boats of all sizes and types which have gathered together to present the Eastport Yacht Club's "gift to Annapolis," the 20th Annual Lights Parade.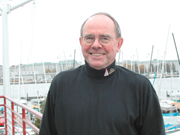 Over the years, this unique event has grown to become a "must see" holiday favorite for Annapolitans and thousands of visitors. As it has been for the past 19 years, the Lights Parade represents the culmination of thousands of hours of effort and hard work by hundreds of people---all volunteers. Although the boats on the water are deservedly the stars of the show, there's plenty of "behind the scenes" activity and logistics to be dealt with by folks who prefer to call themselves "elves."

The year 2002 will mark the fourth year that Tim Hause has been the "chief elf," spearheading an effort that looks like a lot of fun but is taken very seriously by all concerned. After all, the Lights Parade takes place in December---not known for ideal sailing weather. It's at night in cold and congested waters; boats are loaded with thousands of lights, generators, extra fuel, equipment, and crews expressing their holiday spirit through a combination of song and dance. It's said there's not a generator or a Santa Claus suit available anywhere within a one hundred mile radius the night of the parade.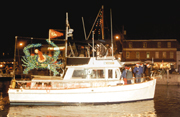 Although Tim is a relatively new member of the EYC having joined in 1995, his experience with the Lights Parade began "almost as a precondition to membership," according to his sponsor, Dave Hanson. Dave and Tom Stalder have been co-chairing the Parade for a few years, always looking to get others involved. Dave immediately put Tim to work to learn the ropes aboard one of the "host boats" where the club recognizes and entertains its sponsors. When it came time to turn over management of the parade to someone else, Tim seemed like a natural.

For Tim, his love of boating is inherited from his father, George, and his uncle, Sam Hardesty, who built mahogany sailboats on the Magothy River when Tim was a child growing up there. As a Boy Scout, he developed an interest in power boating and canoeing. As a young man, he worked at Fairwinds Marina in Cape St. Claire doing "whatever they asked me to do." But his love of sailing was to wait for about 25 years. As a result of befriending Dave Hansen, Tim participated in EYC's Friday Night "Beer Can" Race series. "I absolutely love it and continue to this day with my friend, Frank Morrow, aboard Tomorrow Squared," Tim says.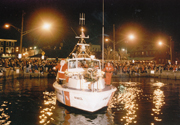 Tim calls the work he does for the Lights Parade "a labor of love." In his real job, Tim is a major accounts manager for Dell Computers of Austin, Tex. He's their representative with regional systems integrators and the national intelligence community, a connection made very early when Tim, at the age of 16, was employed by the National Security Agency assigned to work with a group of electrical engineers. Of course, NSA means "never say anything," and Tim won't give a lot of details.

Last year, Tim wisely picked retired Vice Adm. Ken Malley, USN, to be his co-chair figuring "...anyone who could command 600,000 troops might be up to the challenge of managing logistics for the Lights Parade."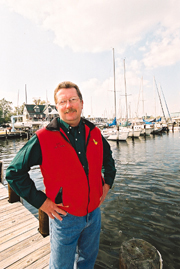 Tim and Ken say throughout the planning process (which usually begins the week after the Lights Parade is staged), safety is the watchword. "We are fortunate that we have never had a serious accident during the history of the parade," Tim says. A few years ago, wind gusts of nearly 40 mph arose almost exactly the same time the parade got underway. One skipper was heard to comment he'd never been "knocked down" before, but the winds against the lights suspended from his masts nearly blew his vessel over. "We've had high winds, ice, rain, and zero temperatures, but we've also had balmy nights illuminated by a dazzling full moon. Given our choice, we prefer the latter," Tim says with a wink.

Clearly, a project of this magnitude requires lots of assistance, and the EYC willingly gets it each year from the City of Annapolis Department of Public Works, the Harbormaster, Transportation Department, Police and Fire departments; Maryland Department of Transportation and Natural Resources; U.S. Coast Guard; U.S. Naval Academy; Annapolis City Marina; the Yacht Basin Company; and Anne Arundel Medical Center.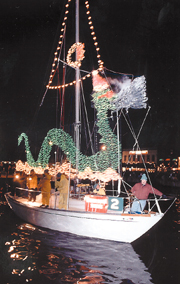 The EYC has also worked hard to develop generous financial support from a growing list of sponsors. Viewers need to know that the parade is divided into two fleets with one starting in the Annapolis Harbor area and the other above the Eastport/Spa Creek Bridge up to Shearwater near Truxtun Park. About half-way through the two-hour show, the two fleets change position. Some people think the parade is over at 7 p.m. They wind up missing the "best part," according to Tim. "We encourage parade-watchers to feel free to hoot their approval to the passing crews aboard the boats---scream, honk and even sing along if you will. I know they really appreciate the crowd's response. It's what makes them come back year after year."

A favorite off-the-water highlight of the parade is the annual poster competition. In 1988, the Lights Parade was selected as the "Event of the Season" by the Maryland Department of Tourism, and its reward for that selection was the now-famous "Deck the Hulls" poster. Since then, the club holds a competition in which a local artist is selected to produce the poster which reflects their interpretation of the overall ambience of the Lights Parade. Some of us are collectors and have every poster ever produced; they're also on display at the EYC Clubhouse. This year's artist, Judith Cleater, was introduced at a special EYC reception on Oct. 2 when the winning entry was unveiled to the "oooh's" and "ahhh's" of the crowd.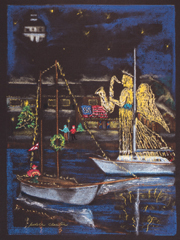 Ken Malley reminded us that a relatively recent addition to the festivities is the "People's Choice Award" in which viewers can note their favorite boat number and name, and mail in their ballot to the Eastport Yacht Club or drop it off at one of the designated collection points. "It's usually a surprise, but it's also a great indication of what really pleases the spectators," says Ken. In 1998, the first human-powered entry appeared---a 45-foot long Hawaiian outrigger canoe---that was a big hit with the crowd, and the "People's Choice Award" proved it.

Love is in the air, too. Throughout the history of the parade, several boats have sported a "Marry Me" message, but last year marked the first Lights Parade wedding! Carrie Heath and Jim Mitchell exchanged their vows aboard Cabaret II. Who says the EYC Lights Parade doesn't offer something for everyone?

So, mark your calendars for Saturday, Dec. 14, 6 to 8 p.m. If you have never seen the Lights Parade before, you are in for something both special and unique which reflects the boating heritage of Annapolis, America's Sailing Capital. If you're a veteran parade-watcher back in the days when Brumby appeared as a square-rigged schooner, when The Flasher first crashed the scene and delighted the audience with its creativity and whimsy, or when Dream Chaser first showed up with its delicately flowing angel...just be on the lookout for something new and amazing this year. Why do we know this to be true? Because it always is! That's what makes the annual Eastport Yacht Club's Lights Parade the favorite event for so many happy people.

Happy Holidays!
Back