Devoted to Our Children
By Cindy Edwards
When consultants for Anne Arundel County set out to find a new superintendent of schools, expectations were high. After all, this individual would carry a responsibility of monumental importance in the oversight of all aspects of education for our children---the responsibility of being a beacon for our educational system. Their search was grand but the resolution became obvious---Dr. Eric Smith.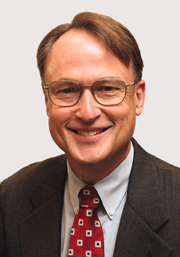 With more than 20 years of experience in education, Smith stepped ardently into the position this past July, bringing with him a contagious enthusiasm. "I feel that I have the best job in Anne Arundel County. I truly have a passion for what I am doing." He also brings with him a vision for our school system---and a definitive plan. "I have clearly outlined my goals as superintendent and have also specified how we will achieve these goals so that our children will be fully prepared to take that next step into the world when they complete their education here in Anne Arundel County." More than 75,000 students and 120 schools make up the Anne Arundel County school system.

Smith's track record is proof of his dedication to and expertise in education. He was the recipient of a prestigious award, the 2002 Superintendent of the Year for the State of North Carolina. Smith was also a finalist in the 2002 National Superintendent of the Year Award.

When asked about his primary goals as superintendent, he says, first, "Accelerate achievement for all students and minimize achievement disparities among groups of students." Next, "Create a safe learning environment that promotes accelerated achievement." And finally, "Establish community partnerships to promote accelerated achievement in a welcoming school environment."

Smith perceives his greatest challenge in attaining these goals as "dealing with people's reaction to change. People say they want change, but when the time for change arises, they are reluctant---it's human nature. When the transaction of change is complete, however, they are pleased."

Smith has committed himself to making these positive changes. His work schedule is rigid, but he's not complaining. "My official work day begins around seven in the morning and sometimes ends as late as eight or nine in the evening. But I live it 24 and 7---because the education of our children is that important."

He has been well-received by his constituents, elected officials and local agencies. "I am so impressed with the closeness of the community. It's large yet there is such an intimate feeling and so many individuals who are devoted to our children and influencing their education positively."

When inquiring about the school system in today's world, it is impossible to ignore the issue of security. "Security is a major concern and it is something we are focusing strongly upon," says Smith. "But I cannot stress enough that children are most safe in our schools. We have in the past and continue to commit ourselves to keeping it that way."

In the wake of current events, it is clear that we are walking through uncharted territory when securing our schools, but reaction time has been quick and adjustments are made with great precision and adequacy. "We work closely with local authorities, elected officials, state agencies and the federal government in dealing with this issue. The lines of communication are wide open and that's important."

Born into a family of educators, Smith began his higher education focusing on science and math not knowing at that time that he himself was also destined to become an educator. "After some time in school, I decided that I preferred working with real, live children, rather than test tubes." Early in his career, he taught math and science to middle school children in Orlando, Fla., then earned the rank of principal and eventually became superintendent in Charlotte, N. C.

Today, Smith and his wife, Carolyn (who is a guidance counselor in Baltimore County), are settling into their new lives. "We bought a home in Eastport and are in the process of remodeling it so currently we are living amidst the nails and sawdust." They are quite happy in their new home despite the growing pains and consider themselves fortunate. "When we arrived in Annapolis, we were in temporary housing while we looked for a home. When I was working, my wife would go out looking at houses. On several occasions, she called me telling me that she found one that was perfect and it had just gone up for sale. But then, after work we would go to look at the house and sometimes there would already be two contracts on it. It was unbelievable."

They also enjoy their close proximity to the water. "We love taking the water taxi over to the downtown area and having dinner." If not riding the water taxi or dining downtown, you may find them cruising in their 8-foot dinghy. That's right---a dinghy. Smith laughs as he explains, "We sold our boat with our home in North Carolina, so right now we just have a dinghy, but we have a great time with it."

As for the holidays, Smith says, "Holidays have always been family time for us." This Christmas and New Year's the entire Smith family will gather in Florida for celebration and rejuvenation.

Smith's genuine concern for our children is obvious. He and his wife have raised two children of their own and combine their practical experience with their education. "Parents are the primary educators in a child's life...the school system is there to enhance the family institution," says Smith.

His best advice to parents: "Hug and kiss your children every morning. Hug and kiss your children every night. Stay actively involved in their lives and don't let them spend endless time on the Internet without knowing what they are doing."

His advice to students: "Always do your best...you'll be glad that you did."
Back