Hands-On Helper
By Valerie N. Kaufman
It's not often that a boy gets to meet his hero and have that meeting grow into a lifelong friendship. But for Bob Emory, that's just what happened with Yankee great Mickey Mantle. It all began in 1956 and lasted almost four decades until Mantle's death in 1995. "Mickey was a special friend and a true hero," Emory says. "He may have had some tough years but, through it all, he was good to his fans. We were important to him."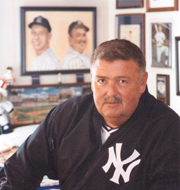 After attending numerous Yankee games and getting a few words in to Mantle as he came out of the dugout, Emory decided he needed to make a lasting impression on his hero and came up with a way to do just that. At the time, Emory was working at a hardware store, and on the third floor in storage was an old bowling trophy. "I asked my boss if I could have it, and when he said yes, I changed the mounting to a baseball player, cleaned it up, and put a new plate on it. The next time the Yankees came to town, I dragged it to the [Griffith] Stadium [in D.C.] and presented it to Mickey. That was no easy task---the trophy was about 31 inches high. Our friendship snowballed from there."

Over the years, Mantle would send Emory signed baseball cards, photos and balls, and they would often talk when the Yankees came to town. On one occasion, Emory went to the World Series and stayed in the same hotel as the team. Then, in 1970, came Emory's ultimate tribute to his hero. He named his only son Mickey. "I also asked Mickey to be his godfather and he said yes. Although it was in name only, it was a great honor."

Now, some 46 years later, an entire room in Emory's house is dedicated to Mantle's memory. It is full of autographs, balls, figurines, photos, and more. "My wife calls it my Mickey Mantle shrine." His favorite pieces of memorabilia are the more personal ones, like pictures of him or his family with the legendary player.

Emory's love of baseball and later for Mantle was nurtured by what he considers a great childhood in Annapolis. "Back then, Annapolis was a small town, and I grew up enjoying the simpler things in life," he says. "My friends and I used to play baseball all day during the summers. We would fantasize about being part of the Yankee lineup and would take turns pretending we were famous players up at bat."

Though his passion was for baseball, Emory knew he didn't have what it took to be a professional player so he got a job at a local hardware store after high school while he decided what to do with his life. "When some friends suggested I look into the police force, I thought, 'Why not?' It sounded interesting," he says. "I have to admit that at first I didn't think it would become my career, but once on the force, I loved the people I worked with and enjoyed working with the community." Before he knew it more than 30 years had passed. But even after it was time to retire, which he did as a lieutenant, he couldn't tear himself away for long. Now he is a part-time contractor with the Annapolis Police Department and works with the auto theft division.

Married for almost 25 years to Carol, the love of his life, Emory and his wife have six children and nine grandchildren. "Together we have a wonderful blended family. I had a son and two daughters from my first marriage, and she had two sons and a daughter from hers. We brought them together to make a real family."

According to Emory, the secret to the success of his marriage is that he and his wife laugh together. "It's important to find humor in life," he says. "It also helps that we like the same things and just enjoy being together." Recently, Emory and his wife have discovered a love for cruises and have traveled to such places as Alaska, the Panama Canal and the Caribbean. They have another cruise planned, this time to Nassau, to celebrate their 25th wedding anniversary.

You'd think between baseball, work, travel and his family, that Emory would have enough on his plate to keep anyone busy. But Emory also serves as president of the local Lions Club chapter. "It's very satisfying," he says. "It's a great way to give back to the community that I love." The Lions Club is an international organization with nearly 1.4 million members in 190 countries. Globally, members tackle issues such as blindness, drug abuse prevention and diabetes awareness. On the local front, they seek to improve the quality of life in their local communities by participating in such activities as building parks, supporting hospitals and establishing water treatment plants.

"A recent project that we undertook was to raise money to help pay for and maintain the helicopter pad at the Anne Arundel Medical Center." The Annapolis Lions Club also hosts such events as fruit sales, bull roasts, golf tournaments and calendar sales to help those in need in the area. "We also make annual contributions to the local police and fire departments and sponsor scholarships."

The Lions Club maintains a popular fruit sale every winter. "You can get boxes of tasty oranges, tangerines and grapefruit," Emory says. (For information, call 410-721-3476 or 410-268-0996.)

Another ongoing project of the group is eyeglass recycling. You can drop off your old glasses in boxes located at malls and stores around the area. "We recycle these eyeglasses and send them to people in the U.S. and around the world who can't afford to buy their own."

The Lions Club is always looking for new members and invites everyone, no matter what your age or gender, to join. (To find out more about how to join or about the events the club sponsors, call 410-263-6311.)

"Being a part of this organization is a very rewarding experience," Emory says. "After you've taken part in that first project and stand back to look at the work you've done, you'll realize just how great it is to help people in your community by giving of your time and hard work, not by just writing a check."
Back