Making It Happen On West Street
By Martie Callaghan
Intense interest, the ability to work with people, to write grants, to bring new resources into the communityThese are some of the qualities that landed Mike Miron a mayoral appointment to the position of Director of Economic Development for the City of Annapolis less than a year ago. "He thinks out of the box---he's creative," says Mayor Ellen Moyer. "He sees opportunities where others haven't."


Miron describes Annapolis as a city of small businesses and sees his role as one of retaining and recruiting new businesses to the city---both retail and commercial---and working with the people who live and work in all six commercial sectors (Eastport, downtown, inner West Street, outer West Street, West Annapolis and Forest Drive) to keep their economic vitality strong.

"If someone wants to look at or open a new business in Annapolis, I'm probably the first person they contact," Miron says. He notes that the city is an easy sell but the lack of affordable housing presents a challenge for the small companies whose employees' annual income is in the $30,000 to $40,000 range. "There is a tendency to live outside the city," he says, "[but] companies still want to come here for the water, the sailing industry, the whole ambiance of what Annapolis offers. It's a big plus for economic development."

Miron has been in town since 1971 as a small business owner. His path to entrepreneurship began after completion of his sophomore year at a small Catholic college in Florida. He took a summer job at a Volkswagen dealership in Atlantic City and, in four short months, learned enough about fixing cars to do VW repair part-time out of a service station when he returned to school in Florida that fall.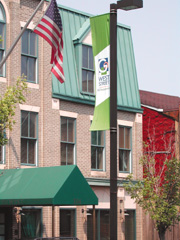 "A friend advertised it on the radio as Mike's VW Service," he recalls. "I made enough money for room, board and tuition." Miron went on to graduate school at the University of Maryland where he worked as a university housing official, managing three high-rise dormitories on campus. Upon completion of his graduate degree in economics, Miron and a buddy were presented with the opportunity to purchase a Mobil gas station in Annapolis and did so, "...on a whim, for $2,000," Miron says. "He was manning the pumps and I was fixing VWs." His buddy returned to teaching but Miron enjoyed the work and stayed on at the Mobil station until 1981 when he purchased the Eastport Shell station.

After moving to Eastport in 1981, Miron became very involved in local affairs and organizations and was known as a quiet force "behind the scenes." He served on the Environmental Commission and served as chair of the Planning Commission. He became involved with the Annapolis Maritime Museum by doing research for exhibits. Over several years, he recorded nearly 60 oral histories of Eastport residents and worked as part-time consultant to develop a master plan for the museum.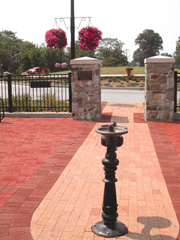 Carey Kirk, current president of the Eastport Business Association, recalls meeting Miron through that organization more than 10 years ago. "He is a past president and, in my mind, has set the present day course for the EBA," says Kirk. "[The position of economic development director] is an absolute natural for Mike. He was a business owner in Eastport for quite a long time, so he has the independent businessman's mind and a knowledge of the town in general. He has been a huge advocate for the maritime community, a human bridge both personally and professionally to the city at large."

During his first week on the job, Miron received a phone call from a businessman who was looking to relocate his company to another city. Annapolis was on his short list. Miron promised to send him the standard information packet but on hanging up the phone, he discovered there was none. "My first challenge was to start putting together a packet of information to market the city to companies and small businesses," he says. After exploring design and printing options, Miron decided that the city would be better served by the development of a web site. "So that's where I put the money," he says. "It's colorful, glitzy and update-able every day."


Miron's involvement with some of the large projects around town dates back to the 1980s when he chaired the Planning Commission. "In 1985, we did a West Street sector study to determine what we could do to change the climate so that after 5 p.m. you have some pedestrian life on the street."

The commission came up with incentives for developers which could increase the allowable square footage of a building. The development of the Loews Hotel and many buildings offering class A office space was the result of those incentives. Down the street, a mixed-use project named Park Place offers residential townhouses, a hotel, commercial office space and a performing arts center.

"Park Place was the kind of anchor project we knew had to come along in order for the revitalization of the West Street corridor to take place," says Miron. Across from Park Place on Gateway Circle is a triangular piece of property which will be developed by Alan Hyatt, president of Severn Savings Bank. Groundbreaking for the 60,000-square-foot office building will be this fall. Retail businesses will occupy the first floor and the bank will be headquartered there.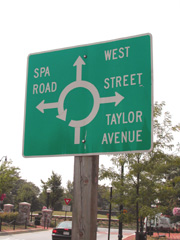 Between Colonial and South Gate avenues, the city purchased a lot known as the Knighton property to build a 300-car parking garage. "The city was going to demolish the five houses in front of the site," Miron says, "but the preservation folks got together and came up with a proposal to purchase and save the houses, putting retail on the first floor and residential on the second floor." Construction is under way and two businesses---a dress shop and a florist---are expected to open by December. This project, built by the West Village Corporation, will anchor the small retail development along that part of the West Street corridor. The owners of those buildings are also the owners of Tsunami Restaurant in the first block of West Street. "The building owners not only invested in the first block but are investing themselves three blocks away with more retail development," Miron says.

A new 20,000-square-foot office building at Lafayette and West streets, offering 1,200 square feet of first floor retail, will be completed by the end of November. The property known as 115 West Street is owned by Phil Dunn of Herrmann-Dunn Real Estate, who also own 30 West Street, which was the Middleton Art Gallery and is now Herrmann Advertising. Dunn was the developer of the Loews Hotel and the office building at 151 West Street which houses the Chamber of Commerce and Miron's office. "I am spending a lot of time with the West Street folks and the developers to encourage retail and commercial to come to Annapolis," Miron says.

In the outer West Street sector, Environmental Resource Management has been hired to do a sector study of the corridor between Chinquapin Round Road and Route 2 to consider what uses the city wants to encourage in that location for the next five to 10 years. The purchasers of the Johnson Lumber property plan to build a 350-unit apartment house. "[It's] kind of a donut," Miron says, "with core parking in the center. If your apartment is on the fourth floor, your parking space is on the fourth floor. They did their homework. By the year 2005, there will be a shortage of rentals in Annapolis. It requires a zoning amendment. I think they will get it."

Meanwhile, property owners and developers should find their review and approval process going smoothly as they meet with the pre-application conference committee (PAC), chaired by Miron and composed of department heads from planning and zoning, public works, inspection and permits, engineering, transportation, and the fire department. "[Developers] could spend two weeks knocking on every door to get answers," Miron says. Rather, a developer comes to the PAC committee and learns immediately if his proposal is in violation of any codes. "It saves developers a huge amount of time and money," Miron says. "This has been my greatest challenge---putting that together and making it work."

By the end of this calendar year, Miron expects to have developed a strategic plan for the next five years. Other goals include the development of a city-wide economic development advisory board and the hiring of a full-time minority business enterprise officer whose responsibility will be to retain and recruit minority businesses to the city.

"The department has been expanded," Miron says. "It used to be a one-man show with part-time staff. Now, I'm the full-time person and I have a full-time staff assistant and a full-time business development coordinator responsible for holding the hands of people going through the permit process."

Phil Dunn, having worked with Miron on several large projects, notes that Miron has been very helpful in marketing West Street and in communicating with business owners, operators and tenants up and down West Street, trying to ease the pain of development. "Mike understands the process," says Dunn. "He is a great liaison between the business community and the city."
Back