A Place For the Fellas
By Douglas Lamborne
A writer for the Baltimore Sun went into Leon's Barber Shop several years ago and asked if anyone knew someone who may have been involved in the D-Day invasion of France. Leon Wolfe nodded at one of his customers. The fellow said, "I was there."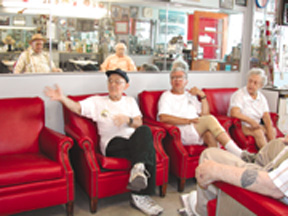 Was he ever. The fellow, Wheatley Christensen, jumped with the 505 Parachute Regiment, 82nd Airborne, shortly after midnight on June 6, 1944. He was part of a unit that captured Ste.-Mer-Eglise, the first French town liberated by the Allies in World War II.

Leon's Barber Shop has been like that for decades---a place for warriors and their war stories, for the sons and grandsons of customers, for politicians on their schmooze cruises. For some old-timers it has been a place to meet the fellas, to catch up on gossip, to talk about the way Eastport was a half-century ago. Leon's Barber Shop has been sort of a time capsule, and its closing will mark the end of an era.

Wheatley Christensen can talk about the way Eastport was way back then; he was born on Fourth Street 84 years ago. (It was actually Third Street in those days. When Annapolis annexed Eastport in 1951, the street names on the lower peninsula were switched: First became Sixth, and so forth.)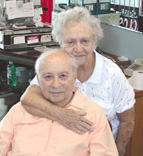 Leon was born in Galesville on Sept. 12, 1916. Christensen went to school with Leon in Eastport and remembers his friend starting his barbering career as a shoeshine boy. He cut hair first on the street under the guidance of older brother Izzy. He worked there, in the building next to the church, until he moved into his current shop in 1958. That shop had been Eastport's post office that was maintained by Leon's wife Ruth. (They were married on Aug. 18, 1939.)

"Everything in Eastport was there," says Christensen of Fourth Street in those days. It was a street busy with commerce---two grocery stores, a confectionery, a 5-and dime, a tavern, Sam's Place on the corner at Severn Avenue. In those pre-war days, "there were swamps all around, including one behind Leon's current shop." Some of them were filled in during public works projects in the 1930s.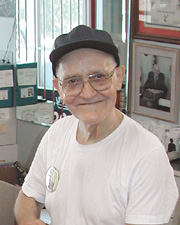 Christensen remembers crabbing, swimming, fishing in Spa and Back creeks. "I crabbed off the Spa Creek bridge and sold 'em for a quarter a dozen," says Christensen. "A dozen in those days was 16 crabs." They played a game called "Tarzan" during which Leon once fell out of a mulberry tree at the school, breaking both his arms. As they got older, some engaged in "girlin'," cruising the churches on Sundays looking for girls.

Lou Lewnes, who lives next door to his nephew's steak house and has been there for the better part of seven decades, says he was a customer of Leon's as a boy. "I can't remember having any other barber in my life," he says.

Like Christensen, Lewnes can remember Fourth Street as busy with small-town, mom-and-pop commerce, up until 1947 when the bridge from Compromise Street was moved from Fourth to Sixth.


He recalls the Eastport Athletic Club, a group of Eastporters, many of whom were denizens of Leon's, who purchased the old police station on Fourth in the early 1950s. It was between the Boatyard Bar & Grill and the laundromat. It was a place for their poker games. "No one in there could jump a foot off the ground," says Lewnes. He can recollect some of the EAC's members---Luck Lamb, Cork Bast, Dave Holidayoke, Fred Hancock, Emory Bowen. "They were mostly carpenters and contractors, builders in the area," says Lewnes.

Blue-collar workers, lacking money and TVs in every room, gathered regularly at Eastport Elementary for softball games. "It was the kind of thing where everyone in the neighborhood showed up," says Lewnes, who played left field. "Maybe hundreds of people for one game."


Bobby Dodson, at 63 among the younger "oldtimers," was born in Solomons Island and got his "first real haircut with Leon" there. "Leon used to go down there in the early '40s for all the Navy and Marine people training there early in the war," says Dodson. "Leon swears he remembers me back then."

Dodson also remembers Sam Lewnes' restaurant at the corner of Fourth and Severn serving as a major hangout in the neighborhood. "Sam's was sort of like the bank of Eastport. It was where workers from Trumpy's boatyard went to cash their checks." It was taken over by Sam's son Lou. When it closed about 30 years ago the men started lining up for coffee at Leon's. Dodson remembers a slew of characters in those lines---Bobby and Donald Luongo, Windy Lucas, Bill Jones, Jimmy Dunleavy, Jack Flood, Charlie Williams.

"People in those days worked at Trumpy's, the Naval Academy or on the water. You never saw all these sailboats back then," says Dodson. "For years, Eastport was a blue-collar, salt-and-pepper neighborhood where everyone knew everybody up and down the streets. It's nothing like that today."

Al Hopkins became a regular at Leon's after he returned from Navy service in the Korean War. (Hopkins also served in World War II as a radioman in the Navy "for three years, three months, three weeks, three days." Leon served in the Navy, too, also in the Pacific.)

The fellas at Leon's were important to Hopkins' fulfilling a dream he first had while in high school---"I wanted to be mayor of Annapolis." They urged him on, and his campaign took shape there in its earliest stages. Hopkins went on to beat an incumbent mayor, Dennis Callahan, in one of the more remarkable political events in the city's history.

Hopkins explains that he originally left Annapolis because of the taxes. He came back from Korea to find that Eastport had been annexed by the city. "I said to myself, 'They'll regret this day. I'll get even with 'em; I'll run for mayor.'"

Other politicians among Leon's customers have included former mayors Pip Moyer and Dick Hillman, State Sen. John Astle, current aldermen Dave Cordle and Josh Cohen. State Comptroller Louis Goldstein was a customer there just days before he passed away.

For World War II veterans, Leon's was the place for them to recount their experiences way back then. Their conversations were a gold mine for a history nut---these fellows were at North Africa, Sicily, Anzio, Normandy and the Bulge. Others were at Pearl Harbor, Saipan, Tinian, Iwo Jima. They spoke more of mud and boredom---"we lived like rats," says Lewnes; the dimwittedness of their officers (a common complaint among enlisted men); the sudden terror of German 88s and kamikaze planes. The Bulge was a great battle to the history nut, but for the veteran it is remembered for its penetrating cold.

Lewnes and Christensen learned at Leon's that they had crossed the Atlantic in the same convoy. They also witnessed an outrageous example of "friendly fire"---the shooting down of a flight of planes loaded with American paratroopers. Gunners, Americans, were trigger-happy that night, Lewnes explained, because of an attack by German planes earlier in the evening.

"These guys saved Western civilization," says history nut Pip Moyer, citing Lewnes and Christensen. "Tom Brokaw was right; they were the greatest generation. If it weren't for them we'd be pulling rickshaws and doing the goosestep."

Moyer, the fourth of six generations of Eastporters and former mayor says, "There have been three institutions that have survived from old Eastport---Mt. Zion Church, the school, and Leon's Barber Shop. Now we're down to two."

As the years advanced, the hair piling up on the floor around Leon's chair grew grayer and whiter. Conversation about arthritis and bypass surgeries gave way to quiet inquiries about who of the fellas was being laid out at Taylor's. And the piles of hair got smaller. What about Leon, "Lee" to his pals?

"You were treated like you were a member of his family," says Hopkins. "Leon contributed a lot of joy to the simple act of getting your hair cut. He's been a very compassionate man." "Leon's been a hardy old soul," says Lewnes. "The closing of his barber shop will bring an end to an era."

"He has always been a likeable person, a worker all his life," says Christensen. "I told Leon not too long ago that there are just a damn few of us around any more."

"Leon was a forceful personality, always a character. Everyone brings up his name when they talk about old Eastport," says Moyer. "He was also a very good athlete, a good boxer. He had to be: He was a Jewish boy growing up in Eastport."

Says Dodson: "I don't like to look up there and not see that barber pole moving."
Back