A Dream Outside the Box
By Cindy Edwards
How many times have you dreamed about giving it all up and floating away into a fairy tale---where time is not of the essence and all things are possible? Your day is not dictated by a strict system nor is your mind occupied with responsibilities. You awake with sheer enthusiasm; dinner with friends may linger for hours and wine is free flowing. There is no schedule---just the adventure of a new day. Only a dream you say? Perhaps not.


Annapolitans Andy and Amanda Fegley along with their two children, Aurora and Alexander, made their dreams a reality. For 23 glorious months they cruised 3,800 miles through Holland, Belgium, France and Spain aboard a Dutch fireboat, immersing themselves in spectacular scenery, unforgettable experiences and an itinerary navigated by free spirit. How did they make the dream happen?

"By making a decision to do it, then remaining confident and committed to that decision," says Amanda Fegley. "We were completely determined."

They also did a great deal of research to familiarize themselves with the task by reading books and surfing the Internet. "Once we had an overview, we made a five-year plan and set goals for everything that needed to be dealt with," says Andy Fegley.

They made a financial plan, researched educational options for their children (ages 10 and 7 at the time), contemplated how to responsibly and tactfully put a thriving boat electronics company on hiatus without upsetting clients, and then they went boat shopping on the Internet.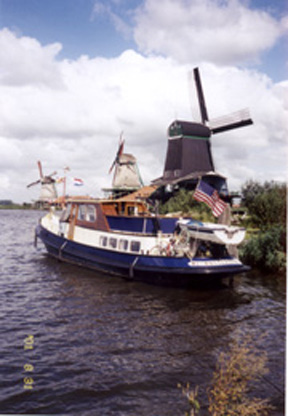 "What we found was that boats in Europe were fairly priced and beautifully suited to the purpose," says Andy. A major concern was the limited dimensions of the French canal system. "We needed a boat that met the restrictions of the canals yet was seaworthy to venture into the open waters for some coastal cruising."

They decided to purchase a European vessel and fly over to Holland to begin their adventure. The vessel that won their affection was the Joanna, a 1948, 53-foot steel hull, Amsterdam fireboat that had been restored for yachting. The Joanna was a Dutch beauty, her 11-foot beam and 41/2- foot draft would be canal friendly, and her structure was tough enough to endure the open waters.

They agreed the children would be home-schooled using the Calvert School curriculum. "The Calvert School has a phenomenal home schooling method and literally provides you with an entire year in a box," explains Amanda. "They work it out to such a degree that it is easy for a parent to become the home teacher."

Then on May 29, 2000, Andy departed to do some work on the Joanna, which was anchored in the Dutch harbor of Vlaardingen near Rotterdam. On June 14, the rest of his family joined him to commence their cruising adventure.

The Fegleys were well-received by locals in Vlaardingen and they began making friends immediately---some would come to visit them in Annapolis after their return. "Interacting with the local people was a rich part of the experience," says Amanda. "We were very open and receptive---we allowed ourselves to take part in the local culture and that was really rewarding."

The first couple of months of their voyage took them north to the sandy islands in the Waddenzee, then to Amsterdam and an eventual return to Rotterdam where they regrouped and prepared to head south. "We said okay, we've learned something about the boat in the country in which it was built and we have learned something about living together on the boat---now it's time to go south."

And south they went. "In August, we descended into Belgium, through Leige," Amanda recalls with dreaminess in her voice. "It was spectacular." Meandering at a speed of 8 knots, they journeyed on the Meuse River, absorbing its sites and sampling its towns.

Home schooling was also under way. "For several hours each day Alexander and Aurora were schooled at the table in the wheelhouse aboard the Joanna while Andy drove," Amanda says. "We were surrounded by open windows, so we could watch the world pass as we completed our studies." And when the opportunity presented itself, "on location" history lessons were conducted as Alexander and Aurora learned about the French Revolution.

The Fegleys shopped for groceries on market day in the town d'jour, bought fresh bread daily from local bakeries and purchased French wines from the distributors for---are you ready for this---one dollar per liter. "Meals were mostly prepared aboard," says Amanda who is a wonderful cook, according to her family.

Some family members took trips to Europe and joined the Fegleys to sample their newly acquired lifestyle. Others were updated via e-mail with descriptive accounts of cruising down the Rhone River through Lyon to the south of France, frolicking in the Mediterranean, and celebrating Aurora's birthday in Barcelona, just to name a few.

The Joanna proved her seaworthiness and the Fegleys their seamanship as they ventured bravely into the Bay of Biscay and negotiated 36- to 40- foot tides which are "the second highest in the world," says Andy.

Then there was Brittany, the Channel Islands, Normandy---and a three-month rendezvous in Paris. "It was fabulous to awake each morning with the Eiffel Tower in view," Andy recalls.

As a grand finale, they explored Holland in detail, then returned to that one particular harbor in Vlaardingen where it all began. For seve more months, they lived aboard the Joanna before reluctantly selling her and, on May 14, 2002, they returned to their lives in Annapolis. Quite an itinerary, wouldn't you say?

These days, Andy's Yacht Electronic Systems on Second Street in Eastport is back in full swing, and he's once again playing trombone with Them Eastport Oyster Boys. Amanda is contemplating writing a book about their adventures, and Alexander and Aurora are back in school. The Fegleys may be back, but memories of their 23-month cruising adventure live vividly in their minds and their hearts.

What was the greatest lesson taken away from their adventure? Andy responds, "A complete vision of an alternative lifestyle to working every day of your life until you're 55---that is not my agenda."

Amanda agreed, "We have to be able to dream and be willing to venture outside of the box---because once you're outside, horizons broaden and all things are possible."

And so the next time that seemingly impossible dream sneaks into your thoughts and teases your reality, perhaps you should not rule it out-you too can make it happen.
Back