Bringing Freshness To Old Eastport
By Patricia Barry
Enough! For five years they searched for the replacement bar and grill. When Marmaduke's closed, a displaced culture sought its lost environment. The seekers were maritime locals from that funky community of Eastport, an enclave of spirited individuals with a sailing problem. And we can't forget the international sailors who always stopped by their favorite watering hole---they, too, were dazed by the absence.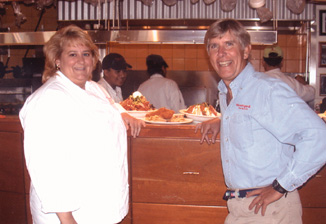 Not long ago, Dick and Susan Franyo, Eastport residents and seekers, began their background research from Maine to the Keys. They were looking for that perfect combination of delicious fresh food, great drinks and a lively atmosphere. As Dick Franyo explains, "We yearned for a wooden-shuttered cottage where we could throw open the windows and take in a warm salty breeze, where the walls were stuffed with photographs and the seats filled with lots of friendly locals."

When a property on the corner of Fourth Street and Severn Avenue on the Eastport peninsula became available, the Franyos had found the site where they felt the dream could become a reality. A salty sea breeze and crusty maritime history energized the plan. A talented local architect helped them escalate from an old frame building that had housed various restaurants and bars---among them Patton's Pub and The Wharf---to the light-filled and open, yellow board and blue-shuttered Boatyard Bar & Grill.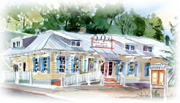 Walk into space, air and light punctuated by a semi-circular bar---all a combination of tradition and innovation. The menu covers feature photographs of Eastporters and recognizable boats, including racing dinghies and other reminders of eclectic and zany folks.

My ally in food and I dove into the shared appetizer of our choice, the hot blue crab dip. We're suckers for any variety of crab dish and this one was especially rich and flavorful. Lump blue crab with Parmesan cheese, artichoke hearts, spinach and onion, baked to a gentle golden brown crust and served with the house ciabatta bread. The Caesar salad was super fresh, light and crisp and robed in an ethereal house-made dressing.

Nothing but fresh fare here, including the breads, dressings and sauces---notable among these is the mango chili served as a dipping sauce on the Jamaican jerk chicken strips. Another is the spicy lime marmalade served with the lightly battered shrimp rolled in shredded coconut and quick fried. These and at least a dozen other tempting selections are offered under the category of "bar appetizers," but the attitude here is so friendly and flexible, and they may be a part of your table selections.

My entrée selection was a "house specialty," the Boatyard crab cake dinner consisting of two oven-baked lump crab cakes with homemade tartar sauce, seasonal vegetables al dente and my substitution of cole slaw over mashed potatoes. A great substitution in this case, because this dish was unlike any other slaw I have ever tasted---crispier, crunchier, spicier and much lighter. It and other hints of Caribbean spices were proven true when I met general manager and executive chef Tammy Reece who grew up in the Florida Keys and learned many of her tricks of the culinary trade in the "island atmosphere."

The crab cakes (the most expensive item among "house specialties" at $19.95) were like none other this crab aficionado has ever tasted. Yes, large lumps of the freshest crab, again with those haunting island spices, bound together with a mysterious and gentle whisper, all wrapped in the merest hint of crust. Reece's crab cakes are not in a competition---they're in a class by themselves.

My companion's entrée was the beer-battered fish and chips that come as succulent pieces of New England cod dipped in Otter Creek Ale batter and fried to a golden brown. He had just returned from the Isle of Wight where they promote their fish and chips as "the best fish and chips in the world." That world obviously did not include the Eastport where, according to the diner, "the crispy crust and moist tender cod was far superior at Boatyard." This "house specialty" with good chips and malt vinegar was a modest $9.95.

We enjoyed a bottle of '99 Sonoma Creek chardonnay at $25. Chef Tammy is the wine expert and delights in helping with selections. Desserts vary, and your friendly server (ours was Ryan Eber) is on top of this. While in the mood, we chose the Key lime pie and this citrus delight was the last soothing note in a symphony of the freshest of foods.

This is a family friendly eatery; all ages are comfortable. No reservations are taken. Just try to go early and don't forget the outstanding fresh breakfast fare served on Saturday and Sunday starting at 9:30 a.m.

Fresh is the key word.
Back