Tom O'Leary: His Passion is Food
By Wendi Winters
If you are what you eat, how does that explain Tom O'Leary? Three generations removed from County Cork, with dancing eyes, freckles, a ready smile and an incredibly thick head of hair, he's as Irish as a jig. But one of his favorite foods is sushi. Plus, the three restaurants he owns---Chevy's near Annapolis Harbour Center, Chevy's at Arundel Mills, and Fuzio at Arundel Mills---serve entries like crabmeat quesa-dillas, caramelized mushroom linguine, Thai noodles and grilled zucchini. Not a soda bread, banger, coddle, colcan-non or shepherd's pie in sight!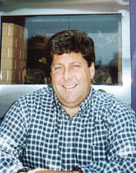 O'Leary's odyssey to Annapolis began in Rhode Island. His father, a former Navy aviator, became a United Airlines pilot after retiring from the Navy and continued to move his family about the country. Rhode Island was followed by Massachusetts, then a long stint in New Jersey, before the O'Learys headed to San Diego. O'Leary laughs when he divulges that his 1977 bachelor of arts degree from UCLA was in English literature. It's a wonder he didn't become a tutor at St. John's College.

O'Leary decided he loved books, but he was passionate about food. Upon graduation, he married his San Diegan sweetheart, Jeanne, and plunged into his first job in the restaurant business. He managed the Los Angeles Chart House, part of a chain that eventually built up to 100 units, including the well-regarded restaurant in Eastport. Chart House transferred O'Leary and his new bride to several locations around the country. With each move, O'Leary gained additional skills in opening, operating and managing successful restaurants. In June, 1979, O'Leary was transferred to Annapolis. He took a look around, concluded it was a good place to begin a family, and put his roots down. His family eventually grew to include three children, now 18, 14 and 12 years old.

In 1981, he opened a small seafood market off Third Street in Eastport. Within a couple of years, O'Leary's Seafood expanded into a full service seafood restaurant. With its view of Spa Creek, it was beloved by locals and tourists alike. Several years after O'Leary's Seafood debuted, O'Leary founded his eponymous catering firm, Tom O'Leary Catering. The catering business took off as the seafood restaurant plateaued; the restaurant was sold in '87.

Tom O'Leary Catering can handle any size party and just about any budget. Last year, the firm satisfied the wedding daydreams of 65 brides and handled dozens of bar and bat mitzvahs, anniversary celebrations, Sweet 16s and countless USNA tailgate parties. "We do everything from a basket to a ballroom," O'Leary chuckles. Every year, on Plebe Parents' Weekend, O'Leary Catering gears up to serve more than 6,000 hot dogs and truckloads of sodas, watermelon, potato chips and cookies to the newly-minted Plebes and their proud parents, siblings and friends. In addition, September and October are the firm's busiest months: it is the most popular time of the year for Annapolis couples to pledge their troth; the Navy stadium is one vast tailgate, and the Power and Sail Boat Shows strut their stuff at City Dock. They all need a magical caterer.

Three years ago, O'Leary's wife noticed a familiar gleam in his eye. He wanted to open a new restaurant. Jeanne teamed up with JoAnn O'Leary, his beloved, younger "Irish twin" sister and his "long-time business partner, best friend and soul mate," to dissuade him from starting a new restaurant entirely from scratch. Together, the three researched the possibilities. Chevy's was a fresh new chain with a terrific concept: authentic Cal-Mex food served in a warm, convivial family atmosphere. The O'Learys quickly built and opened the 120th Chevy's nationwide. It was a success but, a year later, tragedy struck. Diagnosed with ovarian cancer, JoAnn passed away on Oct. 30, 2001, at the age of 43. For O'Leary, the loss is felt keenly in his heart and in his business.

JoAnn's death came just as O'Leary had expanded the business again. Two O'Leary-owned restaurants opened at Arundel Mills: Chevy's and---riding the rising tide of interest in fusion foods---Fuzio Universal Pasta. O'Leary's Fuzio is the eighth in the country. Both Arundel Mills restaurants have quickly become regional favorites, drawing patrons from Baltimore and its suburbs, plus Columbia and Annapolis.

O'Leary's love of diverse foods extends to an appreciation of diverse cultures. His workers at Chevy's, many with Mexican or Salvadorian heritage, have inspired him to social action on their behalf. Last year, after a series of devastating natural disasters in Central America, he traveled to El Salvador to help out with relief efforts.

Look in the kitchens of O'Leary Catering and you're likely to find O'Leary at the stove. He loves to cook, especially "anything chicken." When not there, he's buried in a book, skiing down a mountain, or trying out his new 23-foot powerboat. But if it's a party at a friend's house, the best place to find him is in the kitchen. You are what you eat.
Back