The Island Touch On Ego Alley
By Patricia Barry
Imagine a restaurant sitting on a commercial and dynamic inlet of Annapolis, "the jewel of the Chesapeake Bay." Since 1649, the Annapolis harbor has been the epicenter for gentry and workers. It remains so today.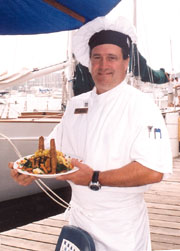 Today, however, gentry and workers meld into a classless society as they gather to feed both body and soul at the Annapolis City Dock. You are truly at arms length from commercial and pleasure craft plying the waters of the City slip, known irreverently as "Ego Alley." In reality, you are harborside at Pusser's Landing, comfortably situated at one of the 16 sought-after outside tables on the dock, or cozily ensconced on the adjacent patio, or happily nestled into a banquette in the main restaurant on the first floor (all at water level) at the Annapolis Marriott Waterfront Hotel on Compromise Street.

Pusser's is an entity in itself---as far as possible from the archetypical image of a hotel restaurant. Although Pusser's offers room service and catering for special parties, it is owned by Charles Tobias of Road Town, Tortola, British Virgin Islands, who brings to it his own island flair. Within the Virgin Islands, he operates five other Pusser's, as well as one in Ft. Lauderdale, Fla.

We plunged into the "infamous" Painkiller rum drink, a succulent blend of Pusser's rum, cream of coconut, orange and pineapple juices. Mind you, they come in sizes---small, medium and large, depending on your capacity and perspicacity. And they are accompanied by dozens of other rum-flavored tropical concoctions, such as the Marina Cay Champagne, featuring bubbly and mango juice, the Lady Hamilton, a blend of rum, passion fruit, orange and pineapple juices with a squeeze of lime topped with ginger ale (no wonder she was called "that Hamilton woman" during her liaison with Horatio Nelson), and dozens of other restoratives available to Pusser's patrons.

The menu reflects the cross cultures that make up the Caribbean Islands. After Columbus' arrival enroute to the mysteries and spices of India, others came, including British, French, Spanish, Portuguese, East Indian, with West African and Chinese traders, pirates, settlers and workers. According to Dunstan Harris, noted Caribbean food importer and cookbook author (Island Cooking), Caribbean foods are a "kind of Calypso/salsa culinary medley, full of subtleties, yet pulsating."

Pusser's pulsates in many ways, beginning with the appetizers we tried: the Tortola black bean soup, sampled by my peripatetic ally in food, was, as he reported, "delicately authentic---a Road Town Special," and the crab cake Annapolitan was a pan-seared jumbo lump crab cake with a house blend of herbs and spices with not a hint of Chesapeake Bay seasoning---the back fin crab meat reigned supreme in taste---and we're getting closer to the secret binder that keeps huge lumps of white crabmeat together in a crab cake.

Our entrees were the bacon-wrapped shrimp skewers, grilled and basted with Pusser's rum citrus barbecue sauce accompanied by grilled pineapple, vegetables and rice with bean sauce, an unforgettable island sensory experience, and the barbecued salmon tower, an Atlantic salmon fillet char-grilled and basted with citrus rum barbecue sauce and topped with mango corn relish. My excellent salmon dish was an architectural delight, served with jerked rice cakes, whipped yams and steamed vegetables. The rice cake triangles stand guard over the 8-ounce salmon and are so outstandingly good they beg to be served anytime. Executive chef Jim Eriksen confesses that some guests try to order only the rice cake triangles as a separate dish.

An experienced chef of 20 some years, Eriksen has been with Pusser's since shortly after it opened in the mid '90s. He relishes the creativity he enjoys with the Pusser's menu and the encouragement to develop local Chesapeake Bay ingredients as well as Caribbean-type catch and spices. An exciting inventory of spices, such as tamarind and jerk seasoning is available at the Pusser's Co. Store just next door.

We savored a bottle of Russian River chardonnay, smooth and lingering on the taste buds. Restaurant manager Alan Biars selects the wine and is available to discuss the extensive wine list.

Pusser's twisted bread loaf is a twine of white and grain redolent with onion and salted butter.

The menu is comprehensive and changes regularly. Prices are competitive, even lower than nearby establishments on some favorite dishes. The breakfast menu is "full" and includes a sumptuous buffet. Lunch features American favorites, local fare and the Caribbean touch.

The pulsating atmosphere in the restaurant is similar to the Road Town Pusser's, featuring an English club décor with tinned ceiling, dark wood walls and tables, rattan chairs, and flowered shirts worn by the wait staff. Service is cheerily efficient and families are encouraged to visit.

Reservations are recommended. The precious 16 tables on the dock are awarded, after reservations, by a wait list. Other dockside tables offer drinks and light fare.

Don't miss the extraordinary collection of more than 200 archival Marion Warren photos from 1880 to 1970 in the nautical gallery, your passage to a vicarious island eating adventure at Pusser's Landing.
Back