Annapolitans To the Rescue
By Tom Roskelly
Look at your watch. Follow the sweep of the second hand as it ticks off the pas-sage of time---10 seconds...20...30...40. In just 40 seconds, your life can change forever.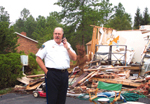 That's exactly what happened at 7:08 in the eveing of Sunday, April 28 in LaPlata, a nice little community an hour's drive south of Annapolis on Route 301. The most powerful tornado ever to hit the East Coast of the United States ripped through LaPlata, killing three and injuring hundreds. The twister damaged a thousand homes and businesses, uprooted trees and left a path of destruction and heartbreak, the full magnitude of which is only now being grasped. Damage estimates are in the $120 to $150 million range---and still climbing.

After two days of being the lead story on national and local news, the TV cameras left and the newspaper reporters went away, leaving this little town struggling to do what Americans always do---pull together to turn tragedy into triumph.

But, we get ahead of our story.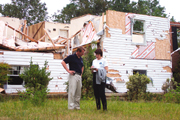 On that fateful evening, Doug Miller, town manager of LaPlata for the past 15 years, was tracking a major storm on TV. (Annapolitans may remember Doug's family---his grandfather "Rip" Miller was a Navy football coach; the Astroturf practice field is named after him.) TV weathermen predicted the storm was heading north of Waldorf, about 15 miles away, but Doug saw something he didn't like. Using a plastic ruler, he determined the twister was coming uncomfortably close. Then, Doug's wife Anne screamed "That airplane is flying awfully low." Doug knew it was no airplane. In seconds, Doug's Quailwood neighborhood suffered 70 percent damage.

Casey Gittings, a 28-year veteran of the Annapolis Police Department, is now the police chief in LaPlata. He was painting a room in his home about three miles north of town. Because he didn't have the TV or radio playing, he had no inkling of the storm's approach. Suddenly, he heard a noise unlike anything he recognized, and it was growing louder. Outside was the worst hail storm he'd ever witnessed. "We had softball sized hail pelting our home and beating up our vehicles," says Casey. Although the tornado spared his house, the associated hail broke windows and left his personal truck and his police car looking like some enraged giant had taken a ball- peen hammer to them.

The phone rang. It was Doug Miller telling Casey what he just realized---that a tornado had hit---and he needed to get downtown fast.

Casey climbed into his battered cruiser and turned on the police radio. His officers were already requesting assignments without being asked. As he drove closer, Casey expected damage, but what he saw was sensory overload.

Downtown was unrecognizable. Devastation was everywhere. Cars and trucks were strewn all over the place. Every single window was broken. Every vehicle looked like it had been burned, but nothing was on fire.

Commercial buildings were missing---no debris, no piles of bricks or shattered lumber---just gone. What appeared to be burned vehicles was actually the result of the 270 mph winds peeling the asphalt off roads and parking lots and plastering everything in sight with the blackish residue.

Casey vividly recalled what was running through his mind. "The very first thing we needed to do was...everything!"

The job of cleaning up started immediately. "As the sun came up Monday morning, we were all able to see the full scope of the damage for the first time," Doug recalls. He'd been through disasters before but had never seen such devastation. "I knew we needed to clean up the mess, but had no idea where to start."

Then the phones started ringing. In a makeshift office with no roof, volunteers handled calls from all across the country---people willing to lend a hand---so many that the phone system failed. "We received offers from as far away as Indiana," says Patti Bembe. Annapolitans will remember Patti as the helpful and friendly young lady who served as city clerk for 17 years before taking the position of assistant town manager in LaPlata.

"We got so much help so fast that it was impossible to keep track of it all," Patti exclaims. Agencies like the Red Cross (whose local headquarters was flattened by the twister) assisted with temporary housing. The Salvation Army was "magnificent" throughout, feeding people where they were working so the clean-up work could continue unabated. Patti observed a Baptist disaster relief trailer with Georgia plates working with two local churches. Public works crews from surrounding jurisdictions, including a group from Annapolis, just "showed up and started working---hey knew what to do." The Arundel Alarmers were on site with food and drink; an Amish community arrived and helped from sunrise to sunset; neighbors whose homes were habitable offered shelter to those whose homes were shattered. "We saw the bond among people becoming stronger by the hour," says Patti.

Clearly missing was an effective communications system. Things we take for granted like electricity, telephone service, and the ability to flush toilets suddenly became major concerns. "The power was out for about a week at Town Hall; the telephone system was overloaded and rendered unusable for at least three days; and our water system came perilously close to failing," Doug says. "We knew we needed to get information out---but how?"

That's when Lisa and Paul Bales, owners of "The Crossing at Casey Jones," a 22- year-old local restaurant located just a few blocks from Town Hall, stepped forward. Their establishment had the reputation of being an "unofficial" gathering place for LaPlatans. And that served the town very well when a community meeting was called on Tuesday, just two days after the twister hit. "We were hit hard, but at least we had walls and a part of a roof left. We knew it was important to facilitate a grass roots informational meeting because LaPlata looked like Beirut; people were hurting," Paul says.

News of the meeting spread by word of mouth. Mayor William Eckman brought folks he knew would have the answers to questions townspeople had but didn't know who to ask. Other government officials were there; insurance experts came; and about 150 to 200 people showed up. Patti says, "It was exactly what we needed."

Since the storm, Lisa Bales' daily wardrobe consists of Levis and a T-shirt sporting the message "LaPlata, Maryland, April 28th, 2002---Twisted, But Not Broken!" She and Paul purchased several hundred shirts and are selling them for $10 each to raise money for the Town of LaPlata Relief Fund. "Every dime of the T-shirt money goes into this fund," Lisa says, "because we consider ourselves lucky and know others really need help."

Sitting down to reflect, Patti, Doug and Casey thought about a story or incident that sticks in their minds. They all mentioned when the 300-plus pieces of clean-up equipment left on Friday, May 10th in an impromptu parade. They drove away to the applause and appreciation of LaPlatans, but then an eerie quiet settled over the town---no "beep-beep" back-up signals, no chattering stump grinders, no growls of the bulldozers---just quiet.

Patti told of her 77-year-old mother, Jo Bembe. As soon as she heard the news, she came down from Annapolis to prepare daily hot meals for clean-up workers, complete with flowers and dessert.

Doug recalled the one thing he wished he'd never said. Father Matt of Sacred Heart Catholic Church was organizing a prayer service, but Doug doubted its practicality considering the downed wires, the impassable streets and the organized chaos of ongoing clean-up. "I told a reporter that Father Matt was preparing a dis-service. When you consider I hadn't slept for three days, saying something that dumb might be understandable."

Casey's a big, tough cop but, as he told his story, tears welled up. He was on patrol in one of the worst-damaged neighborhoods and spied a man crying uncontrollably, sitting in front of a pile of rubble that had been his house. Casey figured the sobbing fellow might be injured. "Are you OK?" Casey asked. "I am now," the man replied. "My dog came back!" Casey saw the man's wife loving on a rambunctious pup. It had been over a week since the vicious storm carried him away to who knows where---and he just came back!

Such are the stories LaPlatans will tell for years. But right now, they're working hard to return to whatever "normal" is. Casey might even pick up the paintbrush he put down on April 28 and finish that room.

Editor's Note: Those wishing to help are encouraged to make a donation to: Town of LaPlata Relief Fund, Town Hall, 5 Garrett Avenue, P.O. Box 1038, LaPlata, MD 20646.
Back