Finding Time for Others
By Dave Ferris
Jim Turner is in the opportunity business. Born and raised in Annapolis, the executive director of Opportunities Industrialization Center of Anne Arundel County, Inc. (OIC) benefited from some early guidance. In his steady rise to the top of civil service, a grateful Turner took time to show others how to follow him. Six years after he retired, mentoring has become a second career.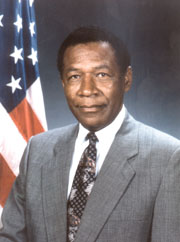 "When I give my orientations here at OIC the first of every month, I put three words on the white board," says Turner. "And those words are, 'attitude,' 'education,' and 'interdependence.' And I elaborate on those three words to the students who are in attendance at OIC and try to motivate them---'You have a second opportunity.'"

After 40 years of government service, Turner retired from the Department of Defense in 1996. His calendar remains as full as ever. He participates in a varied and dense schedule of civic activities, usually as a volunteer.

A past member of the Annapolis Rotary and Commander of American Legion Post 141, Turner has recently worked with organizations including the Annapolis Planning and Zoning Commission, the Annapolis Ad Hoc Governmental Structural and Charter Revision Commission, the mayor's transition team for public housing, RESPECT (a community-based organization representing African-American issues), the mayor's Human Relations Commission and Anne Arundel County's Workforce Investment Board.

"Volunteer things keep me busy, and I can give a little bit back to the city I was born and raised in," says Turner. He graduated from Wiley H. Bates High School, then the only black school in Annapolis, in 1956. After serving in the Air Force, he graduated from Anne Arundel Community College in the late 1970s. When Turner left the armed forces, he went to work for the Department of Defense and education became a theme in his development. At DOD, he entered a three-year printing management internship and was the first African-American to complete the program.

A father of eight with three children still at home---his wife, Marilou, is a critical-care nurse at Anne Arundel Medical Center---Turner has used his retirement as an opportunity to juggle his interests without slowing down. He is pursuing a bachelor of science degree in safety engineering from Kennedy-Western University.

"When I retired, I wanted something where I could contribute [to] helping people, but not have a 9-to-5 job," Turner says. "OIC allows me to be flexible."

Turner's distinguished career as a printing and publishing director included a three-year stint in Spain and a five-year tour in the Philippines. Following his return to America, Turner commuted to the Pentagon, where he ultimately was the first African-American to be appointed the rank of area director. Turner was responsible for all White House, Naval Academy and National Capital Area military base printing and publishing requirements. Serving a five-year tenure as director, Turner reached GS-15, the highest non-appointed government rank. One key to success, he says, is "being able to interact with people in a positive way."

Turner's track record as a volunteer kept pace with his professional progress. His numerous professional awards include a presidential citation and two Navy Meritorious Service Awards---the highest awards the agency can give. Turner received the Maryland Governor's Volunteer Appreciation Certificate. In January, at the 14th Dr. Martin Luther King Awards, he received the Morris H. Blum Humanitarian Award for his efforts in Maryland human rights causes. Turner has focused his volunteer work on improving the lives of disadvantaged Maryland residents, and his service with OIC might be the most direct application of that principle yet.

"Annapolis, with the exception of the Naval Academy and the city and state governments, is a tourist city," Turner says, explaining OIC's role in the community. "It has a lot of hotels and fast-food businesses. And what we attempt to do is prepare people for the work force, in a career-ladder job, so they can get benefits such as leave and insurance and retirement and not have the revolving-door syndrome where you go into these fast-food restaurants and you get minimum wage, and there's no light at the end of the tunnel. In order for them to improve, they have to be educated, and they have to be prepared."

A non-profit, no-fee service, OIC operates with a staff of approximately 10, eight of whom are teachers from Anne Arundel Community College. Funded largely through city and county grants, the organization provides education and job training, primarily through evening classes taught in English and Spanish. Depending on a client's needs, his or her experiences may vary from GED preparation to developing computer literacy.

Turner says OIC targets "very low and lower-income folk living in the county---that's our niche. We don't go after the younger kids. We try to look at people who missed their education years ago and realize that, in order for them to get a career-ladder job, they need some polishing."

Turner reports that 88 percent of OIC's clients are on the job six months after they finish training. The agency's holistic approach helps clients re-focus their entire lives. In addition to teaching students how to use computers, assemble a resume and excel in a job interview, the programs Turner oversees provide guidance for needs beyond the workplace. Clients learn to become investors, homeowners and mentors.

"I came from a very poor background," Turner says. "And I was very fortunate, very blessed to get the breaks, the opportunities that I did. I tried to take advantage of them, and I tried to make those people who gave me those opportunities proud of me. I wanted them to know I had the ability to do the job---all I needed was the opportunity. So I wanted to take that same scenario and say, 'Maybe I can help somebody else in the same kind of way,' make them aware of the fact that you can do anything you want to if given the opportunity."
Back