A Sense of Service Moves George Kelley
By Valerie N. Kaufman
It all began when he was a small child. As he watched his father, a minister,work among his congregation, the dream of following in his footsteps was born. And over the years, whether it was through his own ministering, working as a police officer, or now holding the position of alderman for Ward 4, George Kelley Sr. has made serving his community his mission in life. Kelley says it's never been important to him where he has ministered, just that he has ministered. "As long as I've been able to serve my fellow man, my living has not been in vain," he says.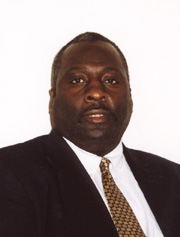 That desire to aid others was what drew Kelley to political office. According to him, it was just the sensible next step. "I saw a real need among certain members of my community. Some people were suffering more than others, and those people needed a voice in our city government," he says. "I decided I wanted to be that voice."

Elected in November of last year, Kelley's first goal in office is to assess the needs of his constituents so that he can serve them more efficiently. The next step will be to determine just how he can go about fulfilling those needs.

Born and raised in the Brownsville section of Brooklyn, N.Y., Kelley first brought his dream of ministering to others to fruition by serving as a New York City transit police officer for two years. He then worked as an officer for the New York City Police Department for another seven years. During that time, his beat included one of the toughest communities in Brooklyn, Bedford-Stuyvesant. His time there taught him the importance of creating a strong partnership between citizens, civic organizations and government to combat crime and social ills---knowledge that he hopes to put to good work as an alderman. "I really believe this city council and mayor have the opportunity to be one of the most accomplished in the city's history," he says. And Kelley plans on making it one of his priorities to ensure that they are.

In the late 1980s, Kelley and his wife, Wanda, decided it was time to seek a slower and quieter environment in which to raise their young family. As he searched for a new job, he looked to the south and stumbled onto Annapolis. "I heard about available jobs in the Annapolis Police Department and decided to check them out," he says. After talking to the recruiter and being interviewed, Kelley took a long hard look at the city and liked what he saw. Says Kelley, "The people were very friendly. The city as a whole just had a friendly atmosphere that attracted me."

Married for 24 years this July, Kelley and his wife were high school sweethearts. "I first saw her when she was dancing in a talent show. Right then I knew that she was the one for me." After dating for several years, they were married. He said it might have been her striking beauty that attracted him at first, but her sensitivity and their ability to communicate is what has kept the relationship strong over the years.

The proud parent of one son and two daughters, Kelley sees parenting as a way in which you can leave a piece of yourself behind in this world. "With your children and grandchildren, you are able to keep a little bit of yourself---some of your thoughts, ideas and emotions---alive even after you are long gone. My family will be my most important legacy," he says. Kelley especially enjoys being a grandfather. Isaiah, who is 2 years old and the newest addition to his family, is the joy of his and his wife's life.

Even though his work as a police officer has meant a lot to Kelley, he sees himself first as a preacher and that is why, soon after coming to Annapolis, he founded the Praise and Deliverance Tabernacle Church in the Clay Street community. Each Sunday, he offers the residents of the area a prayer hour. "I like to see my ministry as a filling station for the people of Clay Street," he says. "They come in on empty and after an hour of prayer with us they are able to fill up their engine with love. Then they can leave feeling like they have a full tank to get them through the week."

That same sense of helping others feel better about themselves and their station in life is the driving force behind one of Kelley's major goals as alderman of Ward 4. During his term, he would like to see an increase in the economic and educational level of his community. "I would like to give them the tools to make them self sufficient," he says. "Over the next four years, I would like to start developing such things as educational classes, computer training programs and grants so they can learn to help themselves." To help create these programs, Kelley hopes to draw in aid from all entities of the city, government, private citizens and businesses. "It's the right time for something like this to happen in Annapolis," he says. "It's needed."

Before being elected alderman, Kelley spent 14 years as a member of the Annapolis Police Department. Upon taking office as alderman, however, he decided it was best to retire so there would be no conflict of interest. In February this year, Kelley took a position as Police Officer II with the Maryland Department of General Services. This state agency is responsible for patrolling and protecting state grounds. "It's a big difference from the city department," says Kelley. "It's a much slower pace." But he admits that, since the events of September 11, the importance of ensuring the safety of our government, both the people and the buildings, has never been more crucial.

Having quiet time to himself in prayer and meditation is how Kelley likes to spend his few precious moments of free time. But even then, he is thinking of others. He says that through this time of contemplation he would love to develop a more clear-cut direction for himself and a better understanding of human nature in general. "I would love to be able to get to the heart of man. I also would love to learn how to reach others and how to speak to one's own soul," he says. Kelley compares this to when Solomon asked God for wisdom and understanding. "That would be my greatest wish," he says.
Back