Davis Lavis, General Manager, Band, Lavis & Associates, Inc. Senior Vice President, CDI Marine
By Martie Callaghan
The year was 1977. Jimmy Carter was inaugurated president, a U.S. postage stamp cost 13 cents, the minimum wage was $2.30 an hour, we lost Bing Crosby and Elvis Presley, but Courageous successfully defended the America's Cup in four straight races.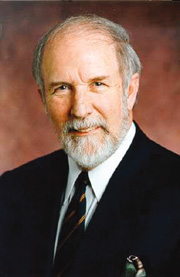 David Lavis uses these interesting trivia tidbits to put into perspective the startup year of Band, Lavis & Associates, Inc., the naval architecture company which he founded in Annapolis with partners Bill Band and Shirley Wilson. "The company for which we had been working moved out," Lavis explains, "and left us with office space, furniture and, most importantly, one client to set us on our way." From that relatively humble beginning, BLA conservatively and slowly expanded its business base, focusing on its strengths and its clients' needs.

The naval architects and marine engineers of BLA provide design and research and development services to the U.S. and other governments and to the private sector. "Government contracts, either directly or indirectly, make up the majority of the business," Lavis says. "We do a lot of overseas work, as well." Lavis cites contracts with the Finnish navy and shipyard, the Swedish shipyard and Korean, Japanese and British entities. "It must be clear that we do not design sailboats," Lavis explains. "We design high-speed power boats, mostly for the military. We are also very much engaged in large ships, up to 80,000 tons."

Lavis' fascination with "things that go fast on the surface" goes way back. He hails from a family boat-building business in England that started in 1875. He has been sailing since he was 5 years old and continues to enjoy sailboat racing. At age 18, Lavis left home and joined a company on the Isle of Wight which sent him to college and sponsored both his HND (B.S. equivalent) in mechanical engineering from the Portsmouth Institute of Technology, in England, and his master's degree in aeronautical engineering at Cranfield Institute of Technology. Lavis worked for that company seven years. "It was a company that married boats and aircraft," he explains. "They actually built sea planesand needed people that had an understanding of the water as well as aerodynamics."

In 1967, Lavis was recruited by a company in Buffalo, N.Y. "They made me an offer that I couldn't refuse," he says, "with a 10-fold increase in income. I had a 5-year-old and an 18- month-old at that time. We came across on the Queen Mary---first class. It was absolutely unbelievably wonderful except for the fact that we experienced the worst storm that ship had seen in nine years. It took us an extra day to travel across." After suffering through two New York winters, Lavis and his family decided that was enough. He accepted a job with an aerospace company in Sacramento, Calif., and the family remained on the West Coast until 1974. "My wife was getting a little homesick, I think, and wanted to go back to England," Lavis says, "so I convinced her to use Annapolis as a stepping stone. And we stepped and stayed."

Annapolis reminded Lavis of Cowes on the Isle of Wight. "We lived right opposite the Royal Yacht Squadron, right across the river," he recalls. "We were on one peninsula; they were on the other. Cowes is the center of sailing in the United Kingdom, as we regard Annapolis as being the center of sailing here."

Over the last 25 years, delivering quality products has been the most important challenge for Lavis "because I have made it a challenge. You have to devote a lot of effort to achieve it, but it can be fun doing so. I think the toughest thing is growing the business at a slow but consistently increasing rate. We did grow," he says, "but we grew at a very slow rate because we were very cautious. There are a lot of companies that grew too fast and didn't survive."

Business partner Shirley Wilson attributes Lavis' success to "his attention to detail, attention to business. He is known for his integrity. We have received so much work because of his attention and requirement for excellence. You don't often see that in today's business world."

In 1998, Band, Lavis and Associates, Inc. was acquired by CDI Marine Company and would function as that company's Advanced Naval Architecture Division. Lavis describes the marriage of the two companies as mutually beneficial. "CDI Marine was known principally for their ship detail design expertise," he explains, "while we were known for our innovative early stage design capability...a combination that can now offer the full spectrum of naval architectural and marine engineering services. The acquisition has provided many more resources in terms of design capability and equipment, computer resources and software," he explains. "It has made us now a more complete, full-service organization, allowing us to bid for much bigger contracts than we were capable of bidding on before."

Lavis enjoys interesting and challenging work that makes a contribution to society. "One area we have quite a bit of business with right now concerns supporting the Joint Program Office for Biological Defense," Lavis says. The systems development, which began last summer, really went into high gear after September 11. "Specifically, we are developing systems for sampling air and testing for biological agents," Lavis explains. "We have our systems in Afghanistan, in Washington, D.C., and all over." Originally, the Department of Defense approached the company to waterproof one of their existing systems. BLA engineers soon discovered that they could not only waterproof the system, they could build the same system at a fraction of the cost.

Lavis has been involved in many rewarding projects over the years, but one particular experience stands out as being extremely challenging and gratifying. Author of several hundred technical papers and reports, Lavis was called to be an expert witness for the government in a patent infringement suit. "I knew my subject so well," Lavis says. "I think you've got to know that I've been 42 years in this business and there isn't anybody in the world right now that knows more about this topic than I do. And I say that with confidence because they've all left or they're dead or whatever...they're gone."

The plaintiff in the case had perfected a skirt for hovercraft in 1957 and was long since deceased when the matter came to court. His descendants were owners of the patent and claimed that the U.S. government had infringed on the patent. "The claims that were being made were trying to put interpretations on the language in the patent that the inventor clearly had never intended it to embody," Lavis says. "My job was to look at it technically and prove [through physics] that what was being claimed was physically impossible..., that the patent was invalid..., and to show that the claims in the patent did not apply to the systems that were built and used by the government." Lavis was successful. "It was very challenging and a lot of fun," he says.

Lavis enjoys working out at the gym on the buddy system with his now-adult daughter; he has taken up water color; he cleans his own house and does his own landscaping; he reads fiction. He also refuses to end a sentence with a preposition or take his Jaguar XK-8 convertible out in the rain.

"I guess I will retire someday," he says, "but as long as I remain healthy and feel that I'm continuing to make a serious contribution, then I will continue to get up in the morning and look forward to coming to work."
Back