The Full Experience
By Wendi Winters
The Morgan Gerard Salon & Spa sits quietly on the corner of Annapolis and Giddings streets in West Annapolis. Inside, it is humming with the efforts of the 45-member Morgan Gerard staff to beautify Annapolis, one pampered client at a time.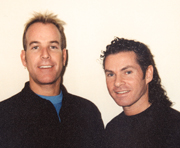 Behind the glass door is a gracious, relaxing space that can easily accommodate dozens of clients simultaneously---and it often does. Some Saturdays, three bridal parties are being catered to at the same time. "We put the blue dresses in this corner, the peach ones over there and the burgundy gowns in the back," quips one staffer.

Most clients come to experience the salon's unique cornucopia of one-on-one services for men and women, ranging from state-of-the-art hair styling and color to the most current facials, skin care treatments, body therapies, massage and makeup consultations. Still others come in groups to indulge in Morgan Gerard's fun pre-wedding preparation parties, beauty and hair care seminars, or to relax with a pal during the popular "Friends Retreat" spa service. Morgan Gerard also doubles as an art gallery and frequently hosts show openings for the rotating roster of local artists whose work hang upon its walls.

Who is Morgan Gerard? Actually, there is no Morgan Gerard, but there are the salon's owners, partners Todd Morgan August and Michael Gerard Curry. "When we opened our first salon in 1990, we were racking our brains to come up with a name that was dignified and wouldn't get dated in 10 years," explains Todd, the tall, blond, lanky half of the duo. "'August & Curry' sounded...seasonal. 'Todd & Michael'---nah! 'Morgan Gerard' could be anything. It could be a bank! As it is, we started with only five employees offering only hair care services and, today, we've expanded to offer the full spa experience."

Michael hails from Baltimore, Todd from the suburbs of Washington, D.C. Todd migrated to Annapolis in the early '80s for the lifestyle. He happily tended bar until friends convinced him his sideline talent for cutting hair was where his real career path lay. He enrolled in a beauty school and found it wasn't anything like "Beauty School Dropout," a comic musical scene from the movie Grease. "It was a one-year, 40-hour-a week curriculum," he recounts. "Hard, rigorous training that includes biology, anatomy, chemistry, esthetics and more than a touch of psychology. People vastly underestimate the amount of training a beautician must have to be certified."

Michael, shorter with dark curly hair, and no less gregarious, enrolled in a separate beauty school. The two met in Ocean City and, soon after, headed to Laguna Beach, Calif., to teach and do "platform work" for Matrix hair products, demonstrating the latest cutting and coloring techniques at seminars and conventions for hair stylists. Yet, they missed Annapolis. "People are friendlier here in Annapolis," claims Michael. "We missed our friends and family. This is where we feel at home." They moved back and began building up their credentials as stylists in area salons.

Late in the summer of 1990, they opened their first salon in a small space down the block from the current Morgan Gerard. "It was crazy," Michael recalls. "The day we opened, city code inspectors were going out the back door as clients were storming in the front." Within five years, the space had gotten too cramped. Serendipitously, the property on the corner came up for sale. They bought it, and then found they didn't have the funds to demolish the building and build their dream salon. So, for six months, every night after work, they walked across the street and knocked down walls, stripped floors, hammered, painted, decorated and dreamed. Many nights, they didn't get home. "We'd camp out on the facial chairs," Todd laughs.

The new salon was an instant hit. Customers love the wash of natural light throughout the building and the casually elegant ambiance. Still, the duo isn't satisfied. "We're planning to do a little tweaking," notes Michael. "We're going to change the configuration of some of the rooms so we can offer more services. The market is moving towards a more earth-centric, more natural, organic way of providing treatments, and we want to stay ahead of this trend for our clients."

Has all this work paid off? "You bet," says Todd. "The beauty business can offer great rewards, both personally and financially. We've built many deep friendships with people all over the country." Away from the salon, the two kick back in their 40-room mansion in the Guilford neighborhood of Baltimore. They bought it six years ago, completely renovated it, and now plan to sell it and move on to the next project. They won't be homeless---they also own homes in Rehobeth Beach, Key West and Vermont. When you're in West Annapolis, stop by and say hello.
Back