The History of Local Yacht Clubs
By Jeff Holland
The Annapolis Maritime Museum is growing rapidly from its humble beginnings in the tiny "Barge House" on the Back Creek end of Second Street in Eastport to the McNasby's Oyster House next door. The museum has leased McNasby's from the City of Annapolis and is in the process of renovation in order to become a world-class maritime museum in 2003.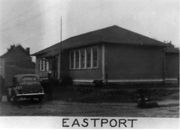 Meanwhile, the museum will continue to produce exhibits to educate visitors and residents alike on the rich nautical history and heritage of Annapolis and Anne Arundel County. Museum volunteer John Morgan is currently working on collecting information, photographs and artifacts from four Annapolis boating clubs as the first part of a series of exhibits on racing and cruising the Chesapeake Bay. Peter Tasi will design the exhibit, which will be on display both at the Barge House and at the Maryland Maritime Heritage Festival at the Annapolis City Dock, April 26 to 28, 2002.

"We're starting with four of the most prominent clubs in Annapolis," John explains, "Annapolis Yacht Club, Eastport Yacht Club, Severn Sailing Association and the Seafarers Club. These organizations represent a fascinating cross-section of on-the-water activities, from open-ocean racing in large sailboats to one-design racing in sailing dinghies, to cruising in classic motor yachts. For future exhibits, we'll expand our reach and eventually cover all the clubs ever active anywhere in Anne Arundel County."

According to Morgan's research, Annapolis Yacht Club traces its beginnings to an informal canoe club founded in 1883. A club building went up on a pile of oyster shells at the end of Duke of Gloucester Street becoming, in 1886, the first home of the new Severn Boat Club. In 1933, a hurricane severely damaged the clubhouse and left the wharf a tangled mass of pilings, contributing to the club's decline. In 1937, the Annapolis Yacht Club was incorporated and, in 1940, the new AYC held its first fall racing series.

In 1995, AYC's clubhouse underwent its most recent renovation and, as of 2002, AYC has more than 1,400 members. Some of the many large, international events sponsored by AYC include the Star Class World regatta and the Rolex Women's International Keelboat championships.

Established in autumn 1954, Severn Sailing Association has led the way in one-design sailboat racing on Chesapeake Bay. The founders created an association that has grown to 18 fleets. It promotes, fosters and sponsors one-design racing and activities connected with sailing on the Severn River and nearby Bay waters.

SSA today maintains a nearly year-round schedule of racing, with the "regular" season extending from April through November, followed by the numerous "frostbite" dates. To those approximately 100 race days is added a Tuesday series. SSA estimates it offered close to 1,100 separate races in the 13 "club" and five "open" fleets this past year alone. In its 47 years, it's been host to many dozens of national, North American and world championship race series, and SSA has sent sailors to compete in Olympic events and other national and international events.

In 1958, the founders of SSA bought its current property on Sycamore Point in Eastport, at 311-315 First Street. An early club history describes the land as "...a tiny plot surrounded by mud and broken pilings," from which the property has grown. The current two-story clubhouse, with its priceless vista of the junction of Spa Creek and the Severn River, was completed in early 1966. The original clubhouse which had been a small home, was destroyed by fire later that year, in which many photos, trophies and keepsakes of the early SSA days were lost.

The Seafarers Club is the Eastport-based yacht club founded in 1960 by a small group of African-American powerboaters who shared a universal, abiding love for the Bay. In those days, Anne Arundel and many other Maryland counties still had separate schools and public accommodations for "Negroes" and "Whites."

In 1967, after meeting for years in basements and other temporary sites, the Seafarers paid $11,000 for an old, unused schoolhouse at 317 Chester Avenue in Eastport, formerly the "Black" school. The building was extensively remodeled to include a large addition, swimming pool and patio deck. The club's 24-slip dockage facility is just a block away.

The Seafarers' program includes swimming lessons for neighborhood children and creating opportunities for children from Annapolis and Baltimore to go out on the water to learn boating and safety skills.

Eastport Yacht Club began at a meeting at the former Marmaduke's Pub on October 13, 1980, where 83 men and women became the charter members. In 1983, EYC had its first temporary quarters in an upper floor office in the City Marina. In 1989, after years of searching, they bought a small waterfront property on Sycamore Point at 317 First Street, next door to Severn Sailing Association. The present clubhouse opened in October of 1992.

EYC has about 500 members and, in its 20-year history, the club has established the Eastport Yacht Club Lights Parade and the Leukemia Cup, participates in the annual Solomons Island Race and organizes the Santa Maria Cup, the prestigious women's match-racing regatta.

Originally from Wisconsin, researcher John Morgan earned a degree in journalism from Marquette University and worked with several newspapers in Wisconsin. When his family moved to Silver Spring in the 1960s, he became a Congressional Fellow and stayed on to work on Capitol Hill. He then moved to Annapolis and recently retired from a career of legislative and government relations work with the Communications Workers of America. John seems to be having a good deal of fun with the project.
Back