Persistence Essential To New Alderman
By Valerie N. Kaufman
Tenacious ---that's the word that Alderman David Cordle says best describes him. And whether it's his personal or his professional life, Cordle has proven that he'll let nothing stand in his way when it comes to getting what he wants. "When I set my sights on something, I strive relentlessly to achieve the goal, whatever it may be," he says. "I guess my wife and co-workers would be more likely to call it stubborn or bull-headed."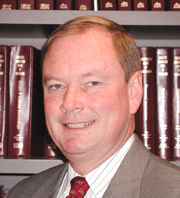 Take, for example, the night he was reunited with the woman who would be his wife, Michele. When fate and a good friend brought them back together eight years after they dated for the first time, he decided he wouldn't let her get away again and, sure enough, in a little more than a year, they were married. Sixteen years and four children later, they are still together.

Cordle and his wife first dated when he was 18 and she was 16. He still remembers the day he met her. He went rock climbing with a group of friends, and there was this pretty girl with short hair, wearing jeans and a lime green shirt. They gravitated toward each other and, even though Cordle came with another girl, he and Michele went to the movies that night.

"We dated for about 18 months, and then I broke up with her," he says. "I was your typical college guy. I thought there were broader horizons out there, but two weeks later, I went crawling back."

But to no avail---Michele wouldn't take him back, though she kept in touch with him through his parents over the years. Then in 1984, Cordle was set up on a blind date that ended up being Michele. They went out to dinner, then dancing, and finally sat up all night talking. The rest is history. "I realized that night that I had never gotten over her and never would," he says.

Cordle carries that same persistence into his professional life as an investigator for the State's Attorney's Office. The trait has helped him close cold-case homicides that have been unsolved for years. One such case was the murder of Annie Bradley in 1968. This young college girl was killed while she sat eating pizza on a bench on State Circle and, for nearly three decades, the family had no idea why. Then in 1995, Cordle intervened. After more than a year's work, he found a witness to the murder and was able to track down the killer who, it turns out, had died of drug overdose.

"Though we weren't able to bring him to justice, I was able to answer the family's questions and tell them exactly what happened," he says.

That sense of helping others is what keeps Cordle going when things get tough in his job. Knowing that he can bring peace of mind to the families of the victims and give hope to those who are still waiting for answers is what keeps him looking forward to going to work each day after 21 years of service. "I enjoy making the wrongs right again," he says. "And it doesn't hurt that I'm nosy and love the whole 'who done it' part of the job."

That same tenacity is also what helped him become the alderman for Ward 5 in 2001. According to Cordle, he had been thinking about running for City Council for nearly eight years. Since he enjoyed being involved in his community, he decided serving as alderman was the next step and started knocking on doors.

"As an alderman, I hope to give back to the community that means so much to me," he says. "I also want to be part of shaping the city's future." In addition, Cordle is committed to upgrading such benefits as retirement and health for public safety employees so they are competitive with other jurisdictions.

A native Annapolitan, Cordle grew up on Glen Avenue with his grandmother living on the corner and his great grandparents living right next door to her. According to Cordle, who is an only child, he and his great grandfather had a special friendship. "He let me tag along with him when he was working in his workshop," he says. "He even let me work with his tools. That's where I learned all my basic carpentry skills."

Then when Cordle was 12 years old, his family moved to Crofton when his father, who worked for Maryland National Bank, was transferred to Baltimore. He says it was a great place to live with about 20 kids to hang out with in the neighborhood. "This time, I had a three-story tree house," he says. "We got really elaborate."

Growing up, Cordle always wanted to attend the Naval Academy and become an officer so he could follow in the footsteps of his grandfather, who died in command of the submarine Perch in the Philippines before World War II. Cordle even began the process needed to attend the Academy but then decided to attend the University of Delaware, where he received a bachelor's of science degree in criminal justice. During his college years, Cordle participated in the Reserve Officer Training Corps and, after graduation in 1979, he went into the Army Reserves. A decorated commander of three Army Reserve units, Cordle is planning on retiring in May after 23 years of service. His tour of duty has included serving as a unit commander during the Bosnia peacekeeping mission. Mobilized in 1997, his unit was spread out among Bosnia, Hungary and Croatia.

"The conditions were terrible. I've never seen such poverty. There were total cities wiped out and schools riddled with bullet holes," he says. "I'm proud of what my men did over there. It was definitely a life-changing experience."

While in Bosnia, Cordle missed his family most of all, but he also missed the hometown feel of Annapolis, where he moved back to in 1982. "I missed everything about it---the camaraderie in my office, the restaurants, downtown---just everything," he says. But what kept him going was knowledge that his wife and children were waiting for him.

Spending time with his children, Jim, Jon, Jessica and Junior, is Cordle's favorite pastime. Over the years, he's served as a cubmaster and a little league coach, and he enjoys the outdoors with his family, whether it's camping, fishing, crabbing or chopping firewood. Someday, he would like to own a boat and actually have the time to use it. "I hope that ultimately my personal legacy will be that my children admire their father's life and work ethic," he says. "I hope I've been a role model for them."
Back