Not Far From His Roots
By Valerie Kaufman
For as long as he can remember, Chief Joseph Johnson wanted to be a police officer. He recalls growing up in Parole, seeing officers drive by and thinking "that's what I want to be when I grow up." In 1965, that dream came true and, 29 years later, he reached what he considers the pinnacle of his career---being named chief of police in his hometown of Annapolis. "Having the opportunity to come back home and serve in this position has definitely been the highlight of my career," says Chief Johnson. "I'm pleased that Annapolis is the place where I'll get to finish it all off."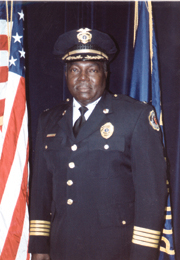 Born in the southern part of Anne Arundel County, Johnson's family moved to Annapolis when he was 6, living in Parole and, six years later, Eastport. He says he and his sister had to make their own fun as children, which made them creative---a trait, he says, which has stayed with him. He remembers building a beloved playhouse in his yard with material that he and his sister had scrounged up around the neighborhood. "It looked pretty bad, but it was functional," he says. "We really had a lot of fun in it."

Johnson's mother was a domestic, he says, and his father worked for the State Highway Department and did odd jobs. According to Johnson, his best summer was the one when he was about 9 years old, and he was allowed to go to work with his mom and dad and do small jobs to earn his own spending money. "It really helped me develop what I consider a good work ethic," he says. "I mean, when you work for your own money, you value it more than if it's just given to you." Johnson appreciates the good family life his parents worked so hard to provide for him, his sister and brother. "We truly ate dinner with each other each night and went to church together each Sunday," he says. They also instilled good moral principles by expecting him to walk his sister to and from school, and to do his homework and chores before he could go out and play while they were at work. He says he and his sister were what today would be considered latch-key kids.

Johnson also attributes his own solid marriage of 32 years to the great example that his parents set. He met his wife, Margaret, when he was in the service and stationed in North Carolina for boot camp. Soon after, he was transferred to Panama, where he spent the next three years as a transportation specialist for the Army. While there, he and his future wife exchanged letters, and she moved to Glen Burnie with family. When he returned home, the relationship blossomed. They now have three children---Renee, Derrick and Jason---and five grandchildren.

In 1965, two days after leaving the Army, Johnson signed on to the Washington, D.C., Police Department. "But I was your typical 21-year- old, and you know how 21-year-olds are. I just couldn't seem to find my way," he says. In 1968, both the department and Johnson thought he needed a change of scenery, but Johnson calls it a definite learning experience. He then moved on to Baltimore and a 24-year career with that city's police department. Over the years, he served as the chief of patrol, as a district commander, and as part of the Inner Harbor Unit and the drug enforcement team. "While I was with the Baltimore Police Department, I had some great mentors that helped me settle in and find myself," he says. "Thanks to them, I was able to rise quickly in the ranks of the department and prepare for my job here as chief."

While living in Baltimore, Johnson attended and graduated from the University of Baltimore in 1979 with a bachelor's degree in mathematics and criminal justice and attended the FBI Administrative Academy in 1981.

Johnson returned to Annapolis as the assistant chief of police for Chief Hal Robbins in 1991. When Robbins left about three years later, Johnson was named chief. "The police department had suffered from neglect and some things had been left undone," he says. "But I had good men and women to work with so I rolled up my sleeves and got started." Since that time, he has focused on working hand-in-hand with the community and in striving to prepare the department to promote from within its own ranks. He hopes that when he leaves his replacement will come from his department. "I have some great people who have worked hard to prepare themselves for the next step," he says. "I believe our young officers are our future."

When his tenure as chief is over, Johnson would also like to be remembered for having a hand in bringing about the construction of a new facility for the Annapolis Police Department. He says the current building is antiquated and inadequate for the growing department's needs. His other goal is to aid the agency in becoming fully accredited, a process that is currently underway and that Johnson hopes to accomplish in the not-so-distant future.

Besides his work and family, Johnson also has two other passions---his 35-foot Winnebago diesel motor home and his collection of antique tractors. Each summer, he and his wife enjoy spending their vacations on the open highway with their grandchildren. "They've been coast to coast more than once in our motor home either with us or my daughter," he says. "It's been great being able to show them this great country of ours."

But his most exciting trip wasn't with his grandchildren. It was a trip that he and Margaret took to Salt Lake City a few years ago. They went via Denver so they could see relatives and ended up spending the night on Interstate 80 in a blizzard. "The road was completely shut down, but we were blessed because we were in the motor home," he says. "We were able to hit the generator and ride out the storm. But I have to admit, if we ever make that trip again, I'll definitely take a more southern route."

Johnson's other love, collecting old tractors, began when he was a child. That summer when he went to work with his parents to earn his own money, one of his jobs involved using a tractor, and he got hooked. In 1970, he started collecting them, and he now has five of his own. But his favorite is his 1960 Yazoo. "It's a three-wheeled contraption with a mower deck on it," he says. "They just don't make them like that anymore."

When Chief Johnson finally bids farewell to the Annapolis Police Department, he says he would like to just hop on his tractor and ride off into the sunset---no parties, no sentimental stuff, no hoopla---just ride off into the sunset like the hero in an old Western. For him, though, his trusty mount of choice won't be a horse but instead his good old Yazoo.
Back