Going the Distance For Worthwhile Causes
By Mike Miron
To many of his friends, Web Chamberlin is known as "The Marathon Man." He has not only successfully completed 20 marathons in as many years, including the New York City, San Diego and Disney World running events, but he also set the record (4 hours, 23 minutes) for his age group in the inaugural Baltimore Marathon in 2001. It is the sort of exertion he has applied in helping the Annapolis Symphony Orchestra and St. John's College.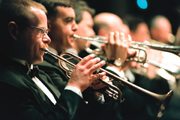 Web, a native Baltimorean, turned 71 this past January. His regime of physical fitness started in high school---he played lacrosse at City College and during all of his four years at the University of Maryland. "I always enjoyed sports and being physically active. It has always been part of my lifestyle," he says.

Indeed, Web continued playing lacrosse for 13 years as an "adult" for the Annapolis Lacrosse Club back in the early 1980s when he, his wife Beth and their four children moved to Annapolis from Washington, D. C.

Web's life has always been full of challenges, which he has willingly accepted. While in college he entered the Air Force ROTC program during the Korean War. "My eyesight kept me from getting a commission just before graduation," he says, "but I entered the enlisted ranks and served my time in Europe handling ordinance."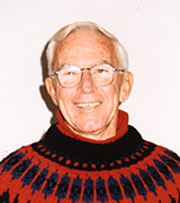 Subsequently, he entered Georgetown University Law School as a part-time student while working for the C&P Telephone Company but decided on a career path in business rather than law. He spent 36 years with C&P and held a variety of positions, including the customer relations appeals manager. He and his staff handled all the complaints and resolution alternatives that reached the highest level of management in the company. "It gave me an appreciation of what customer service is all about," he says.

When C&P became part of Bell Atlantic, Web headed the corporate public relations department in Washington. He handled the whole gamut of PR, ranging from media relations to corporate giving programs for 17 years before he retired in 1991. While at Bell Atlantic, Web became involved with the Washington Performing Arts Society, first as a volunteer and later as a board member. This experience proved useful in 1990 when Web became involved with First Night Annapolis. "It was the first year we organized the event and we did not have a clue how it would be accepted," he says. Web served as president for three years and set the tone for the family-oriented activities every New Year's Eve since then.

By 1993, Web was "looking for something to do that was more challenging." Together with several friends, he leased a storefront at Market Space near City Dock. Their idea was to bring a small business to Annapolis which would be a destination place for visitors and residents alike. So they opened City Dock Café, an espresso bar that serves a variety of coffee and fresh-made baked goods. Web was the managing partner who shepherded the building permit through the process, and he helped organize community meetings to get support from other downtown businesses and Ward 1 residents.

"Everybody supported us," he says, "because we wanted to operate a place where people did not feel pressured to leave quickly and could enjoy a good cup of coffee and the surroundings." According to Web, the business was very successful and became a gathering place for locals on most mornings. The partnership sold the business six years later. In Web's words, "it was time for us to move on."

During this time, Web received a phone call from Jeff Bishop, vice president of development at St. John's College. The college was looking for a few local business leaders who would organize a group called the Business Friends of St. John's, explained Jeff. The group would act as an outreach and liaison between the college and the business community. Would Web be interested in serving on the board, Jeff asked?

Web again rose to the challenge by heading up the group. Charter members of the Business Friends recruited more than 30 other businesses during the first year. Word was getting around town that Web was doing great things in the community. That's when former Mayor Richard Hillman asked Web to join the board of the Annapolis Symphony. Web was delighted and in many ways missed his involvement with the Washington Performing Arts Society after he moved to Annapolis. A year later, Anna Greenberg, an active member of the symphony board, asked Web to be vice chair of the symphony and be in charge of the organization's finances.

"It's hard to say no to Anna Greenberg so I took the job," Web says, smiling. For Web, the hours are long as a volunteer but very rewarding---it's a labor of love he gladly accepts. He finds balancing the income with the costs of performances very challenging. "The symphony is big business now and our budget is approaching seven figures. Ticket sales no longer cover the cost of a performance so we have to look to others to support the symphony."

The symphony has received national recognition from the American Symphony Orchestra League for its educational outreach program in the county school system. Third and fourth graders participate in the music van program which is designed to provide an opportunity for young people to begin learning to play instruments. Musicians from the symphony visit the schools on a regular basis and teach students how to play. The symphony and other groups donate many of the instruments.

Web and his wife Beth have also sponsored more than 50 midshipmen from the Naval Academy over the years. He says jokingly, "When we first started we were the age of the parents of the kids. Then we were the age of the grandparents and now we are older than the grandparents."

Web is still looking for something new to do, but he is not sure what that may be. He has made a valuable contribution to the Annapolis community and made a lot of friends in the process. With a chuckle he says, "When the day is over I feel the time I spend doing this volunteer work is worthwhile. I will continue to do it as long as it does not interfere with my running."
Back