A Surprise Downstairs
By Wendi Winters
Just beyond Gate 3 of the U.S. Naval Academy, a jewel box of a shop nestles within Preble Hall. Preble houses the Academy Museum, but downstairs and around the corner from the exquisite ship models awaits the bookstore of the U.S. Naval Institute. It's been in that spot since 1991, yet few Annapolis denizens know of its existence. "It's amazing. Tourists from Minnesota know of us and seek us out as soon as they reach town," says longtime bookstore manager Virginia Cullison Schultz. "They know we have books---wonderful books---that can be found nowhere else."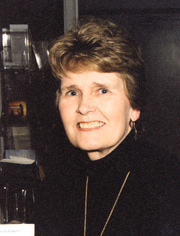 The U.S. Naval Institute is a non-profit membership organization which, according to its website, www.naval institute.org, is for "Navy, Marine Corps, and Coast Guard professionals and for others interested in sea services." With a mission to preserve the history of the seas and of America's sea and air wars, the institute publishes two magazines, Proceedings and Naval History and is the publisher of more than 800 books. Among the Naval Institute's more notable books are The Bluejacket's Manual, a sailor's handbook first published in 1902 and now in its 22nd edition, Combat Fleets of the World, and Tom Clancy's first wildfire success, The Hunt for Red October.

Venture inside the shop and you'll find every available kind of book about naval history, including Navy ships and---yes---lighthouses! Unlike the musty bookshops located on Harry Potter's Diagon Alley, this one's cheerful and inviting. In addition to books, videotapes, CDs and tapes, you'll find other Navy memorabilia, from souvenir scarves and umbrellas to nautical knickknacks, postcards, topical t-shirts, foul weather gear and toys. Beyond the inviting displays of new novels, historical accounts and biographies stand displays of beautiful reproductions of rare nautical etchings. Samples of the artwork are wall-mounted on swing arms for easy viewing.

To your right as you enter is the sunlit Children's Corner. It is Virginia Schultz's brainchild. She tends to it lovingly---it is chock full of children's novels, historical fiction, fictional diaries, coloring books, how-to books and age-appropriate books for babies as well as young teens. You'll also find baskets of eye-catching nautical-flavored toys and colorful ship model kits. Children who arrive with their parents or grandparents immediately find a book and flop on the floor to browse while the adults shop.

For many years, the shop was located upstairs, next to USNI's offices. There, the shop sold only books with the USNI imprint. When it moved to its new home in '91, Schultz surveyed other bookshops in the area and instituted changes. In addition to USNI's book offerings, she found books from other publishers that complemented the shop's inventory. Attractive displays of new publications were set up on a regular basis. Windows were decorated. Prints, music, videos and souvenirs became part of the mix. Finally, Schultz developed the Children's Corner and stocked it with a tempting array of must-haves. She inaugurated the shop's community outreach to children: A local actor costumed to resemble U.S. Naval hero John Paul Jones is regularly booked as a guest speaker in local elementary and middle school classrooms. The shop preps students in advance of each appearance with a selection of books and videotapes about Commodore Jones.

Schultz is on her third career. For 25 years, she worked in the insurance industry, for many of those years in an office just outside Gate 3. Then, for 10 years, she worked as a researcher for USNI. A few years prior to the move downstairs, she added management of the bookstore to her duties.

She's been married 43 years to retired postal employee Ernest "Ernie" Schultz and they have two children. Son Jeff lives in Jupiter, Fla., and has two daughters. Daughter Lauren, an Annapolis resident, has a 13-year-old daughter, Darcey. Though Schultz has spent the past 20 years immersed in stacks of nautical books and is descended from several generations of watermen, she rarely ventures out on real water. Granddaughter Darcey makes up for Schultz's hydro-indifference. The child is an avid swimmer and has enlisted her grandmother to chauffeur her to swim meets---some as far away as Buffalo, N.Y., Ohio and Florida.

Asked about future plans, Schultz laughs and says, "I'm too busy to retire! I enjoy meeting all the people who come here from all over the world to shop in our bookstore."

The U.S. Naval Institute Book store is open Mondays through Saturdays from 9 a.m. to 5 p.m. and from 11 to 5 on Sundays. It will occasionally stay open late to accommodate visitors on USNA game nights. It is closed New Year's Day, Easter, Thanksgiving and Christmas.
Back