Feeling Good About What He Does
By Valerie N. Kaufman
You could say firefighting is in Chief Edward Sherlock's blood. Not only were his great-grandfather, grandfather, father and brother firefighters but, for as long as he can remember, it's what he dreamed of becoming himself.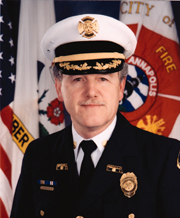 "My grandfather got me hooked on firefighting," says Sherlock. "I spent most of my summers with him and my grandmother where they lived on Hanover Street. From their home you could hear the firehouse siren, and, when I did, I would run down to King George Street and College Avenue with my friends to see the hook and ladder swing around the corner."

Sherlock admits that as a child he was a real firehouse buff. The firefighters would let him hang around the firehouse, go to the store for them and sometimes he was even allowed to ride on the hook and ladder truck. He remembers having to write an English paper in high school on what he wanted to be when he graduated and, of course, his choice was firefighting. He was so inspired writing about the dark green hook and ladder as it sped down the street in the moonlight that he earned what he said was his only A on a paper.

Born and raised in Annapolis, Sherlock never left the city---except to go to Ocean City---until he joined the Air Force in 1960. Annapolis is his life, he says, and he has fond memories of going to the grocery store downtown, riding his bike all over the city and, of course, swimming and crabbing. He also remembers going to the Naval Academy and falling in behind the midshipmen to march with them. "Annapolis was a great place to grow up," Sherlock says. "I have traveled some now, but there isn't a more beautiful place in the world than Annapolis, especially when it is lit up during holidays."

At the young age of 16, then the age limit for joining the department, Sherlock became a volunteer firefighter at Waterwitch Hook and Ladder Company on East Street, where his family all served and which closed in the late 1980s. He then began his career as a professional firefighter in 1966. "When I first joined the department, it was because of the romance and adventure of it all," explains Sherlock. "But I very quickly found out what it all was really about. About a week and a half after I started, there was a fire on Bestgate Road in which a family died. As I saw their bodies lying there, I realized I was seeing the other side of the job that night. I understood why we are really there. It turned me around and made me grow up. But, through it all, I still love it."

Over the years, he progressed through the ranks of the Annapolis Fire Department, including serving as Fire Marshal and, in 1987, he was appointed chief of the department. According to Sherlock, he enjoys his job even though he's not out there riding on the truck and fighting fires anymore. Although he now is in an administrative position, he says he still has the same feelings for his job---but for different reasons. When he sees the performance of his firefighters or receives compliments or letters about a job well done, he feels good about what he does. "It was a tough transition to make, but when I'm able to find the time, I still like to head out with my men. Just the other day there was a two-alarm fire so I stopped by to observe and see how the troops were doing. It's how I stay in touch."

Today Sherlock spends much of his time working with citizens, elected officials and union members. He says it's a constant juggling act, no two days are the same, and there never seems to be enough time. But whether it's sitting behind a desk or fighting blazes, Sherlock says firefighting definitely isn't a typical nine-to-five job that you leave behind when you go home at night.

"As a firefighter, you are making a difference, and that leaves you with a feeling of real satisfaction at the end of the day. I serve with pride and am proud of my uniform," he says. "I hope people see me as a public servant who is committed to excellence."

Sherlock also says he is proud of how the department has developed during his tour of duty. The motorized equipment is as good as it has ever been; there now is a professional promotion system in place; and the department is working toward being accredited, which is an international process. He feels he is helping to lay the groundwork for the future of the Annapolis Fire Department. "I remember hearing that now famous speech by President Kennedy for the first time when I was in the Air Force," he says. "You know the one I'm talking about: 'Ask not what your country can do for you but what you can do for your country.' I've never forgotten it, and have worked hard to give back to my community."

Sherlock admits that, even though he is truly proud of his career with the Annapolis Fire Department, he hopes that his real legacy will be being a good family man, neighbor and Christian. That's what is most important to him. He and his wife have two sons, a daughter and three grandchildren.

Playing a part in his community is also important to Sherlock. Over the years, he has coached his son's soccer teams, served as a coach for the Optimist League (a basketball league that promotes sportsmanship over winning) and been active in his church. "When I have a chance, I really enjoy watching sports," says Sherlock, who played soccer and lacrosse and ran track. "I also have a boat, but I have to admit that my boys and I spend more time working on it than actually sailing it."

Another big part of his life is helping his wife Lynne get her new shop, Tara's Gifts of Distinction, up and running. She opened the doors of the shop, located on Annapolis Street in West Annapolis, a little more than a year ago.

Over the years, being a member of the Annapolis Fire Department has played a huge part in Sherlock's life, but in recent months, the role of a firefighter in the United States has changed. After the events of Sept. 11, Americans see firefighters differently.

"I think people have always known that when they call 911 the fire department will be there to provide the help they need, but I think they took that for granted," says Sherlock. "After the terrorist attack, they began looking at us like heroes. I feel awkward about that. People come up to me on the street or in stores and want to shake my hand, and they bring food and cookies to the firehouse. We all really appreciate it, but we don't expect it. Saving lives is all part of the job."
Back