Making Her Mark On Annapolis History
By Valerie Kaufman
When she was sworn in as alderman for Ward 3 on Dec. 3, Classie Gillis Hoyle was fulfilling a dream---a dream whose seeds were sown when she and Daniel, her husband of 46 years, returned to Annapolis a decade ago to fulfill a lifelong desire to help others.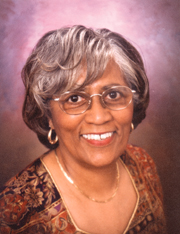 "I hope that I'm remembered as someone who always had the time to help," she says. "As an alderperson, I'm eager to help the city get things done and to have a positive impact on our city's history."

Hoyle is already part of an historic term for mayor and Council. Not only will she serve with the first woman mayor in the history of Annapolis, but the City Council is also, for the first time, composed of five women and three African Americans. Hoyle believes that, thanks to this historic roster, the new Council will be one of the best Annapolis has ever seen. "I'm not the only one who thinks so," she says. "After the election, the newspapers analyzed the level of activity of the new members of the Council and all indications show that we will be a productive one."

A native of Annapolis, Hoyle was born in the home in which she currently lives and spent the first three years of her life in Annapolis. Then tragedy struck her family with the death of her father, and her mother moved the family, which included a younger brother and sister, for family support. "We were poor but proud," she says. "My mom held two jobs to support us---in a factory and in a restaurant. We were latch- key kids before the term became popular."

Hoyle remembers that her mother, who was a good seamstress, always made sure they had special outfits for events. She also made sure they each got one new toy at Christmas. One holiday season still sticks in Hoyle's mind. Everyone she knew was getting bikes that year, she explains, but her mother told Hoyle and her siblings that there was no way she could afford them. When Christmas morning arrived, the children found used bikes under the tree all fixed up and ready to go. "We didn't have much, but we came out of it with a strong character," says Hoyle. "It also taught us creativity and ingenuity that helped us later in life."

After growing up in Baltimore, Hoyle earned her bachelor's and master's degrees in biology and science education at Morgan State University and spent more than a decade teaching at the university and in the Baltimore public schools. Upon receiving her Ph.D. in science education and higher education administration from the University of Iowa, she went on to accept an instructor position and, later, several administrative positions at the university. She also served as vice president of academic affairs for Clark College in Dubuque, Iowa.

Hoyle, who is now an adjunct faculty member at the Annapolis branch of Soujourner-Douglas College in Baltimore, found her way back to Maryland in the late '80s. At that time, she took a leave of absence from the University of Iowa and accepted a job at the National Institutes of Health in Bethesda. When the two-year-long job was complete, she decided it was time to come home. It just felt right. "I really enjoy the small town feel of Annapolis and the richness it has to offer. It really is a big little city," Hoyle says. "People know each other here, and they stop to talk to each other on the streets. It's comfortable."

When she returned to Annapolis, she also returned to her roots. She moved into her grandmother's home, which she had purchased in 1973. She and her husband did some extensive remodeling of the house shortly after they moved in, and her uncle resided with them until his death. Hoyle said that friends kept asking them why they were putting so much money into such an old house, located in such an old neighborhood. "Because it has so much sentimental value," she explains. "Not only was I born there, but it was my grandmother's home, then my uncle's, and I even spent part of my childhood there."

Ties to the past are important to Hoyle, and the project she hopes will be the legacy of her term as an alderman is the creation of a permanent history of the Parole area. Currently, there is no documented history of the area, and she would like to work with the community to establish one that would include a heritage trail. Early in her term, she would like to start meeting with leaders in the community to gain their support because she knows this is a project she can't do alone. "There are many people who have lived in the area for 50, 60 or 70 years," she says. "Since I've mentioned this project, some of them have already given me materials and pictures to include. I think once the work becomes visible people will want to get on the bandwagon, and it will mushroom."

Hoyle, whose first name Classie came from a dream her father had, is an active member of her community. She belongs to eight local organizations, including the PTA and Neighborhood Watch, and serves in leadership roles in four of those organizations, including the YWCA. According to Hoyle, she tends to take on a lot and is quite busy most of the time. But when she actually does have a little spare time on her hands, she doesn't sit back and relax. Instead she's off to interesting places around the world such as Spain, Japan, Germany and Italy. "I love to travel and used to do it quite often," she says. "I love meeting people and dealing with them. I think that's why I wanted to be a part of the City Council."

Hoyle's favorite trip was one to South Africa. While there, she not only stayed in five-star hotels, but also in villages with tribe members and went on safari. But the best part of the trip, she says, was the people, and the highlight occurred when she met Nelson Mandela and Desmond Tutu. "It was amazing," she says. "These are people you read about in the paper and see on TV. I was able to meet them face-to-face."

As she steps into office, Hoyle, who has a son, daughter and six granddaughters, has several items on her list of priorities. She hopes to help create affordable public housing in Annapolis, a project for which she sees a real need, and wants to get the ball rolling on putting sidewalks on Forest Drive because of the recent increase in pedestrian and bike traffic. According to Hoyle, there is at least one vehicular accident a year involving a pedestrian or bicyclist on this stretch of road. That's one accident too many, in her opinion.

"I hope that as part of the City Council I can work with my fellow alderpersons to satisfy and resolve issues that face Annapolis. I'm looking forward to working with them all," she says. "The quote 'let the work I've done speak for me' says it all for me."
Back