Casting Light On Our Treasures
By Valerie N. Kaufman
It all began in the basement of a house in the mountains of Western Maryland, with a little boy putting on neighborhood plays and spending weeks preparing the lights of his train set so it was just right for Christmas Day. Today, that little boy, Frank Florentine, is a grown man, and he is responsible for designing the lighting for some of the nation's most important artifacts, including the Wright brothers' airplane, the first aircraft to travel the speed of sound, and the first spacecraft to leave our solar system.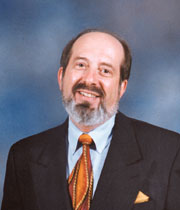 "It's ironic. I started working at the Smithsonian after my sister asked me when I was going to get a real job," he recalled. "Now I get to climb into spaceships and airplanes as part of my job."

Florentine, a 12-year resident of Annapolis, has been the lighting designer for the National Air and Space Museum (NASM) in Washington, D.C., since 1985. His responsibilities include designing and maintaining the lighting for all exhibits within the museum.

"It doesn't always seem real to me. Sometimes when I'm sitting in a space capsule, I just have to stop and pause to think that much greater men than me have been where I am," he says.

As part of his job at NASM, Florentine also conducts photometric studies to determine whether ultraviolet radiation from both daylight and electrical light is affecting artifacts within the museum. "We have to take great care with these items so that they will last for many years to come," he says.

Florentine's love of lighting began at an early age. It developed as he grew up playing in the theater that his father managed in Cumberland, Md. Cumberland was Florentine's hometown and, at the time, a major stopover for vaudeville.

Those traveling variety shows inspired him to attend Frostburg State College (now Frostburg State University) and major in speech and drama with an emphasis on technical theater. He later went on to achieve a master's in fine arts from George Washington University.

After college, Florentine held several jobs in the theater---as a stage technician for the Lisner Auditorium at George Washington, a production manager/lighting designer for the Washington Ballet, and as a technical director for the Wolf Trap Farm Park for the Performing Arts.

In 1979, he toured with Russia's Bolshoi Ballet throughout the U. S., serving as the troupe's stage manager. That opportunity led him to another, as the production manager for Rudolf Nureyev's performance of Don Quixote. From January '82 to June '84, he toured some 65,000 miles with the show.

Mementos from this time still hang on the walls of his home. His upstairs office is lined with posters of Nureyev, pictures of his coworkers and other memorabilia.

"I still remember when I heard that Nureyev had died," he says. "The news made me cry."

One of Florentine's proudest moments occurred when he was traveling with Nureyev in Sicily. The performance took place on a stage perched on top of a mountain. Behind it was a brilliant blue sky. According to Florentine, there was just too much beautiful natural scenery to compete with, making his job incredibly difficult. "But at the end of the show, Nureyev looked over to me and nodded to say thank you," he says. "It really meant a lot to me."

Over the years, Florentine's love for his work has not diminished. In fact, it's not just a 9-to-5 job for him. It's a calling. During the winter months, he spends much of his free time doing freelance lighting jobs. Over the years, he has designed lighting for everything from homes to art galleries, wildlife centers to caverns.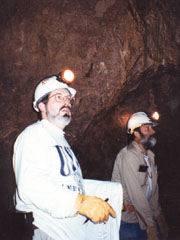 Lighting the Kartchner Caverns, located at the Kartchner Caverns State Park near Benson, Ariz., is a work in progress for Florentine. He began the job in 1997. At first he wasn't sure if he wanted to take on a task of this magnitude but, after discussing it with his wife, he decided it was a chance of a lifetime.

During his first visit to the cavern, Florentine entered a portion that had yet to be developed so he could get a feel for the space.

"Once inside, we turned off our lights. As we sat there in the dark, we heard a drop of water echo throughout the room," he says. "That sound inspired me. I decided right then that it would take just a drop of light to penetrate the cave and make it beautiful."

As he progressed through the first phase of the project---which was expected to take six months but, instead, took two years---Florentine experimented with colored lighting. In the end, however, he decided to go with light that resembled that which is used on a caver's helmet.

Florentine found the lighting of the cave's Throne Room to be one of the biggest challenges of the project. This is the area where the commercial tour ends with a music and light show which centers on the 58-foot-tall Kubla Khan column. The lighting had to be designed around the timing of music and highlight the natural beauty of the formations. When completed, Florentine explains, the lighting enhanced the music.

"It was amazing when we finished. People who had seen the cavern for years were standing there crying," he recalls. "When they saw it with the lighting, they saw just how beautiful it really was."

Even when he's not doing freelance work, he just can't tear himself away from lighting design. In fact, he has found a way to combine his love for lighting with one of his other great loves, sailing. Each year, Florentine, along with his friend Howard Newman, organizes and designs the Parade of Lights entry for his sailing club, Singles on Sailboats.

"Luckily they let you stay a member after you get married," said Florentine, who has been married to his wife Susan Cook, a lawyer for the Department of Justice, for 12 years.

It was sailing that first drew Florentine to Annapolis, but it is the sense of community that keeps him here. People really take the time to get to know you, he says.

Last year, his sailing club's entry for the parade was a spectacular rendition of the Grinch and Santa Claus fighting over a sack of toys. As they wrestled for the bag, it tore open and out came a sailboat.

According to Florentine, work on the entry usually begins in August. He and Newman come up with the idea at that time and begin the design. Then members of the sailing group get together for three weekends and put it all together. He admits, however, that this year's creation is a little behind schedule.

"Creating this each year is a lot of fun," he exclaims. "It truly is a labor of love for me."

Though he enjoys riding on his creation, he also takes pleasure in seeing how his audience reacts. One year, he remembers walking downtown during the parade. As his club's entry went by, a mother and young child were watching. Their delight in the light display made all the work worthwhile.

"No matter what the job, when you are standing there looking at the finished product---seeing the magic of what you've done---that's the most rewarding feeling," he says.
Back