Bill West Exotic Lumber, Inc.
By Martie Callaghan
African black wood for the bagpipe manufacturer? Got it. Mexican cocobola for crafting bird calls? Got it. Bass wood for the duck carvers on the Eastern Shore? Yep. What about red ivory for the latch on the exquisite designer handbag? Got that, too---as well as lignum vita from Central America for the croquet mallet head maker in Florida (a regular customer).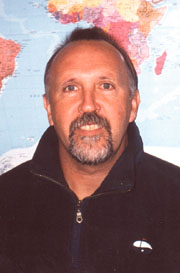 If it all sounds quite exotic, it is. Exotic Lumber on Russell Street in Annapolis (off West Street) boasts more than 100 species of timber from all over the world and keeps much of it in stock, right there. The sign behind the counter invites customers to step into the warehouse and "help yourself"---an invitation worth accepting, if for no other reason than to experience the smooth, fragrant aroma of the wood.

The proprietor, Bill West, hails from Durban, South Africa; only his full name, van der Westhuizen, is from Holland. Seven years ago, the crime factor in South Africa drove him to the United States. A former customer had moved here and opened up a cabinet shop and allowed West to share the premises. About four years later, West teamed up with two other local businesses to purchase and remodel the current building, each retaining one-third ownership.

West earned his degree in architecture from Durban Technical College in 1975. From there he went into the property business. "It was a surfer's paradise called Jeffrey's Bay, on the east coast of South Africa," he recalls. Business was good until an economic downturn sent him overseas to America, Europe and South America for two years, working odd jobs and traveling about. On his return to South Africa, West opened a restaurant. "I found that boring and uninteresting," he says.

Previous exposure to carpentry gave West the idea to start a timber business during the day while continuing to operate the restaurant at night. Recognizing an opportunity in importing timbers, he opened up a business in his parents' garage with an initial investment of $600. As soon as he saw the business taking off, he sold the restaurant to one of the waitresses and his original partner.

West did his homework by researching the market and attending auctions. ("I enjoyed them.") He soon realized that the two major lumber firms in Durban were not giving good service and he saw an opportunity to compete. West would buy lumber from them and sell it to their customers. "And I would do it faster," he says. "I offered 24-hour service. I grew the whole business on service and quality."

In addition to the Annapolis location, Exotic Lumber can be found in Baltimore and in South Africa. Plans are in progress to open shops in Washington, D.C., and Philadelphia within the next two years, as well. "Getting the American woodworker to trust a foreigner has been a challenge," says West. "It's one of the oldest professions, dealers all over the place. You must show them you can give them something valuable and well priced."

Customers to the Annapolis store come from all over the United States and from the local woodworking population, to include repair people and hobbyists. "Very few buy volume lumber from me because they have dealt with others for 10 or 15 years," says West. "Here in Annapolis, we sell to a lot of boat builders, as well as wood turners, wood carvers and wood collectors. They know that in addition to a good product at a competitive price, they are getting knowledge."

After 16 years of experience in the timber industry, West is well-traveled, well-read and well-connected. "You meet a lot of interesting and good people," he says. "I think that keeps me going. And I do all the buying for four operations. This year, I was in Africa for six weeks; last year in New Guinea and Hawaii." West often combines business trips with family visits back to South Africa, accompanied by his wife and two daughters, ages 8 and 4. "I have developed relationships over the years so that I need not travel as much as I used to," he explains, "because they know what I want. But there are still some species you have to see. The nature of the environment, the grade of the lumber---the needs of wood carvers and wood workers is far different from the needs of a user in the third world countries where most wood comes from."

"We probably have the largest selection of wood under one roof on the East Coast," says West. Exotic Lumber's 100 species includes local varieties such as poplar, cherry, maple, red oak and white oak. "We have lumber from $1 to $300 a board foot," says West. "The market for the $300 board is a lot smaller and more specific than the market for the $1 board. You must be there to see the quality, so I don't have as much faith in wood-buying over the Internet for the end user as other people do. I want to see, touch and smell it first."

The purpose in traveling for West is sometimes to physically pick out the wood, but other times it's to network and build relationships. "We are dealing with tribesmen and farmers," he explains. "Probably some of them have very little idea of what the end use can be or what the end product is going to be used for."

So, how does the traveling man get away from all this? He doesn't. "My wife and I both love to travel," he says. "That is our hobby." Of course, when visiting some exotic place on holiday, West always checks out the local timber scene and usually ends up buying something. "An hour and a half before I got married, I was looking at wood," he says. "To be successful, you really have to be committed. It's a hobby and a lifestyle to me."

West is quick to admit that, from the standpoint of the timber business, Annapolis may not be the best place to settle. "But we like this town," he says. "It is a very safe environment for kids to grow up and there's plenty to do here."

The locals have been more than accepting. Folks such as the first-time boat builder---who stops in almost daily, proudly reporting his progress and inquiring as to the proper materials for his next steps---have come to depend on the honest advice they know they will receive. West elaborates, "You can get a degree in forest technology, know how trees grow...but there's no degree program that teaches about 106 different woods. Even information in the books is not always accurate and up to date because species have changed over the years. There are not enough people around with [that kind of knowledge]. Here, in a little store that is not very impressive, I am bold enough to tell people they may be incorrect in their choice of timber. At the end of the day, that is my success-I tell the truth. I believe that when you create confidence on the part of the customer, they will come back to you."
Back