The Well Dressed Nest
Sisters in Interior Design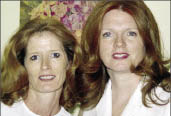 The sky-blue door warmly welcomes passers-by and promises uncommon treats just over the threshold. Old-time striped awnings, flower-filled gardens and window boxes complete the picture of a little house just waiting for company. Inside the front porch, an old straw hat casually tossed on a chair upholstered in toile de Jouy introduces the visitor to a shop of unpretentious charm and almost without realizing it, one finds oneself poking into corners and investigating half-hidden treasures under a bench or table. This little old house that used to be a dark, crowded space of jumbled up antiques is now a light and airy showroom for the interior design company, Well Dressed Nest.
Eileen Hoyland and her sister Sharon Sweet opened Well Dressed Nest in December 2005 and welcome both browsers and those with specific decorating needs to their showroom. Eileen has been working as an Interior Designer for more than twenty years, with loyal clients from Virginia, the District and all over Maryland. Sharon has lived in Annapolis since 1984 and managed offices for various businesses, including military contractors. Sharon's been used to going into chaotic office conditions and bringing them into a state of order, so it's been a real treat to come into a brand new office and make it her own. She keeps Well Dressed Nest on a solid business footing, taking care of all the office details so that Eileen can run the design side without worry. Sharon's computer and research skills are essential when it comes to searching for and finding one-of-a-kind items for clients, such as an antique chest, just the right chair or that perfect little bibelot.
Eileen says that people often worry that their job isn't big enough for a decorator-maybe they only want help figuring out a good color for the living room-but that any need is legitimate, no matter how small. And, she says, a great many people want to do their decorating in stages, as time and money free up. "Customer-led design" is the catchphrase for Well Dressed Nest, and sums up the sisters' customer-service ideal; Eileen says that working on houses in increments is an excellent way to realize one's dream-house with both artistic deftness and financial integrity. People often pop upstairs to see fabric and paint for that project that's still a budding idea, the one for next year that's just beginning to take shape in their minds. Sharon and Eileen encourage people to dream and browse, knowing that the house that's decorated little by little is often more satisfying than the one done all in a hurry.
Customers who can tear themselves away from all the treasures on the first floor of Well Dressed Nest are welcome to visit the showroom upstairs and browse through the fabric samples and gather ideas for wall colors. Clear, natural light floods the space, pouring in through large windows that were part of what drew the sisters to this particular house. Eileen says "In two other places I worked, it was commercial space, so the lighting was commercial...fluorescent lighting. So what's good is that this is a natural setting with natural sunlight" that allows people to see fabrics and paint colors in light more true to the light in their own homes.
Color is Eileen's specialty, an expertise she developed twenty-two years ago while working in a decorating store in Rockville. There she learned to mix paint and to rely on her eye to get the colors right-and in the process learned all the mixtures of colors it takes to make each shade. She also learned the effects of ambient, direct and indirect light on wall paint and how various exposures-light coming in from different directions-affect paint colors. She's learned which colors work well together and which don't, and says that choosing colors often comes down to what you can't do based on lighting and the choices you've already made-of tile, carpet, kitchen cabinets and countertops, and so on. And finding just which color does work perfectly with all those other choices is what Eileen does best.
As designers, the owners of Well Dressed Nest have a few design policies that they maintain. One is that, as Eileen says, "It all comes down to listening. A quieter approach rather than I'm going to do 'me' in your house." Eileen emphasizes that what she might do for herself in her own house is not necessarily what she'll do for her clients-she listens to what both husband and wife are interested in, gleans ideas from their vision for their home and then sees that both are happy with the results. Eileen also says that it's important to "never underestimate the client. I find that most people who call a designer really already have a sense of what they want. They're just trying to bring it to fruition. They've hit a brick wall or they have an idea floating in there of what they want but they need someone to facilitate them, show them the path." Another of Eileen's design philosophies comes from her frugal Scot background: "I don't believe in throwing things away," she says. These things are stories and memories, and even things that may not be beautiful to the designer are perhaps a part of the client's life and can be made to fit in in a special way.
Well Dressed Nest is a cozy little treasure tucked away at 106 Annapolis Street in West Annapolis where one can find a trove of delights, whether you're looking for a perfect little wedding gift, just the right bibelot for a corner table, or that elusive fabric and paint color that makes you sigh with satisfaction. Drop in, or call 410-263-6860