Preserving A Sense of Place:
Don Jackson, Director of Operations at St. John's College
The shade beneath a grand tulip poplar on the sloping front lawn of St. John's College is one of Don Jackson's favorite places in downtown Annapolis. Jackson, the director of operations at St. John's College and an Annapolis native, says, "I've been visiting this campus my entire life. Whenever I walked on campus, I always felt I'd stepped into a special place within the city—there is sense of peace and serenity here. The spot beneath the large tulip poplar is especially inspiring—it's such a magnificent tree."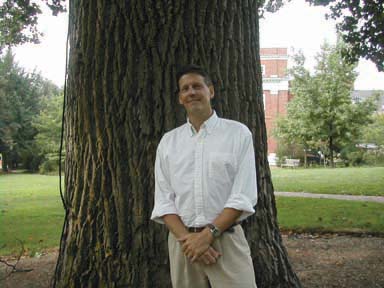 Jackson 's favorite tree, a sister of the college's historic Liberty Tree, is just one of several notable trees on the St. John's campus. The college hosts a canopy of 100-year-old sycamores, stately American elms and tulip poplars that creates a sense of calm and serves an educational purpose as well. Says Jackson, " Maryland's Department of Natural Resources administers the state's Tree Expert Exam that uses the campus as an unofficial arboretum to test individuals who are pursuing certification as licensed arborists."
As director of operations, Jackson sees to the care of the college's trees and grounds and much more: the care and restoration of 18 campus buildings, some of them noted historic structures; the management of several off-campus residences; and construction projects, such as Spector Hall, a new dormitory. "There is such a wonderful diversity here—the green spaces, the mature trees, the creek's shoreline, and the mix of historic and modern buildings. St. John's has a strong sense of place, of history."
Jackson sees the St. John's campus as an integral part of the rich academic experience students have at the college and as a valuable resource for the local community. "On a tangible and intellectual level we strive to provide a really comfortable and effective learning environment," he explains. "This setting becomes part of the students' experiences as they delve into the great books curriculum. We provide a sense of place for our students and also for visitors to the campus."
Jackson has deep roots in the city. He grew up in Annapolis on the South River, "fishing, crabbing and messing around in boats." His grandfather, Elmer Jackson Jr., a 1907 graduate of St. John's, was the editor and publisher of The Capital; his father, Elmer "Jay" Jackson III was the newspaper's managing editor, and his uncle, Allen Jackson, was advertising manager. Jackson carved out his own niche as a biologist and became an environmental educator with the Chesapeake Bay Foundation. During the years he spent living and working in Annapolis, Jackson cultivated a strong appreciation of the ways in which St. John's enriches the local community as a place of beauty and history.
" St. John's is a unique part of this city and the community of Annapolis. McDowell Hall, the white clapboard Chancellor Johnson House, the Carroll Barrister House—these and others are all historic structures. Our entire campus is within the Annapolis Historic District." Jackson serves as a liaison for the college with the city's Historic Preservation Commission, which is tasked with preserving the city's character.
Jackson is involved in a multitude of day-to-day operational and maintenance decisions as he troubleshoots everything from food service issues to leaky roofs. He also manages the capital projects involving new construction and major renovations. "I work with architects, contractors, engineers, and the city. We have about $7 million in construction projects going on right now."
Jackson savors "the challenges of helping to keep a really unique institution like St. John's looking good." One reason his work is enjoyable is that he works with staff members—for example, an extensive buildings and grounds staff led by superintendent Sid Phipps—who "take pride in each detail."
"I enjoy the collaborative decision-making process," says Jackson. "We talk about the chiller in Randall Hall that isn't working and consider the investment involved and options of repair versus replacement. Because many of the structures on the campus are older, we're developing a long-range repair and replacement plan. We look at the age and condition of a building and acknowledge that in 30 years it may need a new roof, in 10 years it may need a new heating and cooling system. How much will it cost? We do that with every building, considering aspects such as the climate control, the brick and mortar and interior renovations. We put the cost estimates on a spreadsheet, looking 40 to 50 years out. This allows us to plan for the future."
Jackson, who came to St. John's after his 25-year career as an educator at the Chesapeake Bay Foundation, brought a respect and love for the environment with him. "I am passionate about doing what we can to lessen the impact we have on the world around us. The two new dorms here on campus bring a mix of modern beauty and traditional brick walls and metal-seam roofs. At the same time they are cutting edge with geothermal heating and cooling, with high-efficiency windows. St. John's is very interested in new technologies that are efficient on both an economic and an environmental scale." Jackson is also enthusiastic about a planned shoreline restoration project that will replace the College Creek bulkhead with a natural shoreline planted with native wetland species.
He found that the philosophy at St. John's resonates with his own philosophy about the environment. "There are certain values here at St. John's that really matter," he says. "Whether it's a question of building a geothermal dormitory or where to plant a new tree, it's a collaborative process—everyone's opinion matters—as we consider changes in the context of the tradition of the college."
Jackson is committed to preserving the college's unique sense of place, whether enjoyed within its distinctive buildings, beneath the shade of Jackson's favorite tulip poplar, or amid the pine trees surrounding the Hodson Boathouse, another quiet spot on campus he loves.
When he's off campus, Jackson and his wife, Betsy, spend as much time as possible with their children (Sam, 7, and Caroline, 5) on the family's two skiffs, kayak, and canoe, to "teach them to appreciate the wonders of nature. Growing up here I didn't realize how lucky I was to have the natural beauty that surrounded me, the freedom to crab, fish, and go swimming and boating. I want the Bay to be healthy enough for my kids to discover and enjoy. It's the same with St. John's. I want to help maintain and preserve St. John's and its sense of place for the benefit of the college community and the city, as well as for the future generations who will use it."