Nantucket on the Severn
"Marylanders Fighting Cancer" is the theme of the Nantucket on the Severn Designer Show House. This Show House is made possible by Coldwell Banker agents in Anne Arundel County, who have joined forces to help families and individuals ravaged by Maryland's number one killer - cancer. It will be manned by 32 Coldwell Banker agents a day for seven weeks.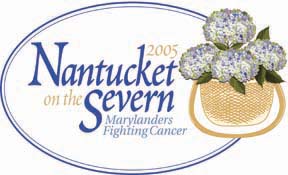 Unlike past Decorator Show Homes, which have featured local interior designers all creating individual and non-related rooms, this year a design concept of "the Living Showcase" has produced a unique, collaborative effort. Eleven interior designers have worked as a team to ensure the flow and consistency of the plan. Each designer has personally dedicated his or her work to someone who has died from, survived, or is currently fighting cancer.

Proceeds from this year's event will benefit the Anne Arundel Medical Center DeCesaris Cancer Institute and the Hospice of the Chesapeake.

In addition to touring the waterfront home and property, visitors will be able to dine in Caroline's Café and shop in the Nantucket Boutique. Special events, such as decorating classes and painting workshops will be given by the designers and suppliers.

Parking will be at the Severna Park United Methodist Church, 731 Benfield Road and a shuttle bus will take people the short distance to the home.

Tickets are $20 per person. The Show House is located in Severna Park and will be open Thursdays through Saturdays from 10 a.m. to 5 p.m. and Sundays from 12 noon to 5 p.m., through June 26th.

For information, log on to www.nantucketonthesevern.org, or call Missy Evans at 443-336-0873 or Susan Kraemer at 410-279-4088.