A Boat for Every Sailor:
J/Port Annapolis
By Joseph Patrick Bulko
While designing women's shoes in Italy, Paul Mikulski decided that it was time for a career change. Twenty-Five years in the women's clothing and shoe business was enough, and he wanted to be closer to his passion - yachting. In 1988, at age 42, he started working as a yacht sales broker. Within two years, he developed a new concept to help grow the demand for sailboats and sailing.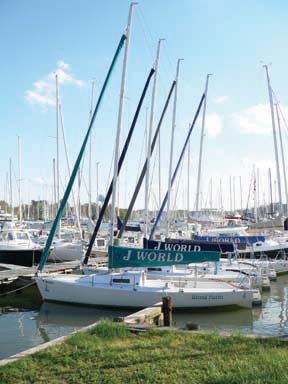 "The industry doesn't do a lot to bring new people into sailing," he said. His idea involved creating a sailing school to introduce sailing to more and more people, and then offer the new sailors a low-cost means to participate in sailing on a regular basis. The trifecta of sales, instruction, and shared use programs became the premise of J/Port Annapolis.

"We opened in 1992 in what was then a derelict marina with two awful vacant buildings. The pier was rickety with three sunken boats in it." Mikulski made a deal with Bert Jabin, the marina's original owner, to revitalize the Eastport facility based on the new marketing concept. "Bert was a good partner."

The success of the business model is evident at the bustling Eastern Avenue marina. "No other company provides this combination of services at this level," said Mikulski. "We're the largest J/Boat dealer in the world."

Built in Rhode Island, the J/Boat represents the high-end, performance-oriented segment of the sailboat market, the racer/cruiser category. This group consists of boats that perform well enough to race, but are sufficiently user-friendly for family day sailing and cruising. "They're fun to sail because they sail well in light air," said Mikulski.

Brand loyalty for J/Boats is one of the highest in the industry: Nearly 80% of J/Boat owners stay with the brand in future purchases. Like BMWs, owners tend to hold onto them, noted Mikulski, who wouldn't mind higher turnover and upgrades to generate more sales.

"There are three levels of J/Boats: strict one-design race boats, mid-range cruising boats, and high-end cruising boats that are detailed very beautifully," he explained. "They are all easy to sail, built extremely well, and the owners are fiercely loyal. The boats are not the most expensive, but they're definitely not the cheapest."

The powerboat sold by J/Port, the MJM Yachts 34Z, uses the same innovative techniques found in J/Boats. "They're very high-end," said Mikulski. "They're over $400,000 retail."

J/Port Sailing Club and the Chesapeake Boat Club, the next part of the J/Port program, represent an affordable alternative to boat ownership by allowing people to use J/Port's fleet. Boats are available on short notice and at a fraction of the cost of ownership, an ideal way to get on the water with minimal expense and hassle.

Sailing memberships start at $2,250 per year for unlimited access to 26-ft boats, the J/80s, for day sailing. This is about the same cost as slip, insurance, and maintenance fees associated with boat ownership. Higher priced plans allow the use of larger boats, which are faster and more comfortable, for day sailing and overnight or extended excursions. Powerboat membership is $5,000 per year for use of J/Port's Albin powerboats for part-day, full-day or overnight sessions.

In addition to various other J/Boat models, the sailing club has three of the popular J/105 model, a 34-ft one-design, described as the ultimate day sailer/racer/weekender. The $150,000 vessel has the cockpit of a 45-footer and an enclosed head, small galley and four large berths. There are 65 of these boats sailing and racing in Annapolis.

Jay Yeager, an air traffic controller and Frederick resident, was introduced to the boat club at the Annapolis Boat Show four years ago. "It's absolutely wonderful. The boats are clean and available. I've had no problems. The online reservation system works out well. It's a well-run club - simple and very convenient."

Yaeger spends time on the water with his wife and two 5-yr-old sons. He uses a boat every other week for either family outings or fishing, and he appreciates the convenience of club memberhip. "It's great for the family. I use the boat, enjoy the Bay, and at the end of the day, step off."

"What makes the club work is our state-of-the-art online reservation system," said Mikulski. "Members get immediate confirmation with just a click of a button, and they have a boat for service." After reserving a boat online, the member arrives at the marina, fills out a one-page boat plan for the trip, and then takes the boat. "It's a seamless operation," he added.

"We get to sail, and there's no maintenance," said Ann Wilkinson of Alexandria, Virginia, a sailing club member since 1994. "It's a great way to visit and entertain friends." She noted that sailboats are quiet enough for conversation. She and husband Ken sail every weekend when they're not traveling.

"Sailing is very relaxing," she continued. "The 5pm to sunset period is really nice. Even on hot summer days, it's not hot on the Bay." An accomplished sailor, the 5th grade school teacher has used her membership to participate in evening racing series in Annapolis.

J/Port features a dockside pump-out system, accessible from every J/Port boat slip, for the boats' toilets, a convenience for members, eliminating the need to go elsewhere to flush the holding tanks before returning the boats.

Club membership is popular because boat ownership is expensive and time-consuming. The club has 20 boats with no more than 10 members assigned to each boat to ensure that all members have plenty of time on the water.

In the original marketing plan, the club was designed to generate steady revenue throughout the year to moderate effects of fluctuating boat sales. "In fact, if boat sales are not very good because of the economy, the club really grows," said Mikulski.

"The club continues to grow every year, and the majority of our membership comes from our sailing school," he added. "70% come from the greater Washington DC area, meaning Virginia, Northern Virginia, Washington, and the Maryland suburbs."

The sailing school portion of the operation, J/World, is the number one rated school in the country. Highly qualified instructors train about 700 students during the April through November season, with 60% of them choosing beginners' courses.

"The courses are intensive with seven hours per day, most of it on the water," said Jahn Tihansky, the school's director. "We teach the student to learn to sail more as a sport than as a hobby."

"The sailing school is really good," enthused Mrs. Wilkinson, a J/World alumnus. "The instructors are great."

Many of the newbies are using the sailing school as a means of exploring sailing for the first time. For a novice, bobbing in a sailboat in choppy water on a windy Chesapeake Bay can be a spine tingling, nauseating experience. Some folks handle it better than others, noted Tihansky.

"Some students relish the thrill and some are petrified," he said. To handle the situation, J/World instructors are patient and encouraging. "They must demonstrate competence and exude confidence," he added.

In addition to beginning courses, J/World offers intermediate, racing, and cruising courses, where students learn the requirements of overnight excursions. The live-aboard cruising courses teach boat handling, using a motor, cooking onboard, awareness and preservation of onboard resources (e.g. water), navigation, anchoring, rules-of-the-road, and collision avoidance.

Sailing courses are conducted on J/80s, and the cruise courses generally use the J/37. The number of students on a boat for a sailing course ranges from a maximum of four to a minimum of one, giving each student plenty of hands-on training and personal attention. Half of the sailing school clients come from referrals, graduates of previous sailing courses.

A J/Boat celebration called J/Fest is an annual shindig for J/Boat owners. This year, the Annapolis event, one of five held around the country, features a skippers' meeting and a wine tasting on July 1 and a Fun Race followed by a cocktail party and dinner on July 2, attended by 225 people last year.

The race is a pursuit race, featuring 50 to 70 J/Boats of various vintages, with a handicapped start where the fastest boats start last, leading to an exciting finish with many boats fighting to cross the line first. Currently, 90% of the attending boat owners are local, many having purchased their boats from J/Port.

"The J/Port personnel are really great," observed Mrs. Wilkinson, who relishes her association with the marina. She has met "other club members - some wonderful people."