Decking the Halls with Colonial Florist
By Connie Harold
I think we have the best designers in the State of Maryland," boasted Lou Sutor, founder and owner of Colonial Florist. "They've been here a long time and they're very, very good." After 34 years of operation, his florist shop is one of the top 100 FTD florists out of a total of 25,000 in the country. "We stand by quality, quality, quality," says Lou. "Quality without complaints," chimes in his daughter, Jadene Payne, who manages most of the business including the wire orders. They both heartily agreed that quality flowers and quality designs are the key to their continuing success.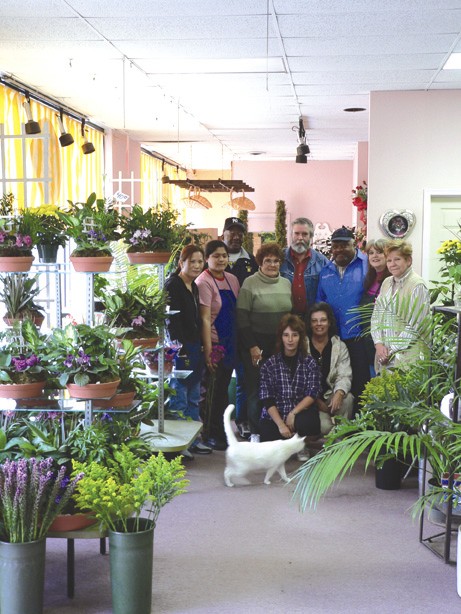 For Lou, Jadene and their top-notch staff, the Christmas season starts the day after Thanksgiving and continues until two days after the holiday. During the season they are on-call 24 hours a day taking orders for holiday centerpieces, special orders and the shop's own unique floral creations.

Colonial Florist handles more specialty items than most florists during the holiday rush and a tremendous volume of wire orders. They can sell as many as 1,500 Christmas centerpieces during the height of the season. The selection of quality flowers, wreaths, gift and fruit baskets and FTD specials keeps the phones ringing and the front counter crowded with customers. "All of us work extra hours, it's such a busy time of the year," says Marilouise, who works the front desk as part of the sales team. They try to keep at least five people on the counter at all times. If you have a special flower arrangement in mind or want to send flowers or gifts out of state, start thinking about it now. "If you want to get what you really want to get," says Marilouise, "come in early." They recommend that customers put their orders in two weeks before the expected delivery date to be sure the flower arrangements and baskets they want are in stock.

Fruit baskets sell well the week before Christmas and roses are also a hot item. "There are a lot of anniversaries near Christmas and people buy roses on Christmas Eve to celebrate," says Jadene.

Colonial Florist first opened its doors in 1969, a few days before Thanksgiving. Before opening his own shop, Lou worked on a freelance basis seven days a week for 32 different florists in the Washington area. "On the job is the best way to learn," he said. Lou has a Bachelor of Science degree in medicine. But he found the medical field wasn't active enough for him. He was working at the University of Virginia Medical School when he bought his first florist shop from an ex-Navy guy for $900. He sold it two years later for $3,000. After he got married Lou decided he was tired of working for other people and started the business which has prospered ever since. They used to do 300 weddings a year throughout the Baltimore-Washington area but cut back in the early 1990s to concentrate on day-to-day orders.

Saturdays used to be one of the busiest days, but that started changing about five years ago. Now it is one of the slowest with Monday, Thursday and Friday the busiest. Lou stressed over and over again that doing quality work and having quality designers are the prime reason Colonial Florist has such a stellar reputation and such a high volume of business. "I hate short cuts," says Lou with fervor. "It always comes back to haunt you."

The florist trade is a steadily growing business and Colonial Florist's reputation for quality flowers, quality design, and quality on-time service has garnered intense customer loyalty and a continuous stream of word-of-mouth referrals. The orders come in and go out fast and furiously. The flowers arrive each morning at 7:30, pre-packaged fresh from the farm. They are then processed and placed in very warm water so it is absorbed quickly and keeps them fresh and lovely. Inside the entrance stands a huge, glass walk-in refrigerated room containing a riotous display of flowers of all colors, shapes and sizes just waiting to be used to create a compelling arrangement.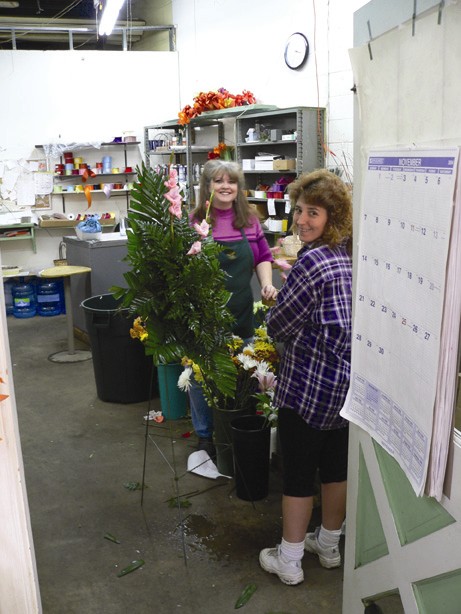 The shop has 26 employees; most are retired or part-time except for the designers. Each designer has a favorite approach to the work. Cindy likes to create arrangements using greens and silver balls that will last throughout the whole Christmas season. "A basic arrangement starts with greens," says Cindy, "and then your focus flowers like carnations, fillers and substitutes like babies breath." Donna likes "ting," anything flashy or gaudy. "I always put my delicate flowers in last so I don't bruise them," she says. Ann likes "anything that's different," such as tropical plants like ginger and anthesium at Christmas. Woodsy arrangements using greens, cones and pods are also favorites. One of their biggest sellers during the Christmas holiday is the "globe," an FTD centerpiece with a candle at the center surrounded by lights of the season.

Each designer adds an intrically tied bow to complete the arrangements. "Your bow is your signature," says Donna. All of the designers were adamant that properly tying a bow is one the hardest things to learn in the floral business. The fine art of bow making is learned by taking someone else's bow apart to see how it's done then practicing over and over until tying the 3-inch ribbons becomes second nature. It is a time-consuming process so to get a jump ahead on the season they start making bows for the poinsettias in November.

All of the major holidays, especially Christmas, Valentine's Day and Mother's Day, are extremely busy. Each year, they must bring in extra people to keep up with the tremendous surge in business. With all of the holiday centerpieces, specials and the designer's own creations flying out of the shop, as many as 13 to 14 drivers a day are needed to make deliveries the week before Christmas. Most of the drivers are retired and work part-time. They cover a delivery area within a 15-mile radius of their location at 2140 Forest Drive including all of Annapolis, Crofton, Severna Park, Arnold, Davidsonville, Riva and Crownsville. Lou believes having his own vans and drivers is also a key element of his success. On any given day they average 47 to 60 deliveries. During the Christmas season extra drivers are hired to keep the orders going out on time. Some of them come in only to work during the holidays.

Colonial Florist also does a very high volume of wire orders and uses a tremendous amount of top quality flowers. Filling those orders requires that the florists on the other end of the transaction will meet Colonial Florist's high standards of quality in their arrangements. "Our customers trust us because we've been in business so long,"" said Jadene, "and we know other reputable businesses. You don't get complaints about us."

Colonial Florist is a real family business. Jadene grew up in the shop. "Since I was a little girl, 7 or 8," she says fondly. Her first job was helping to deliver the flowers. Now she does the billing, wires orders, makes snack baskets, orders baskets and containers for the flowers and handles any unexpected problems that may crop up. Rosemary, one of the front desk staff calls her "a Jill of all trades." She and her father make a great team. Her calm and gentle presence balances Lou's perpetually energetic personality. After Jadene married and her two sons were born, she was able to bring them into the shop when they were young while she worked. They both laughed at how he called her five days after she gave birth and begged her to come back into the shop to work. One of Jadene's sons, Michael, is following along in the family tradition, learning the ins and outs of the business alongside his savvy mother and garrulous grandfather.

For almost 35 years Colonial Florist has helped Annapolitans celebrate births, marriages, graduations and other celebratory events. And their exquisite flower arrangements have helped to bridge distances between loved ones and soften the blow of distressful times. Posted on the large plate glass entranceway to the wondrously colorful and fragrant shop, Lou and Jadene's welcoming slogan says it all:

Flowers,
To send love,
To express happiness,
To show concern,
To say I care.

Helping you to say it right,
Colonial Florist

Back