Making Art Work On West Street
By Ann Marie Maloney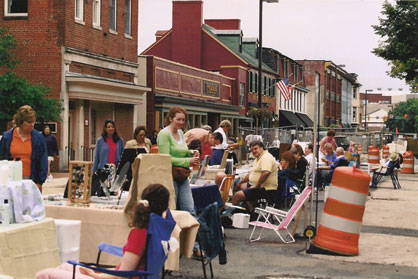 Walk down West Street during an ordinary weekday and you see construction workers, dump trucks and a few people hurrying to grab a sandwich on their lunch hour. But if you meander down West Street on the right Sunday, you may be rewarded with the sight of a pirate strumming a guitar for local passersby, a glass of wine to celebrate a new art show, or a free demonstration for garden design.

Sunday, June 6, was one of the "right" Sundays when the Annapolis art community came out to play for the first annual Artworks, which happily coincided with West Street's First Sunday monthly celebration of the arts. A visitor could almost hit sensory overload with the options available. Local crafters displayed their handmade jewelry and stained glass on West Street, while actress and author Alice McGill gave tips for writing children's literature at Banneker Douglas Museum, and Lee Boynton was signing his latest book on Impressionist watercolors at Hard Bean Coffee & BookSellers.

Construction on West Street has been tough at times for the merchants as cars with potential customers are diverted onto other streets and some on foot may glimpse the machinery and dirt and opt for Main Street instead. Free parking and art events are among the lures offered to potential visitors.

"As long as they can get here, they'll come," says Cliff Long, dressed as his alternate persona, Captain Billy Baye. "Cliff comes and goes," he jokes. "I'm never alone." When he's not fielding questions like, "Are you a friendly pirate or a mean pirate?" Long is entertaining the sidewalk audience with songs and tales of a much earlier Annapolis. A few feet away, Cat Audette is practicing raku pottery, a method of rapid firing and cooling of ceramic ware. "The goal is to make something pretty and not too heavy," Audette says. The raku objects are delicate and pleasing to the eye.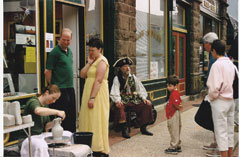 The construction has drawn the West Street merchant community closer together. "It's been a great experience for us," says Sharon Borland, owner of a la mode, a shop that sells lingerie and gift items.

First Sunday Arts is the brainchild of Erik Evans, who owns ARTFX Gallery with wife Megan, a ceramic and glass artist. Despite the slow start and the dust, "it's starting to pick up," Megan Evans says. "Our customers respond well to it," says Borland, who sends out postcards that feature local artwork. The challenge is getting the word out to the locals that West Street is still accessible.

The city has provided grants to ease the economic pain of various construction projects, though funds have dwindled as the city and state tighten their belts. But Evans indicated that merchants would pay out of their own pocket if they had to so that the First Sunday program could keep going. The final phase, which involves relocating utility lines, is slated to finish by September.

What also helps is that businesses work together, Evans says. John Williams with Garden Architects, agrees. "It's more of a family," he says. "We try to work together, go in together on advertising."

The upper end of West Street is beginning its own Renaissance, following a major facelift of storefronts and streetscaping that disrupted traffic and business for several months. Williams expects a greater turnout after the new parking garage is completed and the Thai restaurant Lemongrass makes its debut. Among the projects in the works is Park Place near the Spa Road traffic circle, which will have retail arcades, pedestrian-friendly plazas, a four-star hotel, performing arts center, and condominiums.

Pooling resources is the theme not only for West Street but for the artistic community as a whole, which came together for the four-day ArtWorks celebration co-sponsored by the City and the Annapolis Arts Alliance. "It was wonderful for me as an artist," says Natalie Green, a Severna Park painter who serves on the Alliance board. The event not only provided more visibility but also the chance to meet other artists.

Tony Spencer, community and social services coordinator for the city, told the audience at the Asbury United Methodist Church that the Alliance was created to give a louder voice to the artists who have operated independently. "You have power with a coalition," he says. The choirs waiting to sing at the church faced a light crowd, but Spencer had a positive attitude. "The chairs are vacant and that's okay," he says. Noting that this was the first year for ArtWorks and the fact that other events were taking place, "We're still going to have a glorious time."

Green says the board hopes to expand ArtWorks next year, bringing in street performers and classes and will evaluate its marketing strategy to generate bigger crowds for all the events.
Back