"I Love This Town"
By Douglas Lamborne
When one chapter of David Colburn's life ended in 1987 it didn't take long for restlessness to overtake him.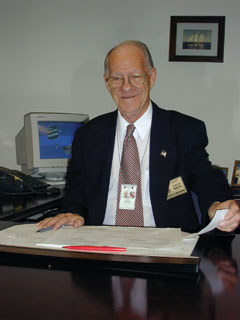 "I think back then I remodeled everything in the house. I might have taken the kitchen walls down to the two-by-fours. I re-tiled the bathroom." He was not going to retire willingly. "Retirement was driving me nuts."

He soon got guidance from someone he met in another chapter-the late judge Warren Duckett, who suggested Colburn contact Gilbert Painter, the Circuit Court's chief bailiff. He did, got a job and has served there for 16 years, becoming chief bailiff five years ago.

Colburn, 79, comes from a generation that has a sense of service. He is a fourth-generation Annapolitan, grandson and great grandson of railroad engineers. His great-grandfather was killed in a train wreck that took place in the run from Odenton to Annapolis. Colburn's father took a decidedly different tack. As a youth he painted horses on the carousel at Bay Ridge and hauled water at the Naval Academy during construction of Bancroft Hall. He continued to paint at the Academy, doing the gold-leaf work on the signs there. "Signs at the Academy were a lot better looking back then than they are now," says the son with pride.

Colburn says he inherited a little bit of his dad's painting genes and likes to draw with pencils and hard crayons. "I do a lot of drawing, wildlife scenes and cartoons. I enjoy doing it."

The family-he was seventh of eight children-lived at two addresses on West Street, back in a time when Annapolis was a lot different than it is today. At 227 he remembers living adjacent to "Brownie's Garage, Mr. Sullivan's tombstone place, Mr. Alms Eliot's store. He sold live chickens there." The family moved to Charles Street and then King George Street across from No. 2 Gate at the Naval Academy.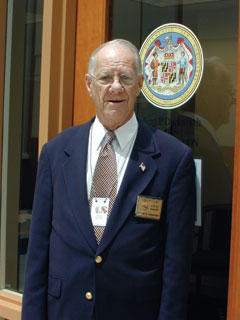 He went to St. Mary's where he was an altar boy. He was rushing there early one morning when he was stopped by a police officer. "Colburn, where are you going this time of night?"

"That's how small Annapolis was back then," he says.

He remembers taking the WB&A electric train to Baltimore. "We used to call it the Wobble, Bump and Amble," he says. "It used to sway this way and that." One boarded it at Bladen Street, and it wobbled, bumped and ambled to West Annapolis, Wardour, Manresa, Glen Burnie and ultimately Camden Yards in Baltimore. "Back then, a lot of us used to take that train up to Baltimore to do our Saturday shopping."

He went to St. Mary's and Annapolis High School. He joined the Navy early in the course of World War II but was eventually discharged due to a pierced eardrum.

He was an usher at the age of 15 at the old Republic Theater on Main Street. Cowboy movies were the specialty of the house back in those days-Gene Autry, Hopalong Cassidy, Tom Mix. "We used to say the manager had saddle sores and hoof-and-mouth disease," Colburn recalls.

In fact, he worked for a succession of theaters most of his professional life, all of them gone-the Circle on State Circle, the Capital on West Street, the Colonial Drive-In in Parole (where the Outback is). There was a fourth movie house downtown back in those days, the Star on Calvert Street, which was for black people. Those were days of segregation.

Colburn worked his way from the bottom up for F.H. Durkee Enterprises of Baltimore-usher, projectionist, and into management. Single-screen movie theaters, however, were doomed. Television, a moribund Main Street in the 1960s, constantly rising film rentals, the demand for multi-house cinemas and their many choices of movies, automation-all combined to shutter downtown theaters. Their closure came slowly, steadily. The Circle was the last, in 1987.

Through this period, Colburn had a parallel life in politics. He served on the Anne Arundel State Democratic Central Committee in the 1960s and was alderman from Ward 7 from 1973 to 1981. He ran for mayor in '81, losing to John Astle in the Democratic primary. "We became the best of friends after that," says Colburn of Astle, who lost to Richard Hillman in the general election. Astle is now a State Senator.

This political side of his life rescued him from his unwanted retirement when Judge Duckett suggested he make inquiries at the courthouse.

The bailiff's office is one of several that dovetail with others to make the courthouse run. The juror's office is responsible for supplying jurors. The role of the bailiff is to chaperone jurors, making sure they show up on time, to maintain security during deliberations and otherwise to serve the wishes of judges. Sheriffs are responsible for security in the courtroom.

Colburn is accountable for 13 bailiffs, all of whom are part-time. Most have prior experience in police, military or security work. "They're all retired, here because they like what they do," says Colburn.

Bailiffs have to be ready to aid the hearing- impaired, take on an emergency (fire, bomb threat, medical problems), assist visiting judges, oversee judges' mail-all the while being as unobtrusive as possible. They have to learn that judges have their own way of doing things and that they, bailiffs, have to make the necessary adjustments.

Making adjustments seems to come easy to Colburn, a good-hearted, unflappable sort (although he bangs his desk when talking about things that are not quite right in his neighborhood, something apparently left over from his political days). His concern is simply based: "I love my town."

Colburn is almost 80. He and wife Margaret celebrated their 60th wedding anniversary this past summer. Even son David Junior is a retired paramedic with the city. Why not retirement for Senior? "I can't stand not doing something," Colburn says with some ferocity. "I'd like to work as long as I am able. It keeps your brain alive."

Getting the Call To Jury Duty

You tell a friend that you have just received a summons to serve as a juror. He says he can't remember the last time he was similarly called. What's going on?

Lois Rowe, jury commissioner for the Circuit Court for Anne Arundel County, says this is how it works:

. The names of all County residents, lifted from voters' registration lists and the Motor Vehicle Administration's file of drivers' licenses, are pooled on one master computer list. (Duplicated names are singled out.)

. A judge of the court randomly draws a number by hand. Let's say he draws No. 200. Every 200th name on that master list is pulled and summoned. This year some 30,000 names were drawn, and about 20,000 of them can be expected to be called to serve at the Courthouse.

. Because jurors are supposed to be selected randomly, people who ask to volunteer for jury duty-and apparently there's a stream of them-have to be turned away.

. Jurors, petit and grand, get $15 a day for expenses. Some courthouse folks would like to see that figure increased. When the cost of a ham sandwich and glass of iced tea downtown exceeds that amount, then maybe 20,000 persons would insist on it.
Back