Bill Thompson: Saltworks Creek
By Molly Ring Winans
Film and TV work is kind of like sausage," says Bill Thompson. "You really don't want to watch it being made." This film and television production company owner may try to de-glamorize his world by telling you about the dull hours when the camera's not rolling, hours spent waiting for prop and lighting set-up. However, when he warms up and starts to talk about "loading up a jib crane," which is a camera on a long arm "that gives you a cool move," "zooming in and dollying out," "DP-ing" or acting as director of photography, and using background smoke, it sure sounds like a sexier job than most of us have.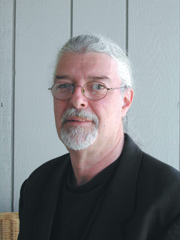 Bill and his wife Debra named their Annapolis-based company Saltworks Creek after the Severn River creek of the same name which they're fond of. Debra oversees the books while Bill directs photography and hires film crews with sound and lighting experts for each project. The four categories of Saltworks Creek's clients are film, corporate, government and broadcast. FBI, USAirways, BGE, The Kennedy Center, National Geographic, Dateline, PBS and 20/20 are among them. Widely varied in scope, current projects range from a government counter-terrorism training video to a film documentary about the Philippines.

Becoming a director of photography wasn't in Thompson's long-range plan when he was studying industrial design. All he knew was that college wasn't as interesting as he had hoped. When taking some time off in Florida, he saw an ad for a "television bench man," which sounded exciting. It turned out to be a repairman job for which he wasn't qualified, but the spark for the television idea remained. He landed a part-time job at a small television station where he worked through college at the University of Maryland.

"Mine was all hands-on experience. That was the way it was back then in television," Bill explains. "There wasn't a TV production department at school. I didn't have any classroom theory. At the station, we had a sales guy who'd find a local business, say a laundromat, and we'd go shoot a commercial for it. We also did longer format eight-minute news specials or investigative report segments. We got more into it than just a 30-second news story. I just loved it."

After graduation, Thompson became an editor for Channel 20 and then "badgered" the local CBS station until they hired him. His 12-year tenure at CBS as an editor and later as a cameraman ended when corporate restructuring forced him to either move or take early retirement. He chose the latter. "Had the structure of my CBS job not changed, I'd probably still be there," he admits. "I know guys who have been there for 30 or 40 years. I'm so glad it happened."

Thompson's next adventure was launching Video Works, an offline editing and production company. Offline editing involves preliminary film cuts and writing the EDL, or edit decision list, for the final online editing process. Video Works specialized in cost-effective editing for clients who didn't have their own offline editing equipment. When marketplace and equipment pricing changes shrunk the demand for their services, Bill's investment partners eventually bought him out, which freed up his time to do production work, his passion and specialty.

His consulting work, which became his production company Saltworks Creek, has given Thompson creative and personal flexibility. "Working for myself is something that just evolved," he explains. "I don't know how anyone just starts doing it. You have to have a stash of cash for the slow times, especially for someone raising kids. I am very fortunate to be in a position where the kids are grown. The boat's paid for. I'm not pressed to take everything that comes through the door, so I can pick and choose my projects. All of my business comes to me by referrals."

Bill and Debra paid their dues burning the midnight oil and sleeping on the office futon at Video Works. "Sure, we were profitable the first year, but we had no life," he remembers. "That's pretty typical in this business. People who are really immersed in it tend to overwork until they burn out." The Thompsons feel lucky to be in a place in life where, in lieu of frantically chasing down business, they can relax and go sailing in the quieter moments.

Another positive aspect of such versatile work is that no day is typical. One day Bill may be editing a government training video, and the next he may be scouting out a location for a television commercial to see if there is adequate light and enough space for the film equipment. Like any job, there are dull administrative and time-intensive proposal writing days, as well as days spent waiting for prop crews and lighting directors or gaffers to properly set up.

"Shooting the picture" is Thompson's favorite part. Shoot days always begin early so that he can film during "the golden hour," the best lighting being in the early morning or late afternoon. Professional filming takes longer than the layman expects. A recent television commercial for insurance fraud consisted of one shot of a phone on the floor. The idea was to focus on the telephone, then have it become clear that the office was empty and that the insurance company was bogus. It took seven hours to film the 30-second commercial—after a full day of preparing the location. "That's nothing," claims Bill. "More complicated shots take much longer."

When he's not shooting them, Bill loves to watch films. His list of favorites is constantly expanding. Recent films he's enjoyed are Ron Howard's "The Missing," Andrew Davis' "Holes," and Harald Zwart's "One Night at McCool's." He admires anything by Hitchcock or Fellini, who he says, "really had an eye for making outrageous stuff work."

Thompson likes Annapolis' proximity to Baltimore as a film hub and to D.C. as a news and magazine mecca. Although he likes the whole town, Eastport feels most like home. The couple's abode, a 41-foot ketch-rigged sailboat called Phantom, is docked a few blocks from Saltworks Creek's Fourth Street office. "I have Davis' Pub and Café Guru's on one end, my office in the middle, and Boatyard Bar & Grill on the other side," Bill says. What more could a local want?
Molly Ring Winans finds that oil painting, cooking, and training for triathlons are all great ways to procrastinate writing.
Back