Renaissance Man
By Beth Schulman
If you attended "An Evening with Rembrandt and Friends" at St. John's College in January, you couldn't have missed John Jensen, a professional potter who shed his clay-covered apron for the dashing velvet garb of the Renaissance in a fundraiser for the college art gallery. Guests had the chance to see Rembrandt's celebrated works in the Mitchell Gallery and attend a reception where Jensen was one of three local artists who painted the party as it unfolded. His two-by-three-foot painting was sold by silent auction while still wet for $700 to benefit the gallery.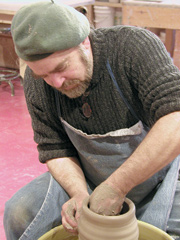 Jensen has worked at the college since September 2002, although his usual job description is not Renaissance man but pottery instructor. Jensen has run his own studio from the backyard of his Homewood residence since 1988 and had 10 years experience teaching at the Maryland Hall for the Creative Arts before coming to teach continuing education classes at the college.

Kathy Dulisse, St. John's director of community programs, says that in addition to Jensen's technical skills, his low-key approach is popular with students. While students at St. John's spend four years studying the liberal arts in the all-required curriculum—philosophy, literature, history, economics, political science, mathematics and science—they also have the option of enrolling at no cost in fine arts classes to round out their experience.

Jensen himself attended Louisiana State University's Baton Rouge campus, and his discovery of pottery was serendipitous. He took a class because his girlfriend was in it. "Pottery's a general skill. You need everything from building to welding and bricklaying to chemistry," says Jensen. "It turned out to be a perfect combination for me." After college Jensen continued to hone his artistic skills, drawing and painting daily for 10 years, while holding a variety of jobs from waiting tables to tying up steamships.

"When I teach, I tell my students if they aren't having a lot of failures, they aren't having successes, they aren't learning," says Jensen. "But if you go through the steps properly, it just sort of works. It all starts from the way you prepare your clay. The thing that fascinates me about clay is that it's a metamorphosis. With woodcarving or sculpture, you're taking something away to create a form. Here, you're taking the same material, and just moving it around. It's the beginning of a long process that involves several firings."
The St. John's continuing education and fine arts program was created in part to give students a creative outlet to complement the academic program. Half of the slots in the fine arts classes are reserved for Johnnies, and the other half are available for the local Annapolis community. The extracurricular classes in pottery, drawing, voice, sculpture, painting and creative writing, taught by local artists, are offered in the evenings and on weekends and run for 10 sessions.

Jensen explains that in pottery there are two general areas, the wheel and everything else. "Throwing on a wheel takes more time. It takes the first two or three sessions to learn to center clay. It sounds simple, but once you can do that, everything else follows. In 10 sessions, students can make a mug or cereal bowl." Alternatively, students can start with pinch pots, then explore the coil method and move on to more complex techniques. "With handbuilding you can do amazing things in that time—a tea set, bowls, plates," says Jensen. "It's [a skill that's] easier to acquire."

In addition to teaching at St. John's, Jensen works in his own studio. In recent years the main focus of his work has been the production of toad houses, offered in two designs: the classic and the Victorian. Popular items in the Plow and Hearth catalogue favored by gardeners, the houses are essentially inverted bowls with chimneys and windows and, in the case of the Victorian model, gables and a widow's walk. The toad houses are both decorative and environmentally friendly—"Our Toad House Attracts Princely Bug-Eaters," proclaims the Plow and Hearth catalogue, offering toads the haven of a cool, shady place that is protected from cats. Jensen receives many reports of toads going into his houses, although he says, "I have hundreds of them in my garden—all my rejects—and no toads." He's sold about 50,000 of the phenomenally successful toad houses over the last five years and has created a web site (www.toadhouse.com, of course).

Jensen's work will also be featured in March 2005 in the Lillian Vanous Nutt Room in the St. John's Greenfield Library, which showcases local artists with two exhibits yearly. The college will present a ceramics exhibit with the works of both Jensen and his predecessor in the pottery studio, Rick Malmgren. Their exhibit is being organized in conjunction with the National Council for Education on the Ceramic Arts, the pottery world's biggest annual meeting. The conference will be held in Baltimore, with tour buses organized to bring participants to nearby exhibits.

Jensen says he's always seemed to have a certain ability in pottery ever since he first tried it, then adds, "But I like all kinds of art—I play guitar and sing, do woodcarving. I've taught photography and watercolor." When you mention that he sounds suspiciously like a Renaissance man in actual life, Jensen will admit he's been accused of it.
Beth Schulman is media relations manager for St. John's College and has recently discovered the joys of feng shui while remodeling her house in Hillsmere.
Back