Jimmy's Favorite Sites
By Jimmy Hammond
Here are a few sites I have discovered which are helpful, informative or interesting. These sites relate to Annapolis, to business or are just worth dropping in for a casual visit. Let's go surfing and take a look.

A few years ago I told you about www.NetCaptor.com. The company claims that NetCaptor is the most powerful web browser on the planet. I can't make that statement but you will be able to stop annoying pop-ups, save time using their open site tab system, and clean up your cache, history, cookies and autocomplete functions with a single click. I have used NetCaptor as my default browser ever since I found it and now have licenses for all my machines. The good news is that you can now use it free or, for less than $30, you can buy the Pro Version. Either way, your navigation on the web will be enhanced more than you can imagine. Try it for free today.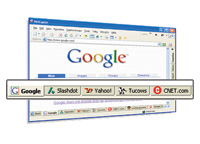 As is always the case these days, when I find something while shopping in a retail store, I immediately want to find it on the Internet—sometimes for a better price, sometimes for its availability, and always to satisfy my curiosity. Swiss Army knives fell into the latter category. At www.swizarmy.com all Victorinox products can be found, often at remarkable savings. The home page states that most products are sold at 25 to 30 percent off and bargains at 40 to 70 percent. This might be a great place to start holiday shopping— there are only 208 days until Christmas at this writing.

Recently my wife and I decided to take an overnighter in New York during her spring break—you know, Amtrak, hotel, dinner and tickets to a Broadway show. I'll spare you the details save for one, the hotel. Our last minute arrangements at the City Club Hotel, 55 West 44th Street, put us within footsteps of everything we wanted to do or see. This 65-room, upscale hotel has been repeatedly discussed and reviewed since it opened in 2002. The good news is that it's all true and, if you can afford the duplex suite, as in two-story with balcony, which we were upgraded to, you are in for a true treat in New York. The hotel restaurant, DB Bistro, is owned by Daniel Boulud, one of the consulting chefs on the new Queen Mary II. The hotel site at www.cityclubhotel.com does not do it justice. You'll get more than you see, for sure!

Recently my wife shared with me the website www.stratsplace.com/wine.shtml. This is the Wonderful World of Wine site. Here you can see wine art, visit vineyards, see 27,000 tasting notes, check out 80,000 wine auction prices, take a wine study course and more. But the feature that truly fascinated me was the "living" wine dictionary. You can actually hear how to say thousands of wine names, like Pouilly Fuisse or Chateauneuf du Pape. You'll be surprised by the wine facts you don't know, and the next time you visit the Wine Cellars of Annapolis you can put your new-found knowledge to work. Ciao.

Inside Annapolis Magazine has a new web site at www. insideannapolis.com. The site is full of new community features, surveys, new links and a new site search engine. The new site is intended to be bigger, better and more user- friendly, as well as a supplement to the magazine. We hope that you will take the time to visit the site and then let us know what you think of our new look. www.annapolismag.com will remain an active link, however, it will now automatically redirect you to the new site.

As always, we encourage your thoughts and suggestions, Thanks!
Back