Patrice Shelton, Adecco
By Martie Callaghan
Attempting to figure out the meaning of Adecco will only lead to frustration---unless one is multilingual and familiar with the cultural and business mores of Switzerland, Germany and France. Actually, Adecco is an acronym combining the names of the Swiss company, Adia (another acronym meaning "Help Service for Commercial, Industry and Administration") and the French company, ECCO, two industry leaders in temporary staffing. Their merger was accomplished in 1996, creating a combined network of more than 2,500 branches in 40 countries and covering every key market in the world. Today, Adecco's network consists of nearly 6,000 offices in 60 countries.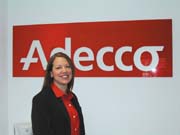 Patrice Shelton, branch manager of the Annapolis office, explains that Adecco is a seven-fold business solution. "We are a full-service employment company," she says. "Our seven brands of business are staffing, technical, financial, call center, hospitality, airport and human resource services."

The Annapolis branch of Adecco hires local people to place within local companies. "Our client companies are outsourcing their HR to Adecco," says Shelton. "We offer temporary, temporary-to-permanent and also direct placement. Right now, with unemployment so high, companies could find employees on their own, but we do a whole lot more. We do skill testing, reference checking, behavioral testing and, on top of that, we are the only service to offer full benefits to all of our associates, our temporary work force."

Here's how it works: The worker is hired by Adecco and becomes their employee. As soon as that employee is placed in a position with an employer client, Adecco begins paying the employee for time worked and then bills the client company for that time. Job seekers are not charged a fee. Workers who meet Adecco's standards and are hired are then eligible for medical insurance, dental coverage, a 401K plan, tuition reimbursement, paid holidays and vacation time.

AARP magazine recently listed Adecco among the top employers for workers over 50. "The reason retirees go back to work is for benefits," says Shelton. "That is the main thing that sets us apart from our competitors. We offer benefits to everyone. We can only afford to do it because we are so large."

The Annapolis branch of Adecco is one of seven in the Baltimore region. Twelve more are located in the Washington, D.C., market. All are linked electronically and share a database of customers and candidates. "This is extremely progressive for our industry," Shelton says. "If people want to make more money per hour and go into D.C., then I can look in D.C. and find them a job. This is not the case with our competitors. Even though we are small locally (with an office of three), we are a global leader."

The various hats that Shelton wears at Adecco include everything from "hands-on" customer contact to database management to taking out the trash. The challenge of the job is the constant change. "We like to think we have control over our day, but we are dealing with two different sets of customers: client customers who have our associates working and our associates who are considered our customers as well. We need to keep this big family happy, which can be extremely challenging because everyone has different needs. We eat, sleep and drink change at Adecco."

Shelton began her career with Adia before the merger. She grew up in Fairfax, Va., and graduated from Radford University in 1990. After practicing interior design for four years she was ready for a change. "I was hired by Adia and here I am," she says. "I have worked in and/or managed branches in Vienna, Alexandria, Washington, D.C., and Greenbelt. I have lived in Annapolis for five years now and work five minutes from home. Annapolis definitely has that small-town feeling which makes living and working here a pleasure. I bump into customers at the gym, the grocery story, the park, at church. That is what I absolutely love, coming from northern Virginia which was such a huge market---so many people and businesses, so much traffic. Everyone here is friendly and when my managers travel with me, they comment on that. Customers here are not too busy to stop and talk with us."

It's the human side of her job that Shelton likes the most. She has found that most job seekers are appreciative of the counseling they receive on life management and work ethics. "If their parents didn't have good work ethics, they won't," she says. "Some people don't know they need to take responsibility for their actions because nobody has ever told them. When you have been doing this as long as I have, instincts kick in. You care about these people. You don't want them to walk out the door and lose a job or ruin their reputation. We can change lives here."

Adecco has begun serving the U. S. military population by offering career counseling, training and placement to individuals who, because of their spouses' military assignment, have had to move from one area of the country to another. "We partner with military bases all over the United States, including the Navy base here, to help spouses transition, move and find employment," says Shelton. The program, called Adecco Career Accelerator, has been extremely well-received by military personnel officials and by the military spouses who want or need a job or who are trying to build a career.

Adecco endorses community-based projects and, each year, sponsors the SPCA Walk for the Animals. Adecco partners with the Susan G. Komen Breast Cancer Foundation and other national companies to sponsor the Race for the Cure. "I'm proud of our company," says Shelton. "We also sponsor Jobs for America and, on a fun note, we are a corporate sponsor for the Washington Wizards."

Shelton is grateful for the training and support which Adecco provides to its employees. "Adecco has been very generous to me," she says. "I am from a generation where people tend to job hop. Adecco positions us so that, personally and professionally, we have what we need."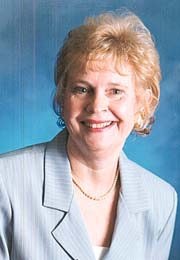 Martie Callaghan is a freelance writer and native Marylander who enjoys spending time with her five grandchildren.
Back