Griffins: Hooked on Fresh Fish and More
By Patricia Barry
If you're looking for a fabulous beast with the head and wings of an eagle and the body of a lion, you'll have to be patient while scrutinizing Griffins in the prime location at 22 Market Space on the City Dock in Annapolis.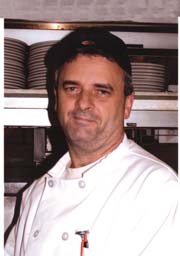 The eatery and bar that fills the space of three historic structures also treasures its Greek mythological animals inside. Behind the bar you'll find some creative varieties of griffins, about what you'd expect for the beasts. In the dining room, however, are some unique-looking female versions.

The restaurant is decorated with eclectic trappings. On one side of the room is an L-shaped mahogany bar capped with granite. Above, an overhead opening soars three stories to an opaque skylight. A second story balcony surrounds the spaces, including one large private room for special parties and banquets for up to 52 diners.

A sturdy staircase, seemingly out of a Victorian townhouse, will get you up to the second floor where there's a large gold clock and mahogany molding with ornate bracketing. Local designer George Lawson assembled the sections of the timepiece while doing his interior work on the two original 18th- century buildings and one small alley. Suspended by wires, a super-sized toy biplane floats above the bar. This room offers meals to bar patrons as well as those seated at tall tables and a banquette.

On the other side of the space is a bi-level dining room with large brick openings. Bistro chairs and tablecloths cheerily drape wooden tables. The authentic New Orleans parade masks made of animal feathers and framed with vintage wood are colorful and intriguing. A raised eating area corralled by a banister separates this elevated dining space from tables below which flank three windows overlooking the sidewalk opposite the Market House. Hurricane Isabel left a watermark at the height of these windowsills---about two feet. We are told that, outside, three feet of water wrestled to get in. Quick water vacuuming saved the day.

On an evening visit to Griffins, we chose seating near the brick arches and began our selections with a Griffins private label Chardonnay that proved to be pleasant and of excellent value at $14.95 per bottle. The wine list displays a variety of choices and affordable prices. Our attention then went to the specials from which we chose the tasty Mexican chicken and black bean soup garnished with slender strips of tortilla.

My ally in food chose the fresh broiled halibut with a delicate mussel sauce. "This is uncommonly good," he quipped. I yielded to temptation and selected the pair of South Carolina soft shell crabs, large, juicy and crisply sautéed. Interesting combinations of seafood, pasta and special sauces are abundant on the menu. We finished with superb black coffee, Ellis presidential blend.

On another occasion, four of us drifted in for lunch to try the Chester River raw oysters which were tasty and succulent. One in our group had the rockfish "po' boy" sandwich on a cornbread roll, with lettuce, tomato and a delicious house-made remoulade sauce. The fish was coated in the lightest of batters. As our friend said, "Soft rock in the background, a warm pub---all together worth a repeat visit." The "special" thin-sliced beef sandwich, napped in an appropriate bistro sauce (with a touch of mustard) on French bread was just right. Still on the seafood kick, we tried the fried oyster sandwich. A light and crispy batter covered fresh, juicy oysters. Very high marks.

We agreed that the Griffins-label golden ale made by Clipper City was a good choice. Unanimous cheers also went to the French fries coated in a special batter, a standout in any crowd. Chef Randy Ballard, a veteran of 20 years at Griffins, oversees the kitchen staff that can feed 160 people seated at one time. The kitchen is as efficient as an ocean-going yacht, appropriate yet miraculous for an 18th-century site. "Fresh" is his mantra and required for all ingredients, but scrupulously demanded for seafood. Randy notes that each day's menus offer specials, with different menus for lunch and dinner. General manager Mark Cammarata and four other managers check each order for quality control.

Desserts look and sound scrumptious but will have to wait for another tempting time. For lunch and early dinner, kids can find their special kind of food as well.

Although well trafficked in its waterfront location as a pub and bar, the restaurant will easily hook the quality- and value-seeking diner.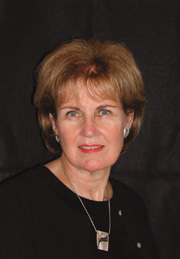 Patricia Barry, a Pisces who resides on Mill Creek, has been a water and food buff for three decades.
Back