Citizen, Sister, Teacher, Friend
By Debra Wilkinson
Don't ever tell Yevola Peters that the poor need to be empowered. Peters, CEO of Anne Arundel County's antipoverty organization, the Community Action Partnership (CAP), won't hesitate to explain her belief that every person, rich or poor, possesses a power that comes from within, and it is up to each individual to identify and use that power. Peters has learned that activists who do the kind of work she and CAP do "believe that people can help themselves because the idea is that you really can't do for a person, you do with a person. You don't empower a person but, rather, that person becomes empowered."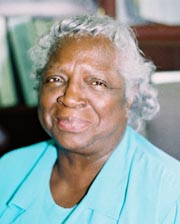 Peters asserts that an individual who works to help the poor is one who is able to remind himself of the necessity of a joint effort between the provider of the resources and the recipient of them. Peters says she and others like her must "really understand that whatever happens, it isn't really me who's doing it. I'm providing an environment for the personbecause the power is in that person. If that person doesn't have the will and the desire and the commitment, I could do anything and everything, but it wouldn't make a difference. All I can do is provide the setting."

The job of CAP is to provide that setting. CAP (formerly CAA or Community Action Agency) is an organization that provides services to low-income residents of Anne Arundel County. The agency was one of many CAAs that was started after President Johnson declared the War on Poverty in 1964, and funds were allocated to help eliminate poverty across the country. Today, CAP is funded by government grants and private fundraising efforts, and it operates several programs to assist low-income families and individuals in every stage of their lives, from before birth to after retirement.

Early Head Start provides education and support to pregnant women and young children. Head Start is the successful pre-school program for three- and four-year-old children. The Annapolis Youth Services Bureau provides fun, constructive activities as well as intervention and treatment for teens in trouble. The Senior Employment and Nutrition Program assists the county's senior citizens by providing job placement and meal deliveries. Residents of all ages benefit from the Energy Assistance Program, which helps people pay their utility bills. Housing Services help people acquire affordable housing. Empowerment Services counselors provide follow-up inquiries for people after they have received a specific service. CAA also helps the poor with food, medical care, counseling, drug treatment, conflict resolution, education, job training and other issues, by encouraging individuals to make use of its own programs or referring them to other social services in the county.

Peters' relationship with CAA began in 1969, when she began volunteering for the agency while working as a music teacher. "I felt that I should teach the student, not teach the subject," says Peters. "The subject was a tool to help the student." Watching her students progress in their lives, not just in their schoolwork, was something that Peters found compelling.

"While I was teaching, I found something attracted me to those students who didn't want to be in school particularly. I would work with 9th graders, often the ones who would usually cause a bit of trouble, but I found that music, as they say---music soothes. Well, it worked. Young people took to music, and I used it to help them set goals. Either they loved to sing or loved to perform or loved to play an instrument. As a result, the director asked me to write a proposal to fund cultural enrichment and youth development programs. In June, after school closed, she came to me and said 'Guess what? We got word that we're going to be funded. Now we need you to come back and run the program!'"

Peters got so involved with that and other programs that she ended up working for the agency full time and gave up her plan to return to teaching.

Over time, she saw the impact the agency was having on the community. She could see that when young people took advantage of the youth development programs, "They were more successful in school. They were able to see some worth in themselves. For the parents, we also did training in various skills, whether we did literacy or helping with employment training opportunities. So then you could see people able to increase their income, and people would move out of poverty, which was what it was all about."

Peters continued her work with CAA and became director in 1975. She left the agency in 1991 to pursue more hands-on projects and was asked to return in 2000 to help sort out financial difficulties. Peters hopes to return to her hands-on work eventually, but CAP knows she'll be tough to replace.

Max Ochs, local musician and CAP's director of public affairs, is one of the many people who appreciates Peters' participation in CAP. "She should be using her time to relax and enjoy her grandchildren," says Ochs. "But she's here, working hard, staying late. She's a real warrior." To Ochs, Peters isn't just a colleague, but a dear old friend as well. He has even expressed his admiration for her in a poem:

Citizen, sister, teacher, friend,
Today's the beginning and not the end.
The beauty of a person emanates from the heart,
In the story of our lives you will always play a part.
Love is the basis of all your work,
To bring healing where there used to be hurt,
To bring up people who used to be down,
To bring smiles to the faces that used to frown.
The beauty of a person emanates from the spirit;
When the still, small voice speaks, you hear it.

Peters' role as a loving warrior for the poor is one she feels she was born to play. "Frankly, I think my life's calling is working with people. I'm a very spiritual person, and I believe that each of us has a purpose. I've accepted what my purpose is, but I must say that I had to grow into that knowledge. It was with [age and maturity] that I've been able to go with the flow."

For Peters, finding and fulfilling one's purpose is achieved when the inner power she speaks of moves them. Helping the poor find that power is what she considers to be the key to the psychological side of moving people out of poverty which, to her, is just as important as the economic side. "Everybody has the power, regardless of whatever the outward appearance seems. I do strongly believe that as God-created people we've all been endowed with the power to be successful, and [that] is really what my individual goal is. It's not about trying to make molds of success, but it's letting people succeed once they feel their inner strength. I call it discovering the power within. That's what I think we're here to do. We're here to help people discover the power they have within themselves to be what they want to be."
Debra Wilkinson is a recent graduate of St. John's College, where she reads a selection of the great books of Western civilization. She plans to move to Korea to teach conversational English.
Back