Crossing Boundaries With Music
By Debra Wilkinson
Caroline Coccoli loves to make music. Last year she played first violin in her orchestra and sang a brief solo with the Annapolis Symphony Orchestra. This year she's singing in the opera "La Boheme" and planning to play works by Mahler and Wagner. Her skill is a result of years of hard work and serious study. Oh, and Caroline is 10 years old.


This talented performer is one of several young people who participates in some of the local musical organizations for children in Annapolis. Two of these organizations, the All Children's Chorus of Annapolis (ACCA) and the Chesapeake Youth Symphony Orchestra (CYSO), have her as a returning member this year.

ACCA is a non-profit organization of 55 singers, ages 7 to 14, who perform multicultural music in and around Annapolis. It was founded three years ago by Liz Barrett, a retired computer programmer, who wanted to bring kids together to encourage tolerance among different groups of people or, to put it her way, "to help change the world."


Barrett had been active in community service and thought that a children's choir consisting of kids from different churches would be a good way to bring the community together. She soon learned that she had to modify that plan. "When I tried to actually talk to choir directors, I quickly realized that this wasn't going to work. First of all, not everyone wants their kids exposed to other theologies. Also, I found that you have to sing sacred music in a church, and I certainly didn't want to sing sacred music only. So thus evolved a community chorus."

Barrett had never worked with kids before and was a bit nervous about the prospect. "I've never been a natural lover of children and dogs. I liked my own children, and we had dogs, but I'd never been an 'ooh-er' over babies. I'm also a supreme music critic and wondered if I'd really have the tolerance and patience to work with kids. I am absolutely amazed to find that I love [it]."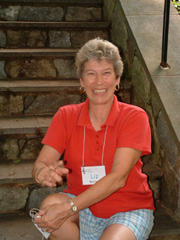 She's also surprised that they love working with her. "I make them work hard---there's no getting around that---but they really do like it. It's amazing to be surrounded by kids who are hugging me."

Mary Armstrong, mother of busy Caroline, has two kids in ACCA and says of Barrett, "She has a tremendous amount of energy. The thing that's best about her is that she says exactly what she thinks. She demands a lot of the kids and gets a lot out of them."

Barrett is pleased with the quality of the chorus and continues to use it as a way to bring people together and foster open-mindedness. ACCA is a way for her to act on a local level to help children, parents and the audience learn about people who are different from themselves. "I look at this country and see the hate crimes, the intolerance for so many people, intolerance for people they don't know anything about.

"Annapolis is in no way an integrated community. You do see it to a certain extent, but we have a long way to go. That's part of why I felt I had to do something. I just felt that these kids growing up being tolerant of each other, learning to respect each other...that it's necessary. Kids can be in the same school together, but if they're not taught to respect one another, then it doesn't get them loving each other. Every once in a while in the chorus a child will say something nasty to someone else, and I just will absolutely not allow that."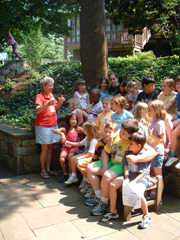 Barrett tries to make ACCA as diverse as possible, both in membership and in the material they perform. She's used musical pieces that range from light-hearted Disney numbers to Angolan, Japanese and Czechoslovakian songs (often sung in the original language), to classical works by Handel and Brahms. But diversity in the group's membership is a bit more difficult to attain. Barrett says, "I don't have many kids from disadvantaged backgrounds, and I'd like to have more."

Still, the reputation of ACCA has grown. They do several performances a year, including spots with the Annapolis Symphony Orchestra and more at the Martin Luther King breakfast. Most recently, they've been invited by Anne Arundel Community College to sing the children's choral part in Puccini's "La Boheme" on Oct. 10 and 12.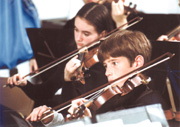 On the other end of the spectrum, there's the Chesapeake Youth Symphony Orchestra, which takes a more traditional approach to bringing children together to create music. The 13-year-old organization, also non-profit and mostly volunteer, instructs and showcases young, serious, classical musicians, ages 8 to 18. The group consists of two full symphony orchestras, two string orchestras and two flute choirs.

Unlike the mix of skill levels in ACCA, CYSO members are, for the most part, experienced players who must invest a great deal of time and money to participate. The players practice an average of one to three hours every day, in addition to private lessons and weekly rehearsals. Parents can spend anywhere from a few hundred to several thousand dollars a year to support their child's participation in a serious orchestra like CYSO. Fees to join are only a couple of hundred dollars a year, but there's no limit to how much a parent can spend on instruments and lessons.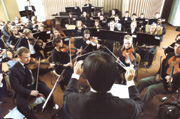 Time is another investment parents need to make if their child is to study seriously. Kathy Swekel, executive director of CYSO and mother to one of the performers, says, "You drive them to their lessons, you drive them to their orchestra, you drive them to their performances, you drive them here, there and everywhere, and it takes large chunks of your time. If you have a kid like mine who is in three different organizations, it becomes a full schedule. A lot of times the parent has to invest as much as the kids."

So, why do these families go through all of this? To Swekel, the desire that dedicated musicians of all ages have to do what they love takes precedence over any inconvenience. "It's an overwhelming, uncontrollable way of living. Some people have a conscious 'I-want-to-be-a- music-major' element to them. But behind that, there's a knowledge that this is the thing you have to do to be happy."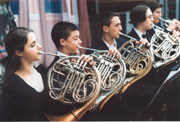 Julien Benichou, a world-renowned conductor who has just this year joined CYSO as their music director, says that when he first encountered the group as a guest conductor during a rehearsal, "I came and conducted and was immediately struck with the group's focus and interest in music-making.

"I would say that these kinds of players can perform just as well as a professional group. It just takes more practicing and more rehearsing. Of course, when you play a symphony for the first time, it is certainly exciting, and one is able to put lots of energy into the preparation and the performance. But one has to learn to manage his concentration and energy---it is sort of like climbing a mountain for the first time." His confidence in the group shows in his musical choices for the coming season, which include a difficult selection from Mahler, as well as pieces from Ives, Mozart and Wagner.


Like Barrett, Swekel recognizes music's power to communicate across language and other boundaries. "You can sit at a table with people who don't speak your native tongue, but if you play a piece, they'll know exactly what you're saying. It's a person-to-person, deeply individual emotional experience." Ultimately, that is one of the greatest rewards that these students receive when they commit themselves to music.

Young Caroline, however, doesn't let her commitment to these two demanding groups get in the way of the other things she likes to do, like participating in her school's math club, reading all the Harry Potter books, and hanging out with friends. It's her mom who can get overwhelmed. "Sometimes I feel panic that I can't drive everywhere!" says Armstrong.

For more information on ACCA, call Liz Barrett at 410-263-9191. For information on CYSO, call Kathy Swekel at 410-263-2664.
Debra Wilkinson is a recent graduate of St. John's College, where she read a selection of the great books of Western civilization. She plans to move to Korea to teach conversational English.
Back