Making a Difference
By Tom Roskelly
The sight of midshipmen from the United States Naval Academy walking around our town in their distinctive uniforms is a delight. The faces of the mids seem to get younger and younger, but Annapolitans still derive that certain sense of assurance that the future of our Navy and Marine Corps, and, with it the defense of our nation, is in good hands.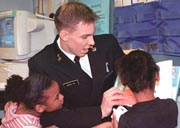 What many of us do not see is those same mids participating in the Midshipman Action Group (better known as "MAG"), an extra-curricular organization that coordinates voluntary community service projects in a seemingly never-ending list of activities which benefit our neighborhoods and institutions.

At a recent weekly meeting of MAG, a core group of midshipmen and project leaders reviewed an extensive list of projects providing updates and after-action reports. This week's list included information about the Big Brothers-Big Sisters at a recent Navy basketball game; Project BIG (an international goodwill project in partnership with the Parole Rotary Club); a weekly construction progress report regarding the Habitat for Humanity site on Hilltop Lane; the Anne Arundel Medical Center project where mids busied themselves by antiseptically cleaning rooms; Project White Hat at Johns Hopkins in Baltimore where teams of mids visit patients of all ages; the Mids for Kids project where midshipmen act as mentors for students in area elementary schools; visitation at assisted living centers where mids read books, play games, and otherwise entertain the residents.

If those weren't enough, other projects discussed included the Lighthouse Shelter (meal preparation and serving); Special Olympics Polar Plunge; a talent show; the Multiple Sclerosis Walkathon; and plans to assist the Special Olympics in April.

The MAG program is the brainchild of Pat Barrows, community relations director for USNA. When she assumed her present position in 1992, she envisioned a robust program that would truly make a difference in the surrounding communities. That's where the idea of volunteerism on the part of the brigade of midshipmen was born. It was a natural because so many members of the brigade came from a high school background of voluntary service and were seeking a similar outlet here. According to Pat, "We try to focus on three main areas: education, environment, and social services. The students have limited time in which to participate in off-the-yard activities so we plan for as wide a variety of projects as possible." MAG is truly a volunteer effort, not an academic requirement, and not an extra-credit course. In just the past year alone, Pat estimates that more than 24,000 hours were contributed by her group. She figures nearly half the brigade of 4,000 participate to some extent, some in a "one-day-and-it's-done" project, others with on-going programs such as Mids for Kids, which is probably the mids' favorite project of all.

State Superintendent of Schools Nancy Grasmick recently commented about Mids for Kids. "This is such an exciting initiative and I envision everyone participating in it reaping rich rewards. Your midshipmen truly serve as excellent role models to the elementary school students in Annapolis."

Charlie Wright, a first classman (senior) this year, spoke about the rewards. He participates in Mids for Kids and has learned an important virtue---patience. "When you're mentoring and teaching the plebes (Academy freshmen), it's a little more instantaneous. Trying to instruct kids is a little different," Wright observes.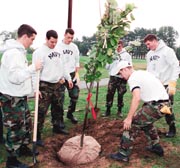 The Midshipman Action Group is extremely active in the area of the environment. GreenScape is an annual project in the City of Annapolis each April, and the mids have been volunteering virtually since the project was born in the early 1990s. A year ago, MAG took on the improvement and beautification of the grounds around Germantown Elementary School in West Annapolis. Sabra Hill from the Germantown Elementary PTA was enthusiastic in her praise for that effort. In a letter to Barrows, Sabra says, "...thank you for your work coordinating the midshipmen for our GreenScape efforts on April 13th. We appreciate their time and efforts...seeing group after group of mids arrive was a welcome sight indeed, and the grounds of the school are evidence of the hard work of your great group. We civilians enjoyed working along side our future naval officers, and our children were given terrific role models for the day."

Social services is also an important component of MAG. One of the annual favorites is the Special Olympics of Anne Arundel County held in April at the Naval Academy. Anyone who has ever participated in this marvelous activity knows that the special athletes can present many unique and challenging behaviors. This is where Academy training really shines. The compassion, understanding and flexibility displayed by the midshipmen speaks volumes about the kind of people they are. Area Director for Special Olympics Gregg Meade says, "It is so refreshing to see young people who have their priorities in order, and it's reassuring to know that this caliber of people will soon be assuming leadership roles within our armed forces." Two first classmen, Lauren Pizzi and Nicholas Keller, took on the responsibility of organizing the entire activity last year, which involved more than 200 mids working on one of their precious weekends off. But Nick doesn't see it as work at all. He says, "I get alot of personal satisfaction out of this project because you can really see in the faces of the athletes, their parents and friends, that we have made a positive difference in their lives."

Last July, the Midshipman Action Group was awarded the National 2002 Seal of Excellence Award in the student involvement programs category by the Council for Advancement and Support of Education (CASE).

The CASE awards are given for outstanding contributions and achievements by students in support of any institutional activity. The judges look, first and foremost, for programs that can be used as models for other associations and can be incorporated into a core curriculum framework.

The MAG entry outlined projects in which more than 20,000 volunteer hours, both locally and nationally, had been contributed. Projects ranged from tutoring local school children, volunteering to entertain and comfort children hospitalized at Johns Hopkins Children's Center, to environmental projects in Rocky Mountain National Park in Colorado and the Everglades National Park in Florida.

Vice Adm. Richard J. Naughton, superintendent of the United States Naval Academy, says the MAG program benefits midshipmen by teaching them to give back to others. "We're part of this community, and we want that bond to be stronger every day." According to the admiral, MAG contributes to the valued "town and gown" relationship that exists between the Academy and the surrounding community, which he reiterates in a recent letter to Pat Barrows. "On behalf of a proud Naval Academy, 'Bravo Zulu' (job well done) to you for your work with MAG."

Perhaps Ralph Waldo Emerson summed up the essence of MAG best when he said, "What lies behind us and what lies before us are tiny matters compared to what lies within us."
Back