Enriching Lives And Community
By Valerie N. Kaufman
Throughout his life, the great outdoors has held a special attraction for Lt. Greg Imhof of the Annapolis Police Department. It filled his childhood with happy memories, and his love for the outdoors decidedly affected his choice of careers. These days, he seeks it when he needs to get away. He has created a haven in his yard in which to relax so he can regroup from what can be a stressful job. "I need my seclusion. I left much of my yard as natural woods so I could enjoy the wildlife in the area," Imhof says. "I like watching my bird feeder and the occasional deer that pops up. I also have a hawk and an owl that visit my yard."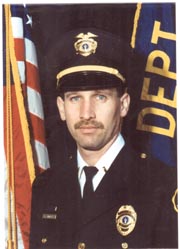 More than a year ago, Imhof purchased an RV so he and his family can escape each weekend. "We keep it packed and ready to go during the warm weather and head out to places like Deep Creek Lake and Gettysburg. I get off work at 4 p.m. on Fridays and we can be on the road an hour later. We can get there before dark and enjoy an entire weekend away."

His affinity for the outdoors began as a child. "My home town of State College, Pa., was surrounded by mountains and woods," he says. "My friends and I spent our days fishing and wandering in cow pastures. I was a real outdoors kid." He describes State College as a nice town to grow up in and recalls Joe Paterno, the football coach for Penn State University, walking by his bus stop each morning and saying hi. But when Imhof was 11, his father was laid off. He was forced to move his family to Arnold to find work. "Arnold was also a fun place to be a kid. It was a lot more rural back then," Imhof says. He grew up across from where the community college is now. At the time, the area was open fields and woods where Imhof and his friends explored and camped out.

Early on, Imhof thought he would follow in his father's footsteps and go into electronics, but in middle school he decided law enforcement was what he wanted to do. "I knew I didn't want a job that would keep me behind a desk. I wanted something that would allow me to spend a great deal of my time outdoors." While in college, he considered joining the military police, "But I knew as a lieutenant I would spend much of my time behind a desk, and I didn't want that." To help fulfill his dream, he graduated in May 1981 from the University of Maryland with a degree in criminology and criminal justice and, one month later, he joined the Annapolis Police Department. "I pretty much went straight from college to the police academy."

Imhof believes he was drawn to police work because he's always had a public service attitude. "During my childhood, my father was a volunteer firefighter---he drove the ambulance. At the time, the fire department shared a building with the police department, so I guess you could say I grew up around public servants."

His childhood also left him with a strong sense of family and, when he thought about where to make his home, family was the determining factor. "I had a chance to go to Key West and work in its police department, but all my family was here so I chose to stay. My family makes this home." Imhof has an older sister and a younger brother. "Annapolis has a lot of things to offer in addition to my family. You have lots of cultural opportunities but, at the same time, you have that small town feeling that I like."

Married six years in June, Imhof met his wife, Deborah, while on the job. "She's a paramedic with the city and, at the time I met her, I was working in internal affairs doing an investigation for the fire department." He thought she was a witness in the case. When he discovered she wasn't, he decided to ask her out. "We found that we shared a lot of the same values. I also think we connected because we both were in public service and used to the shift work environment. We just understood each other." After dating for more than a year, they were married. Now they are busy raising two children, Melissa, a daughter from her first marriage, and Jesse, a son from his. They also have four other important members of their family---their dogs, Boots and Sam, and their cats, Tigger and CC.

A member of the Annapolis Police Department for 22 years, Imhof now serves in the office of the chief of police. He is responsible for researching issues that come before the chief, reviewing all internal affairs reports and use of force incidents, collecting racial profiling data, and he does some teaching. He also is in charge of accreditation and the $7 million renovation of the police headquarters.

"After all this time, I still enjoy going to work each day. It's always different and exciting," he says. "I mean, just when you think you've seen it all, some person comes up with something that amazes you."

Imhof started his police career as a patrol officer and rose to the position of corporal, a first-line supervisor. He then served briefly as the supervisor of the community-oriented police (now known as Neighborhood Enforcement). "After that I spent the next four years as special events coordinator. That was exciting. Not only did I meet lots of people in the community, but I also had the opportunity to meet Presidents Bush and Clinton." His next assignment was in internal affairs where he spent six years as lead investigator.

After more than two decades of service, Imhof is getting close to retirement and is unsure of what the future holds for him. "I'm torn between going on to be a chief of police either here in Annapolis or in another [location] or working part time in another field and spending more time with my family."

No matter what his decision for the future is, he knows what he hopes to accomplish with the remainder of his time on the force. "When I first went into police work, my goal was to help people and to make Annapolis a better place to live. I think I've helped to accomplish both of those things and want to continue to do so. I also want to continue to train the supervisors who are in our department to strive toward high standards of personal accountability and train them to be our future leaders. I hope they can carry on the work ethic and traditions that I have helped establish over the years."
Back