Jim Barthold,
Annapolis Boat Shows, Inc.
By Martie Callaghan
In October 1987, Jim Barthold, general manager of Annapolis Boat Shows, Inc., watched the flood waters caused by high tide and northeasterly wind lapping at the restaurants and shops downtown. Everyone in tent "C"---the big white tent on Dock Street---was knee-deep in water clutching their goodie bags at chest level to keep their treasures dry. One customer was overheard to comment, ..."sure gives a whole new meaning to in-the-water boat show!" Exhibitors actually posted "No Wake" signs in their booths.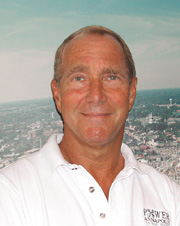 Jim realized they had never experienced these conditions before and hadn't planned for a flood! But, as anyone who's familiar with Jim or the Boat Show folks knows, they had planned on virtually everything else. Since then, they've incorporated hurricane preparedness in their extensive logistical planning.

Jim has lived and breathed the Annapolis Boat Shows since Dec. 17, 1973, when, with a U-Haul trailer containing his life's accumulation of "stuff," he drove to Annapolis from New York City. In a career move he's never regretted, he gave up his job as an associate editor of Boating Industry Magazine for the chance to be part of what has become the premier in-the-water boat show in the world.

However, prior to 1970, there was no such thing as an in-the-water sailboat show. Until then, sailboats were regarded as the "weak sister" of the industry and were relegated to the corners of the premier show sites. Power boats were regarded as the "queen of the show" and, as one might envision, sailboats were difficult to display indoors. Usually, the masts and sails were not displayed at all---what you saw was a lot of hull and keel. Only the most motivated "rag-baggers" would risk climbing the makeshift scaffolding to clamber aboard to inspect the industry's latest offerings.

Like so many entrepreneurial ideas in Annapolis, all that changed when Jerry Wood and Peter Carroll sat down at a local pub and dreamed up the idea of an in-the-water show over cocktails. As the owner/operator of the Annapolis Sailing School since 1959, Jerry had experience with smaller sailboats and was familiar with sailboaters. And Peter had come to Annapolis to learn to sail as one of Jerry's students and became an avid sailing enthusiast.

Few today grasp that October 1970 ushered in a new era in the maritime industry when the very first in-the-water sailboat show of any kind, anywhere, took place in "America's Sailing Capital."

It wasn't without risk. Conventional wisdom dictated that boat shows should take place in February or March, before the boating season begins. But Jerry Wood understood fundamentals about sailboats that most people missed. First, the vast majority of sailboat manufacturers generally build after the order has been placed. Second, a fall boat show was a better time to display boats in the water. And third, boats ordered in the fall were built over the winter in time for delivery before the next boating season, which was the best possible situation for the numerous sailboat builders around the world. Ultimately, the combination of marketing and timing proved to be exactly right.

Two years later, after savoring the success of the sailboat show, the United States Power Boat In-The-Water Show was born. So, this October will see the 33rd Annual Sailboat and the 31st Annual Powerboat shows.

Along the way, Jerry Wood bought out his original partner in 1976 and took on two new partners, Ed Hartman and Bennett Crain, both of Annapolis. The management team of the boat shows has remained intact for years. Included, along with Jerry and Kathy Wood, are show manager Dee Newman, operations manager Tom Rumsey, Annapolis Sailing School manager Rick Franke, and dockmaster Tim Dowling.

Jim knows that virtually everyone who comes to a boat show has an interest in boating, so you don't get the equivalent of "tire kickers." When asked his business philosophy, Jim smiles and says it's no big secret. "We cater to that niche audience who is very product-driven. You could say we're a consumer product show and the boats and accessories are the show---and we do everything we can to make their time in Annapolis as productive and profitable as possible. We don't need entertainment, food, or novelties to make it work." All told, there are about 1,500 exhibitors in each of the two shows.

To keep exhibitors and customers smiling takes a lot of work. From a full-time year-round staff of just four people, the payroll expands to nearly 250, including support staff, part-timers and subcontractors. If you have never seen a boat show setup, it resembles a finely choreographed ballet. They take over the leased City Dock area at one minute after midnight on Monday and transform a mostly unimproved area into an impressive site in less than three days. To do that requires tens of millions of dollars worth of equipment, including more than one nautical mile of floating dock, hundreds of small tents (they still rent larger tents locally) and enough electrical cable to "power up Pittsburgh!"

With understandable pride, Jim claims the Annapolis boat shows are the industry's most important. Following Annapolis' success, many other in-water boat shows have sprung up in cities around the globe. "But we have worked very hard to nurture and defend our position as the premier in-water boat show in the world," Jim says.

The shows have a unique lease arrangement with the City. Generally, it extends out five years, but as one show takes place, the out year is then renegotiated. Right now, Annapolis is guaranteed a minimum rent of $350,000 against 50 percent of the gross gate, which consistently exceeds the minimum---in the neighborhood of $600,000.

Most Annapolitans agree, the two weeks in October when our town becomes the epicenter of the international boating world is more than worth the temporary inconveniences that approximately 100,000 visitors with money in their pockets create!

Al Hopkins, long-time alderman and former mayor of Annapolis says, "I can't imagine October without the World Series or the boat shows!"
Back